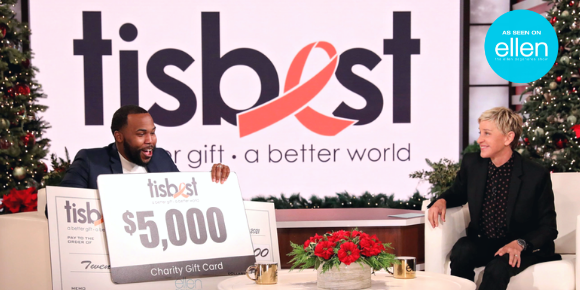 Every year, billions and billions of dollars are spent on unwanted gifts — most of which end up in landfills. What if all those resources went to worthy causes instead?

In 2020, investor and philanthropist Ray Dalio partnered with TisBest to launch a national movement to #RedefineGifting. The goal is to replace unwanted gifts with the joy and power of charitable giving.
Since then, the movement has caught fire with generous contributions from Ellen, Portia de Rossi, Ashton Kutcher, Mila Kunis, Jewel, Jay Shetty, Gayle King, Arianna Huffington, and many others— allowing people to claim more than $4 million dollars in FREE TisBest Charity Gift Cards to donate to the charities of their choice.
In gratitude for a great season-long partnership with The Ellen DeGeneres Show community, Ray and TisBest are offering an amazing giveaway to experience one of these uniquely meaningful gifts. Sign up today to claim yours and support your favorite charity — or pay it forward by passing the gift card along to someone special celebrating Father's Day, graduation, or an upcoming birthday!
100% of the cards' value goes to the charities you select. Charity Gift Cards are an exceptionally thoughtful choice for any occasion. Use yours yourself or pass it along to someone special in your life!
Our Giveaway Entry is now Closed.

We received an overwhelming number of entries for our #RedefineGifting Gratitude Giveaway! We are so thankful for all the kind-hearted souls like you who want to make the world better.
Of those entries, one $20,000 TisBest Charity Gift Card Grand Prize winner and 2,500 recipients of the $100 gift cards will be selected at random. Winners were notified via email on or around May 25th, 2022.
Share the Love with Friends