3 meaningful ways to celebrate Easter and Passover this year
It's a transformative year due to the Coronavirus, but special occasions like Easter and Passover can still be meaningful!
We have compiled a few ideas on celebrating Easter and Passover — to help bring us together despite the social distance.
1. Bear/Bunny/Egg Hunt
Have you heard of bears in windows? Households everywhere are putting stuffed teddy bears in their windows for passersby to spot and enjoy. It's the same concept as leaving your porch light on at Halloween — making sure everyone knows your home is warm and friendly — but with your choice of stuffed animal in the window. So why not choose a bunny? After all kids want a good Easter hunt! And check out this story about a Quad Cities family starting a window easter egg hunt!
2. Homemade Invitations
You may be meeting with family and friends on software like Zoom or GoToMeeting, but how can you make Easter or Passover special from all of the other video and teleconference meetings? Why not go oldschool with a handmade or printed party invitation? MarthaStewart.com suggests using markers and stamps and having fun with it; you can then snap a photo to upload or message digitally, or go the extra mile and send it by post.
3. Send a Better Gift
Charities are more in need than ever, but unable to operate normally with the necessary social distance measures slowing their operations and fundraising events. Maybe your Easter gifting could help organizations affected by COVID-19 this year?
TisBest Charity Gift Cards are always the perfect gift, but current conditions make it ever more meaningful with 100% of the gift going to the charity the recipient chooses.
Here are our latest card designs, but you're always welcome to upload your own custom image at no charge.
All designs are deliverable by mail, via email, or with a printable or downloadable pdf.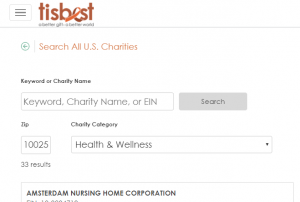 And if you want more info on local charities specifically, check out our handy Charity Database browse tool. Just enter a zip code to find local charities by categories like Health & Wellness or Community Building.

As the situation evolves, we will continue to monitor CDC and State guidelines as well as what our shipping providers tell us directly. Please check here for the latest updates. We can be reached at info@tisbest.org with any special requests or to help plan your future Charity Gift Card orders.
Sincerely,
The TisBest Team