30,000 Free Gift Cards. $2,000,000 to Charity. Gifting, Redefined.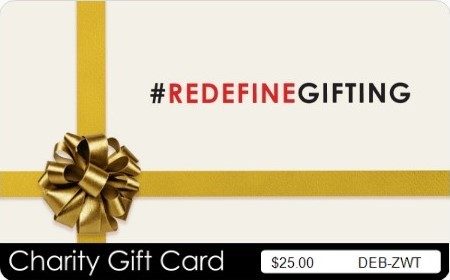 In 2020, Ray Dalio and a group of well-known figures from the worlds of entertainment and business teamed up to give away 30,000 TisBest Charity Gift Cards and introduce people to the concept of gifting charity.
"To Ray Dalio & Friends, I am thankful to be able donate back to the nonprofit organization that has helped save our child's life. Please understand that this is not a small gift, but life-saving.
Thank you!" ~ Wes A.
"Thanks for doing this. I don't have a lot of money to spend philanthropically, but it's a goal of mine. This is such a people-powered way to encourage giving." ~ Tess M.
"Thank you for helping me to make a difference." ~ Patricia D.
Round 1 of RedefineGifting: 10,000 Charity Gift Cards
In December of 2020, investor and philanthropist Ray Dalio and TisBest partnered to launch RedefineGifting. The mission: Offer people a chance to experience firsthand the joy of receiving a Charity Gift Card. The methodology: With a $1,000,000 donation from Ray, TisBest would give away 10,000 Charity Gift Cards worth $100 each.
To be honest, we weren't sure how long it would take to give all those cards away. Would people notice? Would they participate? Would they care? Some involved in the project thought it might take a week or two to give away all 10,000 cards. The most optimistic in our group thought it would take about one day.
The actual response blew us away. Every last card was claimed in just 90 minutes. The cards were flying out of our database so quickly that when we "threw the switch" at 10,000 cards, 250 people were in the process of entering their names on the website (Ray donated another $25,000 to give cards to those 250 people). And in the hours following, thousands more people signed up in hopes of another giveaway.
Well, that answered our question, didn't it?
Round 2 of RedefineGifting: 20,000 Charity Gift Cards
The initiative was so profoundly successful that Ray quickly decided to do a Round Two giveaway. The following week, with further donations from Ray, Arianna Huffington, Ashton Kutcher, Mila Kunis, Dr. Mehmet Oz, Gayle King, Jay Shetty, Reed Hastings, Kevin Systrom, David McCormick, Dina Powell McCormick, Paul Tudor Jones, Marc Lore, and Chris Haire, we held Round Two and gave away another 20,000 TisBest Charity Gift Cards.
All in all, we handed out over 30,000 gift cards, allowing participants to support the charities of their choice, with no strings attached. That was over $2,000,000 to charities like UNICEF, Meals on Wheels, the ASPCA, and thousands of small local organizations helping their communities.
How did this initiative with Charity Gift Cards come about?
Ray Dalio had long been gifting TisBest Charity Gift Cards to his own family, friends, and colleagues each holiday season. The RedefineGifting initiative was born out of his desire to share the joy of charitable giving with others and introduce people to the concept of gifting charity, rather than gifting… well, more stuff. (Did you know that in the United States, people spend $15.2 billion on unwanted Christmas gifts each year? That's a lot of stuff stashed in peoples' closets.) When asked on The Dr. Oz Show why he wanted to give away money in this way, Ray responded: "It's a fabulous investment because it's letting the people experience [the Charity Gift Card concept]… how easy it is, how joyful it is, and they think about the implications."

Click below to watch Ray Dalio speak on The Dr. Oz Show (December 11, 2020):
Is there ever such a thing as free lunch? In this case, there really was!
When they signed up for this giveaway, participants received a TisBest Charity Gift Card and got to contribute the money to the charities of their choice — no hoops, no strings. Just the power to give. Many participants expressed surprise at how seamless the experience was. This was exactly the experience that Ray wanted to share with people, in hopes that they would then offer that same experience to others.
The RedefineGifting movement is born:
From social media comments to email replies sent directly to our Managing Director, participants were delighted.
"Unbelievable mission to inspire more giving and sharing. Letting other people experience how this makes them feel is a novel and unique way to move others to do the same. Thank you!" ~ Hemal S.
"Greetings from Brazil! Thank you for this opportunity and for reminding us of our role as individuals in making the world a better place!" ~ Andreas E.
"Thank you. I am an undergraduate student right now, and you have no idea how much it means to me to see billionaires using their wealth for social good. I support it, and am really appreciative of your efforts. Thank you Ray, Kevin, Ashton, Arianna, and others!" ~ Zeel P.
"This was probably the coolest thing I did this Christmas. I wasn't able to participate in community service as much as I would have liked this season, but thanks to your donation, it made me feel like I participated a little bit, even if it wasn't my money. Thanks so much for sharing the goodness and letting me be a part of this!" ~ Parker G.
"Thank you SO MUCH for making it possible for so many people to choose to help the charities closest to their hearts, which they may not have been able to help otherwise. You are embodying the true spirit of Christmas, and your generosity is surely having an amazing positive impact on the world." ~ Courtney N.
The RedefineGifting movement continues.
Not only were people delighted by the giveaway, but many stepped up to Ray Dalio's actual goal and committed to paying the experience forward by buying Charity Gift Cards for their own families, friends, and colleagues. Here are the words of some of these true believers:
"I want you to know that I will be paying this forward with my 10-year-old nephew this Christmas and giving him money to donate to a charity that he believes in. I hope it leads to some great conversations with him about the importance of helping others. Thanks again!" ~ Amy M.
"Thank you very much for your generosity. It is a great idea, so much more aligned with the values of Christmas, and I will be doing a similar present to my family and friends here in Spain." ~ Felipe I.
"Love the idea! I'm going to do the same with my people too! Thank you and Aloha Forward!" ~ Samson M.
Now what?
Ray launched the RedefineGifting initiative because he hopes that more people come together in a #RedefineGifting community that takes up the idea of gifting each other with Charity Gift Cards rather than yet more stuff. His only request to the people who received cards was that when they were next contemplating gift choices for holidays, weddings, birthdays, and other occasions, that they would consider whether a charity gift card might be the perfect gift for the occasion.
Want to be part of the #RedefineGifting 2021 giveaway? Learn more here!
Together, let's RedefineGifting.