National Agriculture Day: Stewards of a Healthy Planet
Living in Seattle Washingon, the staff at TisBest are no strangers to the abundance of local farmers markets once the weather starts to get a little less rainy around here. We are fortunate enough to live in a community that holds local farmers in high regards with getting us urbanites healthy, sustainable and wonderful produce from the hard work the Washington agriculture community provides for our area.
Today (March 15, 2016) marks National Agriculture day. It's a time when producers, agricultural associations, corporations, universities, government agencies and countless others across America gather to recognize and celebrate the abundance provided by American agriculture.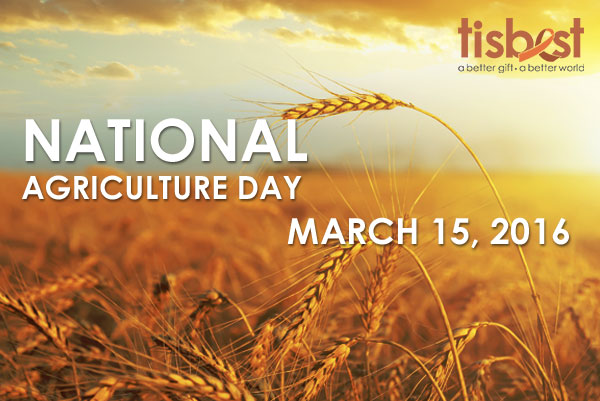 The National Ag Day program believes that every American should:
Understand how food, fiber and renewable resource products are produced.
 Value the essential role of agriculture in maintaining a strong economy.
 Appreciate the role agriculture plays in providing safe, abundant and affordable products.
 Acknowledge and consider career opportunities in the agriculture, food, fiber and renewable resource industries.
Why should we celebrate National Agriculture Day? Agriculture has a massive and valuable impact in our daily lives. By taking the time to celebrate agriculture, we are giving ourselves the opportunity of increasing knowledge of agriculture and nutrition, which in turn allows individuals to make informed personal choices about diet and health. We are all aware of the obesity epidemic that is plaguing our country due to the accessible and complex relationship we seem to have with refined and processed foods.
By celebrating National Agriculture Day, we put a face and story to the men and women who work hard to produce natural, healthy and delicious food. We are able to form relationships with these people, and build a community and eating then becomes much more than just doing it for pure survival. It becomes something that we are mindful of in terms of health, community involvement, local and sustainable jobs, as well as having a better understanding of where our food actually comes from!
The theme for this year's National Agriculture Day is Stewardship for a sustainable planet. As the world's population climbs, we become aware of the even greater demand for the food, materials for clothing and renewable resources produced in the United States. Each year, members of the agricultural industry gather together to promote American agriculture.
Check out the American Agriculture Councils website for more information on this great day! There are events planned for the Washington DC area. For our readers outside of DC check your local newspaper or online listings for events near you. Use #NationalAgDay to post on social media.As for supporting TisBest's Charity partners, check out:
FarmAid – an organization that stands with and helps support family farmers.
Green America – an organization that knows the value of "Good food, for People and Planet"
Why Hunger –  an organization that focuses on nutritious food: sustainably grown, vital toa healthy planet and healthy people.