TisBest Announces Grand Prize Winner of #RedefineGifting Gratitude Giveaway!
Congratulations to Julyne — the GRAND PRIZE winner of our #RedefineGifting Gratitude Giveaway! Julyne received a $20,000 TisBest Charity Gift Card to pay forward to her favorite charities! 2,500 entrants, also drawn at random, received a $100 TisBest Charity Gift Card to support the causes near and dear to their hearts. The giveaway was part of a national movement to #RedefineGifting.
Ray Dalio Helps #RedefineGifting with Free Charity Gift Cards
Every year, billions of dollars are spent on unwanted gifts — most of which end up in landfills. In 2020, investor and philanthropist Ray Dalio partnered with TisBest Philanthropy to launch a national movement to #RedefineGifting. The goal is to replace unwanted gifts giving his family and friends donations to the charities of their choice as holiday gifts. He loved this kind of gift and wanted more people to experience it, so in 2020 he created the #RedefineGifting movement with TisBest, giving away $1 million in Charity Gift Cards to the general public. 
Celebrities and Business Leaders Join the Movement
Since then, the #RedefineGifting movement has caught fire with generous contributions from The Ellen DeGeneres Show, Portia de Rossi, Ashton Kutcher, Mila Kunis, Jewel, Jay Shetty, Gayle King, Arianna Huffington, and many others. Over the past two holiday seasons people have claimed more than $4 million dollars in free TisBest Charity Gift Cards to donate to the charities of their choice. Now, TisBest and friends are on a mission to #RedefineGifting all year long.
Gratitude Giveaway Generates $270,000 for U.S. Charities
In gratitude for a great season-long partnership with The Ellen DeGeneres Show community, Ray and TisBest launched the #RedefineGifting Gratitude Giveaway in May. The Ellen DeGeneres Show announced the giveaway in an email to over 2 million fans. In just a few short days an overwhelming number of people across the country entered for a chance to win the grand prize — a $20,000 TisBest Charity Gift Card and also the chance to win one of 2,500 TisBest Charity Gift Cards valued at $100.
Winners were selected at random and received their digital charity gift card via email. Gift card recipients simply entered their gift card code on the TisBest website to "spend" it on the charities of their choice.  Some entrants already had a designated charity in mind. Others chose from the over 1.8 million U.S.-registered charities on the site.
Giving Gifts AND Giving Back
The national movement to #RedefineGifting has created a new mindset around giving. It's not just about replacing unwanted gifts. It's about giving meaningful gifts. Many people still like giving presents to mark a special occasion. Adding a charity gift card to the gift box allows family, friends, and colleagues to celebrate their special day and give their favorite charities a reason to celebrate, too.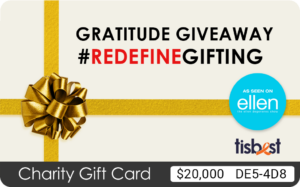 How Will You #RedefineGifting?
Send a TisBest Charity Gift Card to those close to your heart so they can pay it forward to a charity that is close to theirs. Add a bio-plastic charity gift card to your Father's Day gift, enclose one in a card for the recent grad, or email a digital charity gift card to a friend just because. Together, you'll do a world of good.
Tag us on social and tell us how you #RedefineGifting!