Give TisBest Charity Gift Cards, and Let Them Choose Their Charities
Did you know there's a gift out there that's meaningful, unique, memorable and makes the world a better place?
Charity Gift Cards work just like conventional gift cards, but instead of buying more stuff, the recipient of a Charity Gift Card uses it to make a donation to their favorite charity.
Step 1: Buy a Charity Gift Card
It's easy, and you've got options! First, you'll buy your gift card on TisBest.org .
Choose what kind of gift card you want to send — a 100% biodegradable plastic gift card, a gift card emailed directly to your recipient, or a .pdf gift card than you can print on your printer.
Step 2: Customize your Gift Card
Next comes the fun part — customization!
Choose from a variety of stock images to have on your gift card, or you can upload your own photo.

Maybe you choose a photo of yourself and the recipient, your business logo, or something you design. The options are endless – any photo, any image! TisBest prints YOUR IMAGE right on the face of the gift card – no minimum orders, no extra time, no extra cost.
You choose the dollar amount of the Charity Gift Card, and add a personal note if you wish.
Step 3: Give a Gift Card and Change the World!
After your recipient receives the Charity Gift Card, they will spend it by going to TisBest.org, clicking "Spend a Gift Card," and entering the 6-digit code on the face of the gift card.

Your recipient will choose among more than 1.5 million charities — this includes large, well-known organizations, as well as small and local local non-profits right in their own community.

They can choose up to 3 charities, and TisBest sends the money directly to the charity(ies).
That's it!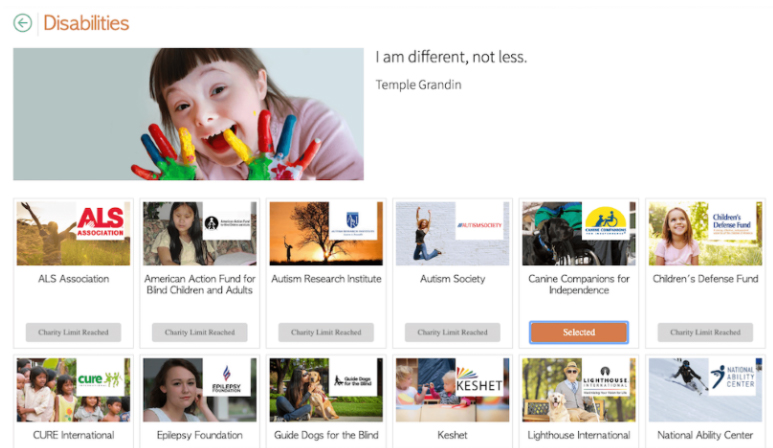 RETHINK GIFT-GIVING
A charity gift card isn't a frivolous or generic gift. It's a meaningful gift (not to mention eco-friendly) that sends the message that you care about your loved ones, your community and the world. By allowing your friends and family to choose charities that are important to them, you can be assured that your gift will be well received.
1.5 Million
CHARITIES TO CHOOSE FROM