Best Branded Corporate Gifts & Redemption
Your custom-branded gifts will do a world of good.
Corporate Gifts That Create Positive Brand Association
There are millions of company-branded plastic water bottles filling up our landfills and oceans. What if your branded corporate gifts could help protect your local beach, or bring clean water to families in Tanzania? TisBest Charity Gift Cards can do that, and be customized with your logo and a personal message throughout the redemption experience. Your gift will leave a lasting impression on the receiving charities as well as your clients' and employees' affiliation with your brand.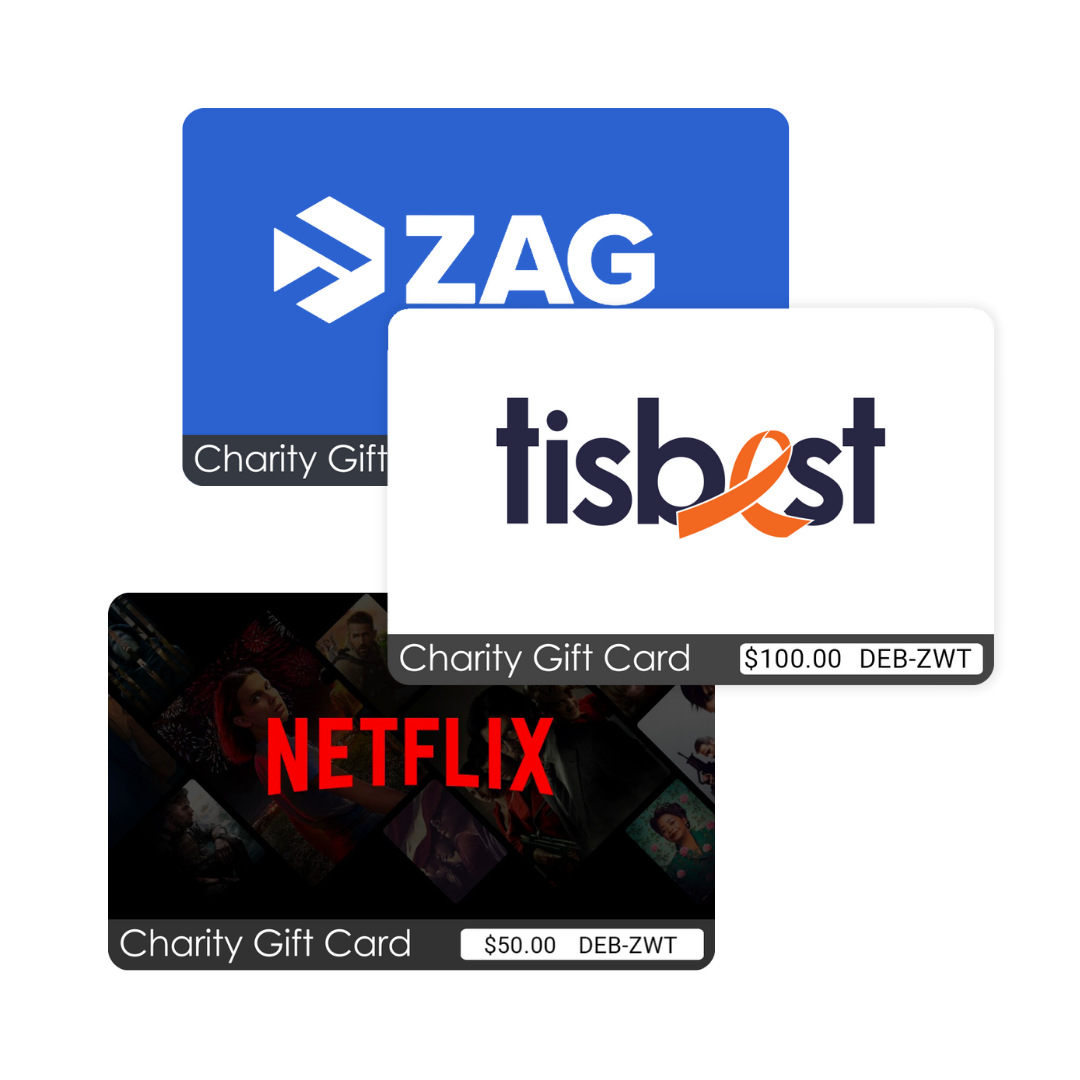 Engage Clients at Every Touch Point
Unlike traditional promotional swag, TisBest Charity Gift Cards allow you to connect with your clients and employees in a meaningful way while promoting your brand and culture. They keep your brand, and your commitment to social responsibility, top of mind throughout the redemption experience.
Enjoy a Personalized Experience
Our sales team provides one-on-one support for a tailored customer experience. You know your clients and employees best. We're here to help you connect with them. Contact our sales team today at 206-501-3005 or sales@tisbest.org and we'll design a custom-branded TisBest Charity Gift Card for you. Or create your own in just a few easy steps!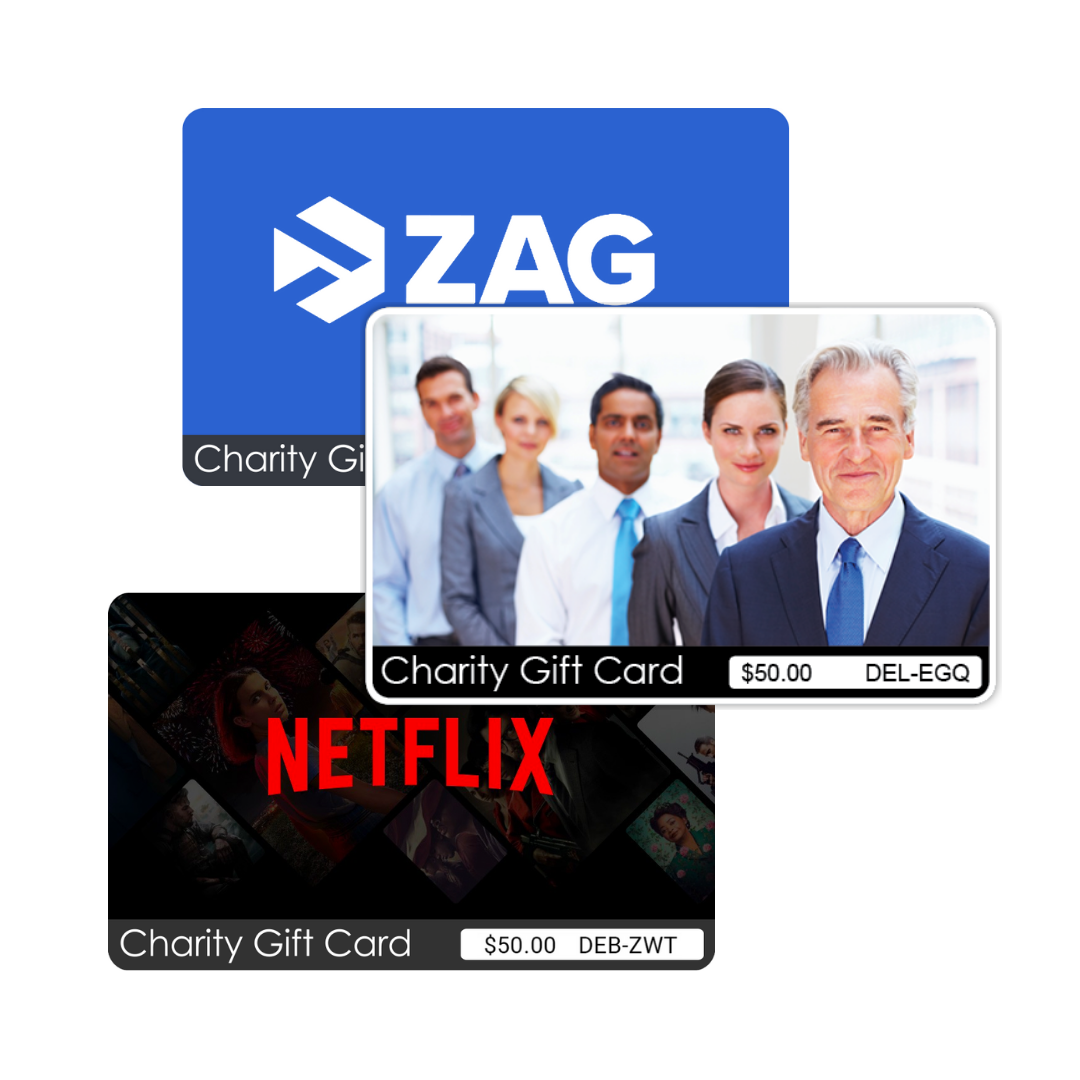 1. Free Card Personalization. No Minimum Orders.
Rather than giving a conventional gift card with a store logo, send your clients and employees a TisBest Charity Gift Card customized with your company's brand and messaging. Whether you need one card or 500+ cards, TisBest Charity Gift Cards are the best branded corporate gifts! There is no extra cost for personalization and no minimum order required. Digital and printable cards are available immediately after purchase. Biodegradable plastic cards can be sent to you for further personalization, or we'll mail fully packaged and sealed charity gift cards directly to your clients.
2. Personalize Your Welcome Greeting.
When your clients and employees are ready to spend their TisBest Charity Gift Cards, they'll enter their card code on the TisBest website. Your branded welcome message will appear inviting them to redeem their charity gift card. With over 1.8 million U.S. charities to choose from, their favorites are sure to be on the list!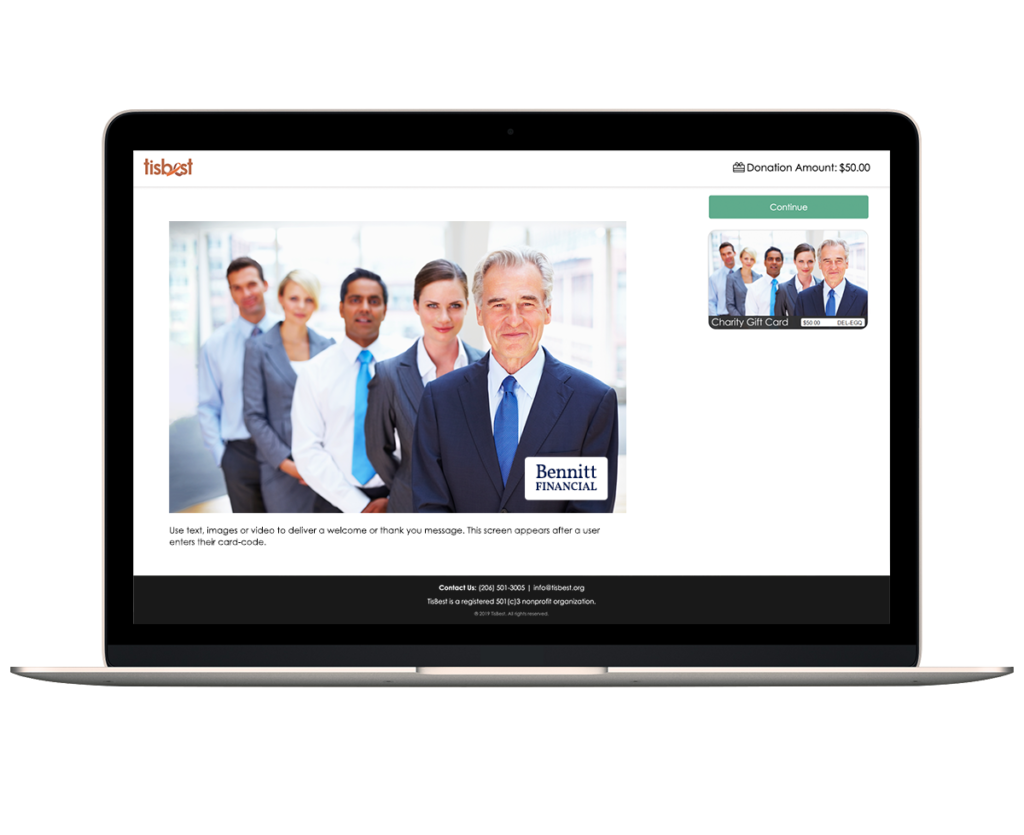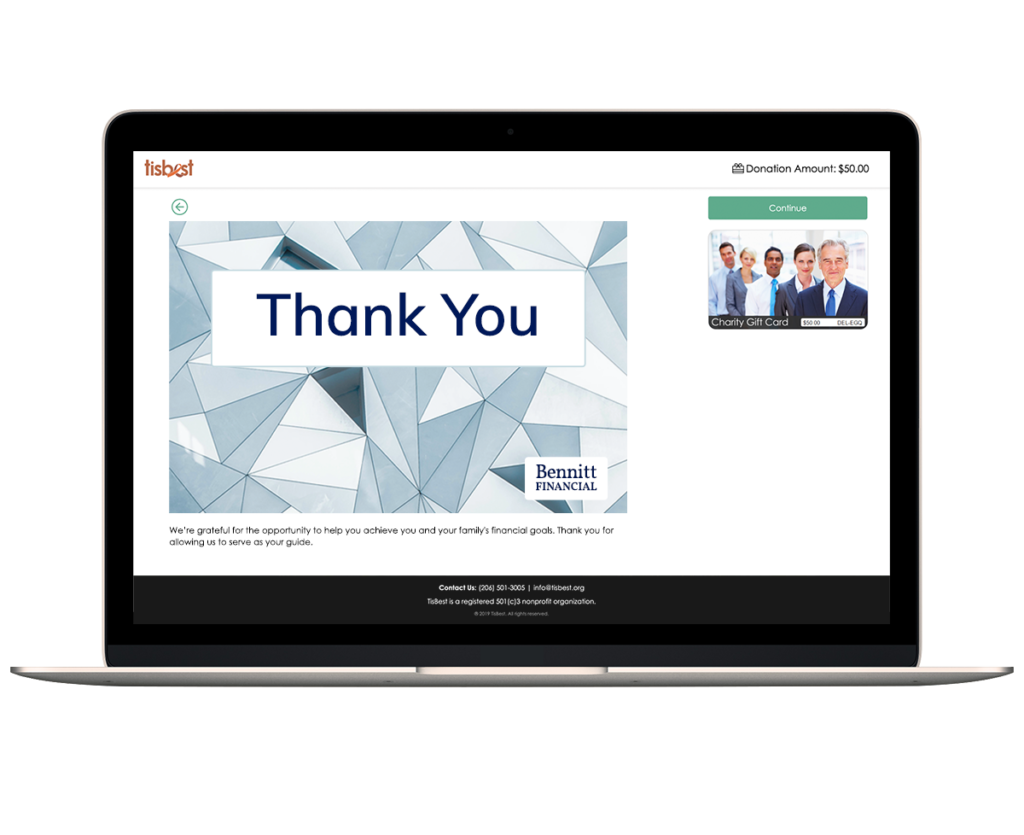 3. Create a Closing Message with a Call to Action.
The closing message is an opportunity to engage your recipients one more time, at the end of the redemption experience. You can include a thank you message for joining you on your mission to create a better world. It's also the perfect opportunity to feature images, video, or hyperlinks with a call to action — whether it's to invite clients to connect with you on social media, or read about your company's commitment to social responsibility and sustainability.
4. Receive Thank You Notes From Recipients.
Our proprietary system allows each recipient to email a note back to you when they make their charity selections. This is a great way to learn about what causes your clients and employees are passionate about — fostering more meaningful and personal relationships. The positive feedback from your clients will be your greatest return on investment!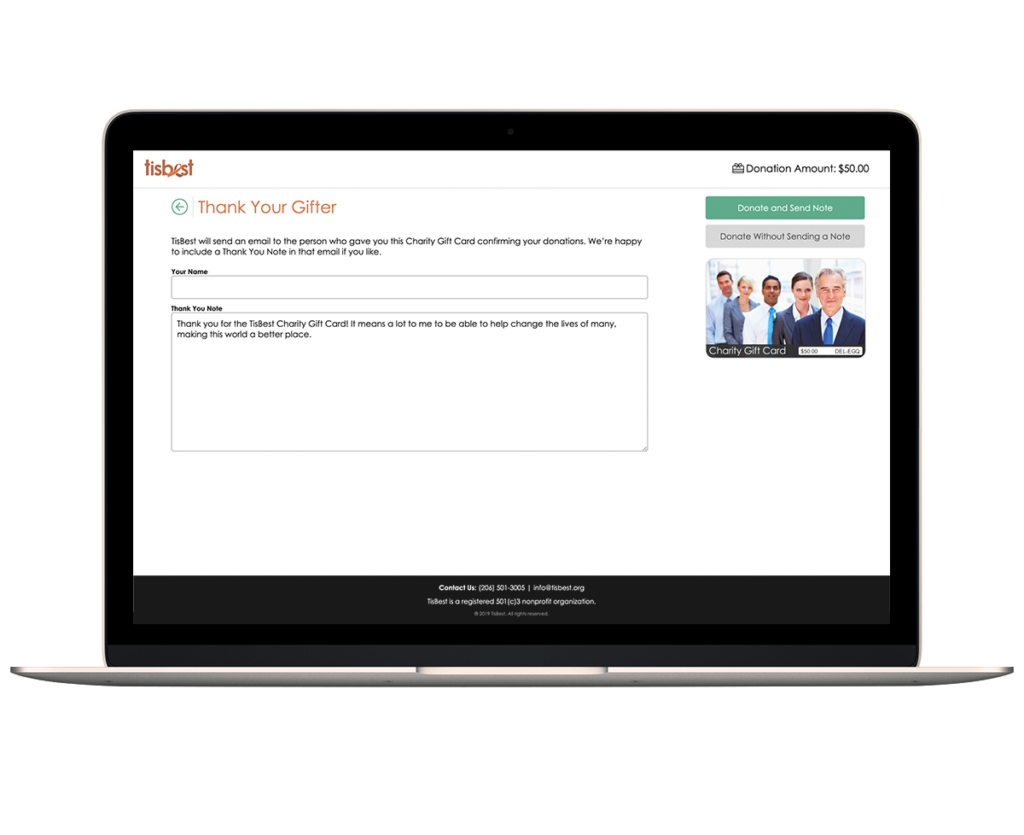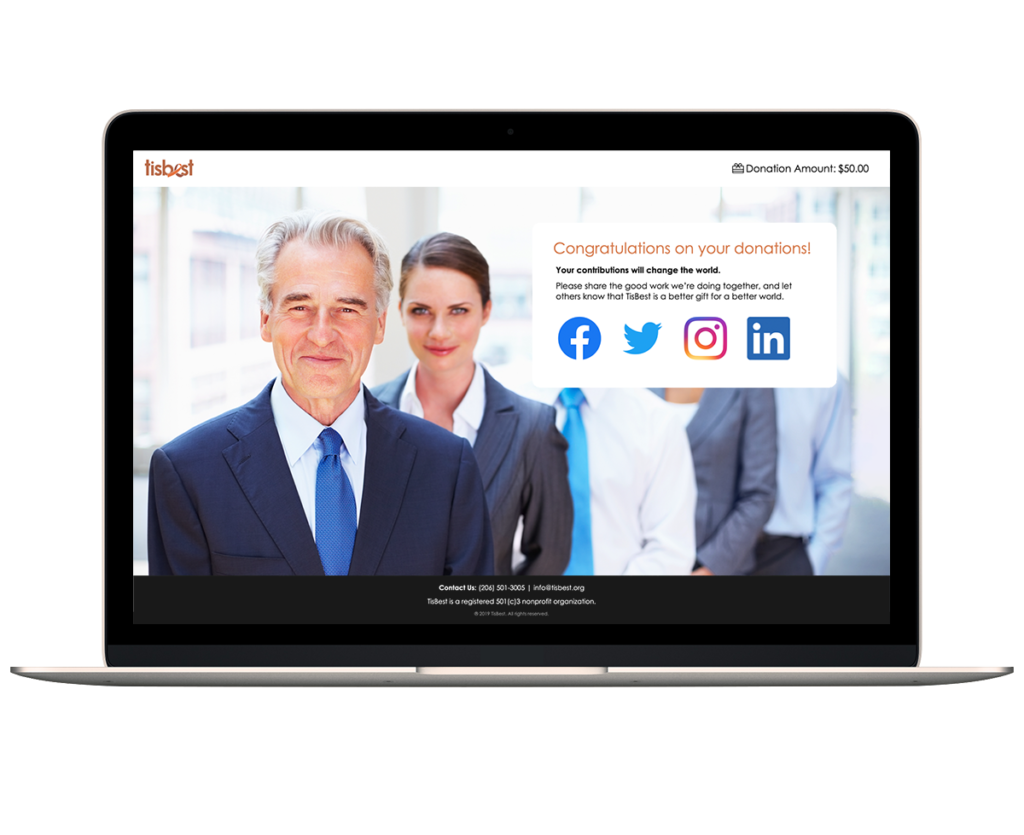 5. Customize Your Confirmation Screen Image.
After clients and employees select their charities, a confirmation message will appear to congratulate them on their donation. Display a custom full-screen background image that perfectly captures your brand and your commitment to making the world a better place.
6. Send a Branded Follow-Up Email.
Immediately following the redemption process, clients and employees will receive an automated, custom-branded email. The email will feature your image of choice and your personalized message thanking them for donating to the charities they selected. Since they still have "all the feels" from supporting their favorite causes, those good vibes will be associated with your brand.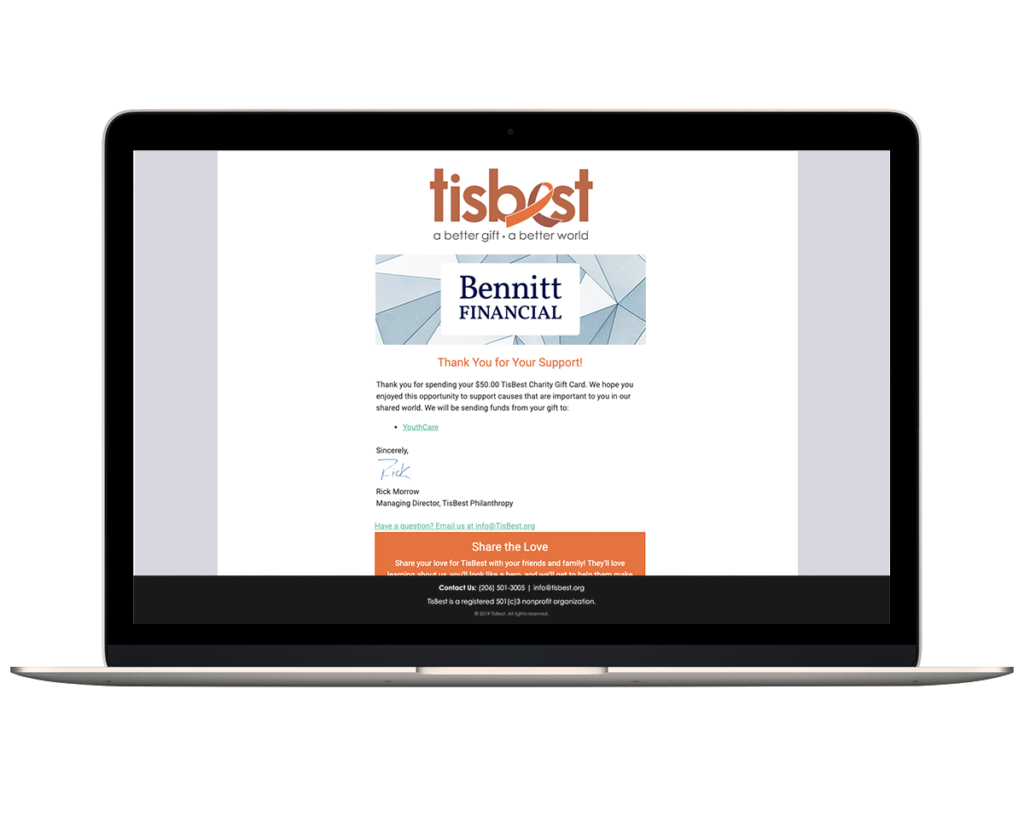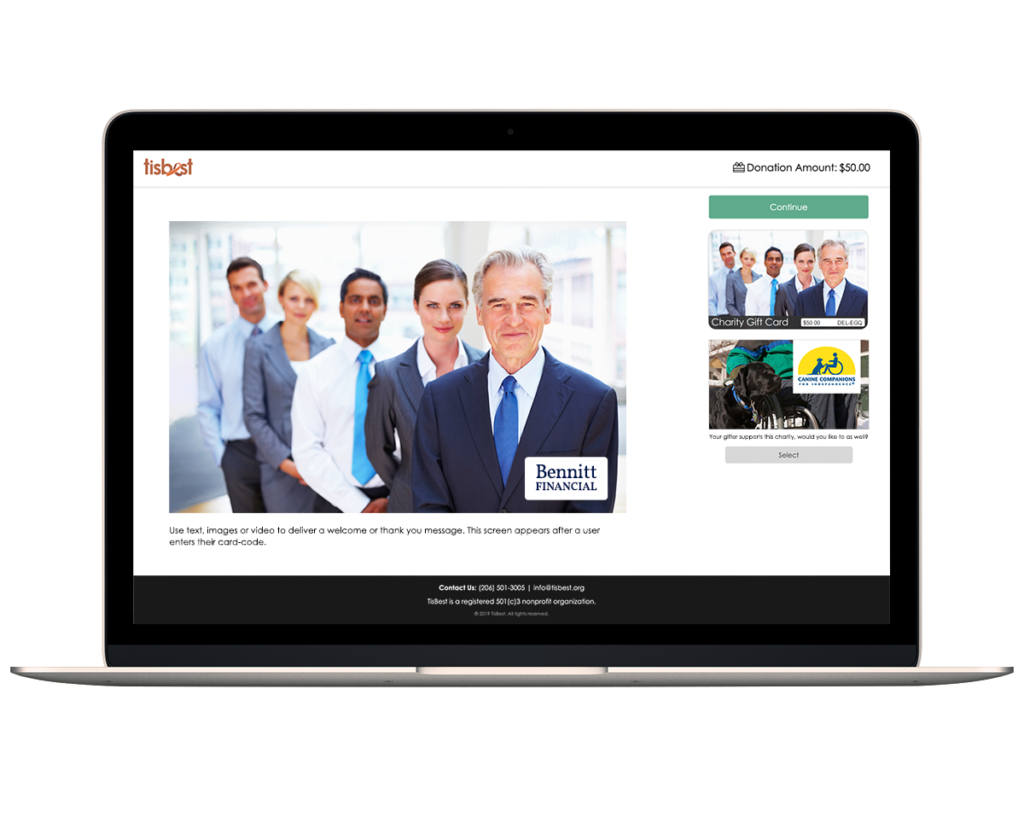 TisBest Charity Recommendation Program
Do you have a charity that is near and dear to your heart? The TisBest Charity Recommendation Program allows you to identify one charity to feature during the redemption process. When card recipients enter their card code to "spend" their gift card, your recommended charity appears in the right-hand sidebar with the note "Your gifter supports this charity, would you like to as well?"
TisBest Charity Gift Cards are the best branded corporate gifts as they truly impact the donating companies, receiving charities, and your clients and employees…for good.
Questions?
Our design specialists are here to help. Contact our sales team today at 206-501-3005 or sales@tisbest.org for pricing and personalization options.
Do a World of Good.
Order Your Custom-Branded TisBest Charity Gift Cards Today!
TisBest To Hear It From Our Customers!
Our Business Customers Include