Give TisBest Charity Gift Cards!
You choose the amount, your recipient chooses their favorite charities.
Trusted By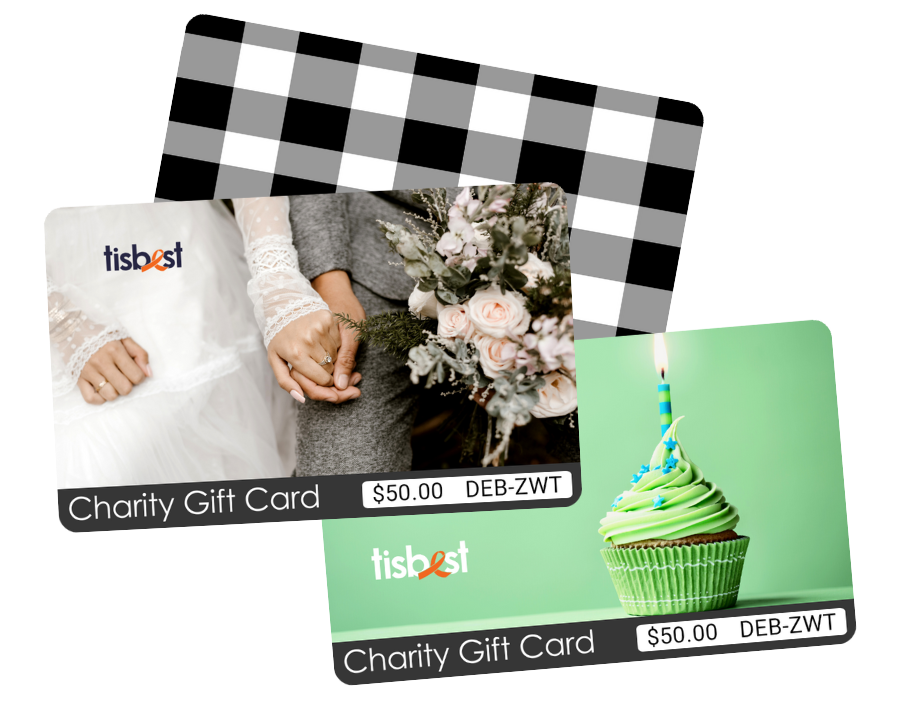 Are You on the Search for a Gift That's Meaningful, Memorable, and Makes the World a Better Place?
Join us in the movement to #RedefineGifting with TisBest Charity Gift Cards. You choose the amount and your loved ones pay it forward to their favorite charities. Giving gifts for birthdays, holidays, and other special occasions is a life-long tradition. Giving your family and friends the gift of giving back is life-changing. Now you can do both in just three easy steps:
Step 1: Buy a Charity Gift Card
TisBest Charity Gift Cards are fun to give and receive! Your gift will leave a lasting impression on the recipient, their favorite charities, and our environment.
First, buy your charity gift card on TisBest.org.
Choose between our three sustainable formats:
Order 100% bio-plastic gift cards.
Have a digital gift card emailed directly to your recipient.
Instantly download and print a pdf gift card.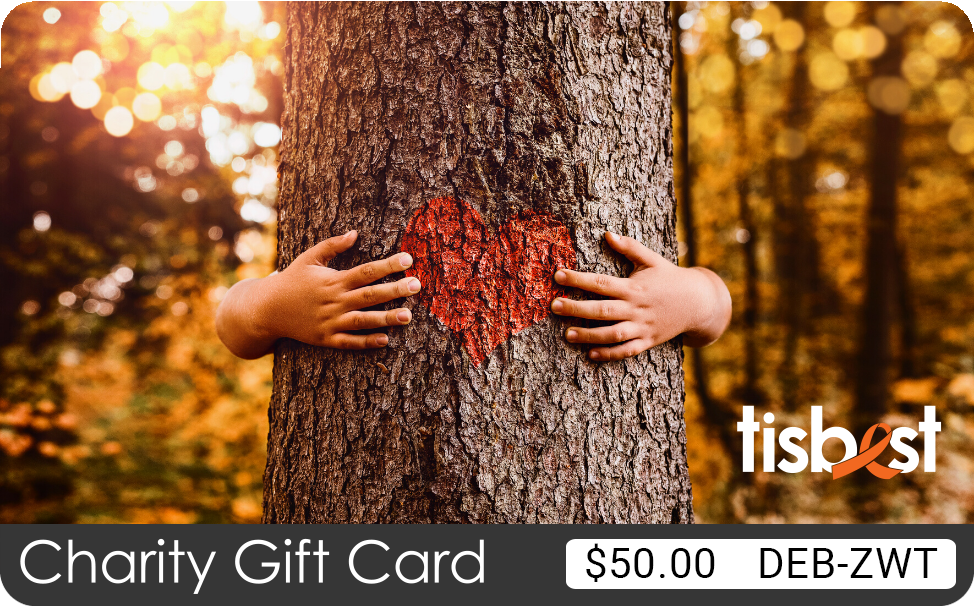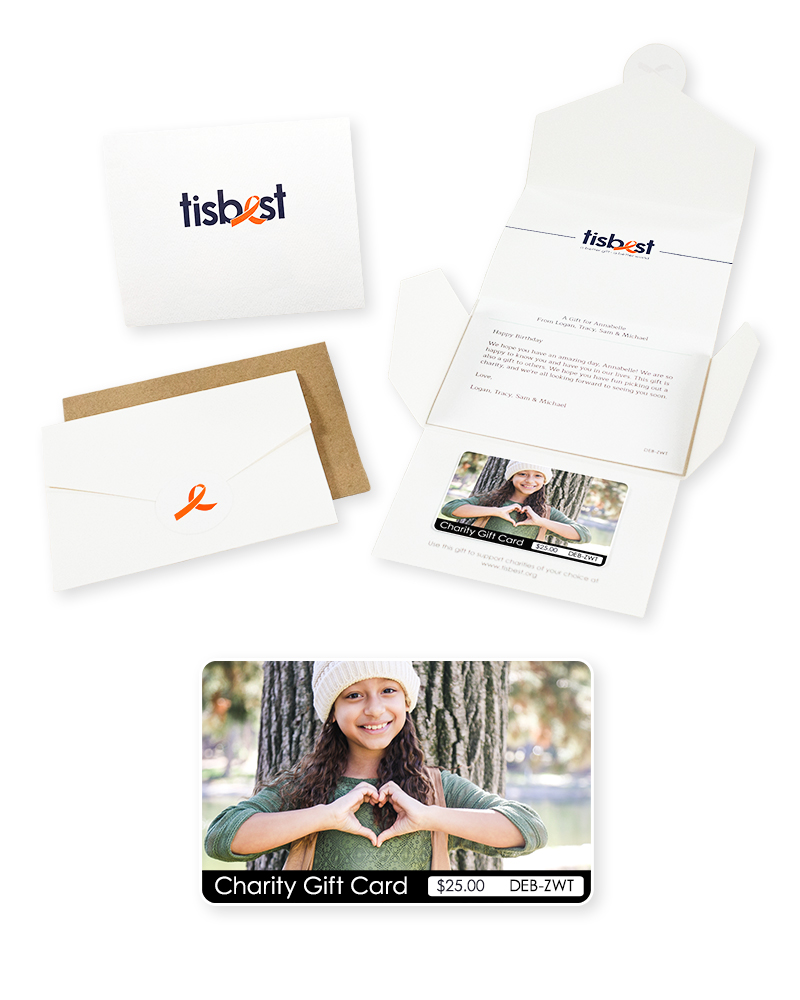 Step 2: Customize your Charity Gift Card
Next comes the fun part! Create a custom-designed card.
Choose from TisBest's gallery of card designs or upload your own image to feature on your gift card. Fun ideas include:
A photo of yourself and the recipient
A picture of their favorite pet, place, or memory
Holiday-specific greetings
An inspirational quote
Your business logo
Design your own image
Choose the dollar amount of your charity gift card (from $10 and up.)
Add a personalized message for your recipient.
Step 3: Help Make the World a Better Place!
After your recipient receives their TisBest Charity Gift Card, they will spend it by going to Spend.TisBest.org and entering the 6-digit code on the face of the gift card.

Your recipient chooses (up to 3 charities) from more than 1.8 million U.S.-registered charities. This includes large, well-known organizations, as well as small and local nonprofits right in their own community. 100% of your gift card value goes directly to the charities they choose.
Together, you'll spread more love and kindness in our world!
How TisBest Helps You Give Meaningful Gifts That Do a World of Good!
Three Sustainable and Convenient Formats Make Gifting a Cinch!
TisBest Charity Gift Cards are just a click away! TisBest Charity Gift Cards are two gifts in one. They support the causes your recipients care about and reduce your carbon footprint. Whether you wish to pre-order bio-plastic gift cards to give in person, or instantly send or print a personalized gift card, your gift will surely leave a lasting impression.
Decide the amount and message. We'll send your gift card recipient a personalized email with a link to spend their gift card.
Instantly download and print on the go. Our printable gift cards make the best last-minute gifts, greeting card inserts, and stocking stuffers!
Have bio-plastic cards sent to you for further personalization, or we'll mail fully packaged and sealed charity gift cards directly to your recipient.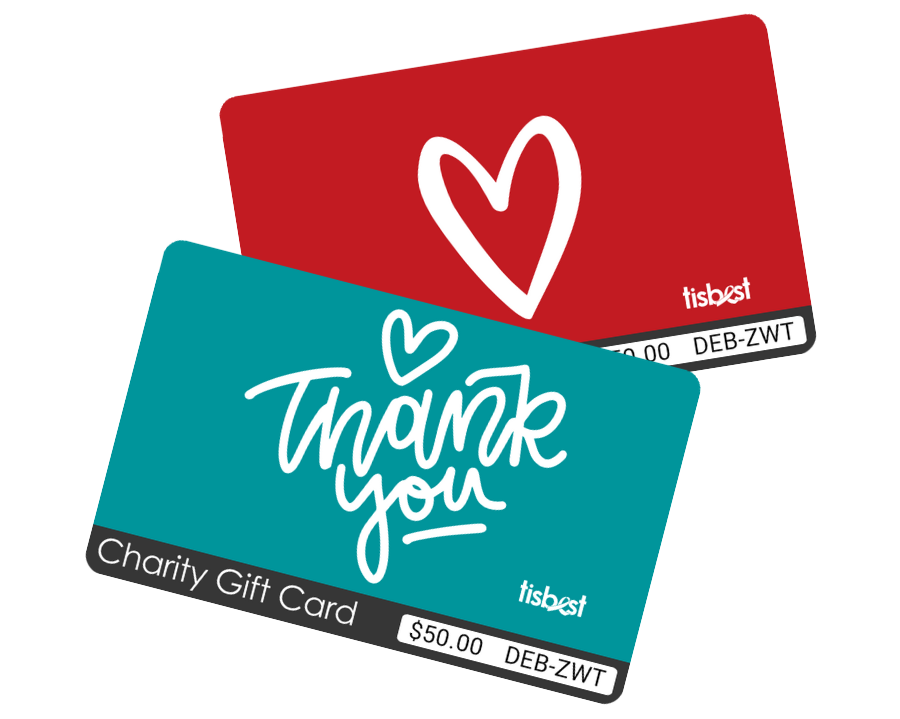 The Perfect Gift for Any Reason and Any Season
TisBest Charity Gift Cards are the perfect gift for any occasion. They are a great way to show your recipients that you care about the causes close to their hearts.
Christmas, Hanukkah, Diwali, Eid al-Fitr, Kwanzaa
Birthdays and Mitzvahs
Housewarmings and host gifts
Weddings
Anniversaries
Valentine's Day
Thanksgiving
Easter
Get Well
Thank You
Congratulations
Or just because!

Join TisBest on our mission to #RedefineGifting all year round!
#RedefineGifting With TisBest Charity Gift Cards!
Join the movement! Give the gift that gives back and help make our world a better place.
TisBest Charity Gift Card Examples:
Unleash your creativity and add a personal touch to your TisBest Charity Gift Cards! TisBest lets you choose the image you'd like to feature on your charity gift cards. Select from the beautiful images in our gallery or upload your own — the possibilities are limitless! Here are a few examples of customized gift cards our TisBest team created themselves.