Add Charitable Giving To Your New Year's Resolutions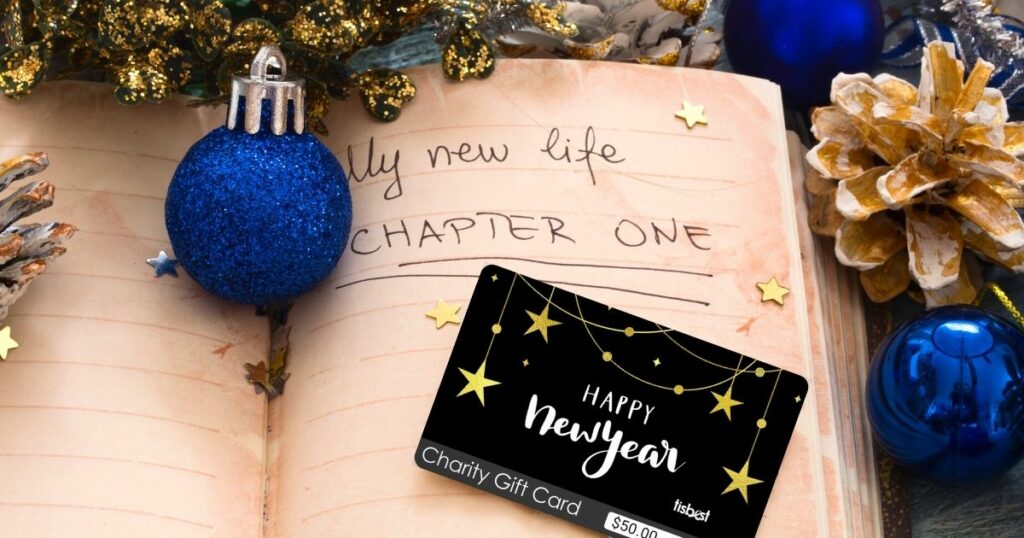 5,4,3,2,1…HAPPY NEW YEAR! At the stroke of midnight you emphatically declared your first resolution – to be happy. Then you came up with a list of ways to achieve that. Perhaps it's to eat healthier, learn a new skill for work, or spend more time being social and less time on social media. As you welcome a new year of hope and possibility, there's one resolution that will make 2023 your best year yet. Find out why adding charitable giving to your New Year's resolutions will keep you smiling all year long.
Avoid the February Flop
January 1 is like a day of freshly fallen snow. A clean slate. Then the footprints in the snow start leading you in all different directions. Similarly, when life gets busy it can be difficult to stay on course to achieve your resolutions. In fact, 80% of New Year's resolutions fail by February. Don't despair. We've got the secret to success for sticking to your 2023 resolutions – and which one will bring you the most joy.
How To Rock Your New Year's Resolutions
Most resolutions are self-improvement goals – which are certainly important to your personal and professional growth. However, the tasks leading up to those bigger goals may not be particularly enjoyable or meaningful – which makes it hard to stick to those resolutions. Eliminating sweets after the holidays is easy…until those Valentine candies hit the shelves. Taking a professional development class to get promoted is a great idea … unless it's for a job that you don't really like.
The key to rocking your New Year's resolutions is to take smaller steps toward your bigger goals that are instantly rewarding. If doing something makes you feel good while you do it, you're more likely to persist (rather than doing something you think will make you feel good in the future.) First, look inward to reflect on which resolutions align with your core values. Then take small, actionable steps each day to do what brings you the most joy. Now, the secret to achieving your very first resolution – to have a happy New Year – is to look outward and do something bigger than yourself.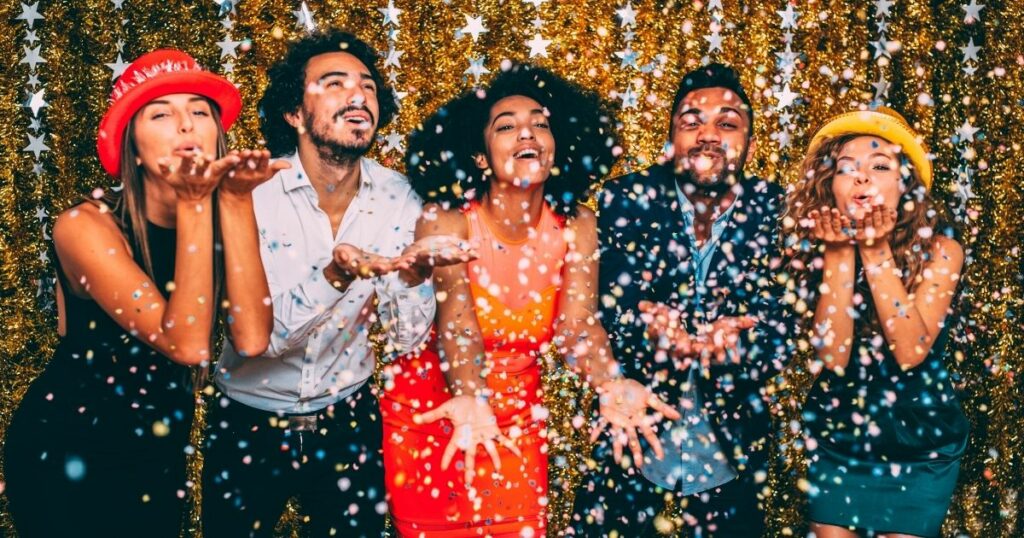 Charitable Giving Leads to a Happy and Healthy New Year
Research shows that giving back to others makes us happier and improves our overall emotional well-being and physical health. Charitable giving is proven to release endorphins which promotes tranquility and inner peace. It also helps lower blood pressure and reduce stress – similar to the positive results of healthy eating and exercise, but way more fun. Your acts of selflessness will also improve the quality of life for others which is the best part of all. The good news is you don't need to be wealthy to give back.
Share a Cup of Kindness for Auld Lang Syne
The "feel-good" benefits of charitable giving are not linked to the amount of money you donate. Volunteering and sharing your time and talents are equally rewarding and cost nothing. You can also tie in another resolution (such as drinking less coffee) and pay forward your monthly Starbucks fund to charity. Even small donations make a big impact.

However, the feel-good factor isn't attained by simply donating to charity. The true benefits of almsgiving stem from supporting causes that are most meaningful to you and your loved ones. TisBest Philanthropy makes it easy to add charitable giving to your New Year's resolutions and share the joy of giving with your family, friends, and colleagues. Kindness is contagious. Pass it on with TisBest Charity Gift Cards.
Give the Gift That Feels Good to Give and Receive
TisBest Charity Gift Cards work just like traditional gift cards – with one meaningful exception. You choose the amount and your loved ones pay it forward to their favorite charities. With nearly 2 million charities on TisBest.org, card recipients can choose from our featured categories or quickly search for their favorite local or national nonprofit. 100% of your donation goes to their designated charity. Then, you'll receive a confirmation email letting you know which causes they supported to see the impact of your gift.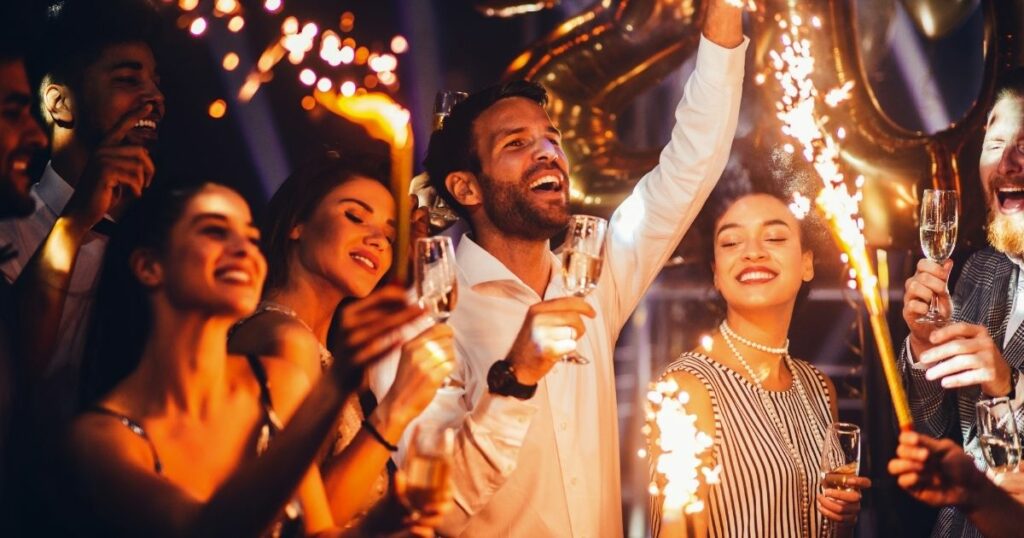 A Toast to #RedefineGifting
From birthdays to Valentine's Day to Mother's Day and weddings, there are gift-giving occasions all year round. Billions of dollars are spent each year on retail gifts and many of those gifts are returned to stores or go unused. Our New Year's resolution is to #RedefineGifting throughout the year by replacing some gifts of stuff with gifts that give back to those who need it most.
Nonprofits receive 1/5th of their annual revenue from December donations. However, that alone is not enough to keep their doors open. Many nonprofits rely on monthly donations to provide much-needed supplies and services to their communities all year long. Imagine the impact we'll make together if we take small, actionable steps to #RedefineGifting every month.
Cheers to a New Calendar Year
Here are some fun ways to make TisBest Charity Gift Cards part of your charitable giving New Year's resolutions:
JANUARY
Do you know someone with a January birthday who doesn't really need or want anything after the holidays? Give them the joy of giving back with a TisBest Charity Gift Card.
FEBRUARY
Send your Valentines a charity gift card or attach one to a box of chocolates. Then watch their hearts melt as they pay it forward to their favorite charities.
MARCH
Are you the manager of a small team or own your own business? Celebrate Employee Appreciation Day on March 3 by showing your team you care about what they care about. Employees want to work for companies that support charitable giving. Imagine how they'll feel when you let them choose the charities to support.
APRIL
In honor of Earth Day, invite your friends and family to redeem their TisBest Charity Gift Card to support their favorite environmental charities. Plus, our gift cards come in three sustainable formats – bio-plastic, digital, and downloadable cards – an added win for the planet!
MAY
Honor your mom and the mother-figures in your life by giving them the joy of giving back to their favorite charities. Enclose a TisBest Charity Gift Card in a greeting card or sneak one in a bouquet of flowers.
JUNE
Getting married this year? TisBest Charity Gift Cards make a unique wedding favor for your guests. Invited to a wedding and need a unique gift for the couple who doesn't need another toaster? Help them spread the love to the causes they hold dear to their hearts.
JULY
Celebrate Independence Day by giving TisBest Charity Gift Cards. You can recommend recipients pay it forward to our featured civil rights charities to support freedom and justice for all.
AUGUST
August 17 is National Nonprofit Day! It's a day to recognize non-profit organizations and the impact they make in their local communities. Send your loved ones a TisBest Charity Gift Card so they can pay it forward to their favorite cause.
SEPTEMBER
Back to school is a great time of year to teach children and teens about the importance of giving back. Send the kids in your life a digital TisBest Charity Gift Card. They'll love making the decision on which charities to support and getting to do it right from their phone. You'll love learning about the types of causes that are most important to them.
OCTOBER
Last year, consumers spent $10.6 billion on Halloween candy, decorations, and costumes. This year, let's make a collective resolution to direct more of that spending to the causes we care about most.
NOVEMBER
On Thanksgiving, include a TisBest Charity Gift Card on each place setting. After dinner, have your guests pay it forward to their favorite charities. Then, during dessert talk about all of the different charities they supported and why. Together, you'll make the holidays a little brighter for those less fortunate.
DECEMBER
Looking for last-minute holiday gifts for friends, family, and colleagues? Our digital and downloadable cards are available instantly after purchase! Plus, your gift is tax deductible so you'll receive a receipt for filing.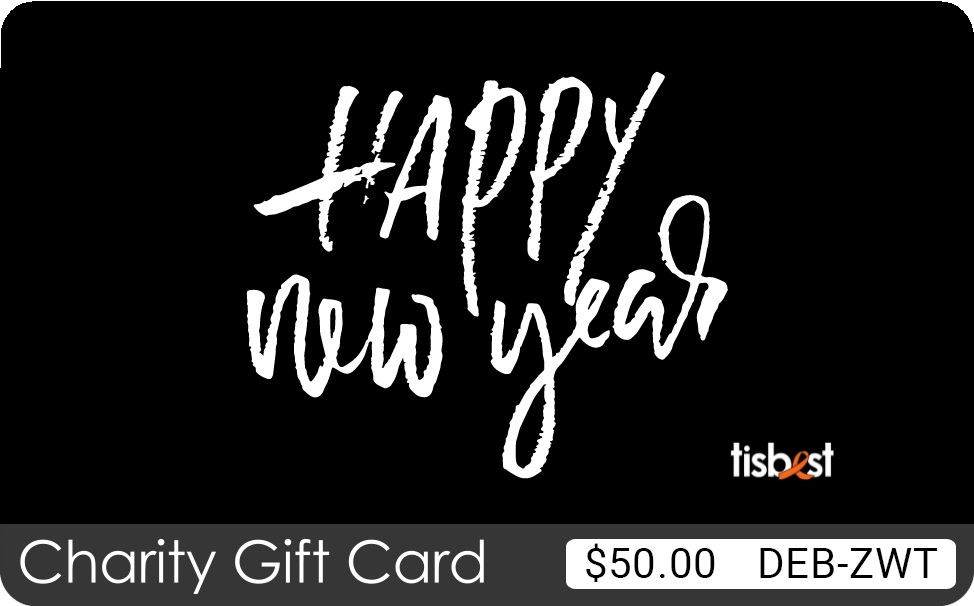 Order Your TisBest Charity Gift Cards Today!
Adding charitable giving to your New Year's resolutions is easy whether you plan to donate once a year or once per month. Order bio-plastic cards and we'll ship them directly to your loved ones or send them to you for further personalization. Prefer to send digital cards? You choose the amount and the delivery date – making it easy to plan ahead for birthdays, special occasions, and holidays – or enjoy instant delivery for last-minute gifts. Together, let's #RedefineGifting and make this year the happiest of all!