Closing Gifts That Give Back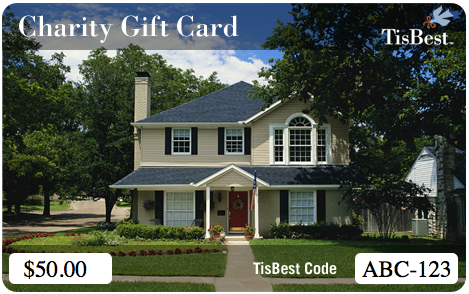 A wonderful way to make a lasting impression with your clients is by giving them a unique closing gift. Long gone are the days that a bottle of wine or a calendar with your logo on it will impress your clients. Your closing gift may be the last contact you have with them for quite some time, so it's important to let your clients know you care.
Next time, try giving them a charity gift card. With a charity gift card, you choose how much to donate, your client chooses which charity receives the donation, and you've both helped make the world a better place. Better than a calendar? We- and your clients- certainly think so!
Here's how charity gift cards work:
Step 1: You make a donation to a charity gift card organization, such as

TisBest Philanthropy.

Step 2: TisBest then emails a virtual gift card to your client or sends them a physical card in the mail. You can also have the card sent to you instead so you can hand it to your clients in person. Your personal message to the client appears along with the card. You get to choose how the card looks, either by selecting an image from the TisBest website or uploading your own (hint: upload a picture of their new house to use as the card image for a beautifully personalized experience!). You can even include your own custom branding at no additional cost.
Step 3: Your client selects a charity through TisBest's website. TisBest then forwards your initial donation along to the charity or charities your clients have chosen.
Voila! You have not only given your client a one-of-a-kind gift, but you've also given them the experience of doing good in the world through your donation. Think of it like donating to a charity in your client's name, but this way the client has complete control over where the donation is made, as well as a memento of that experience in the form of their gift card.
This is a generous and incredibly unique gift that shows your clients that you care- truly and authentically. And giving them the ability to make a donation to a charity they love will give them a genuinely special experience that will stick with them for years to come.