12-Year-Old Recycler Ryan Hickman Helps Make the Sea Trash Free
TisBest is on a mission to #RedefineGifting by replacing gifts of stuff with gifts of good. In that spirit, we like to feature heartwarming stories of special people, like Ryan Hickman, who are also doing good in this world. We hope it inspires you to spread some kindness and love in your communities.
While most kids at the age of three are just starting pre-school, young Ryan Hickman started his own business. After visiting his local recycling center with his dad, Ryan learned about the number of cans and bottles that end up in the oceans, endangering innocent sea life. Ryan was inspired to protect these animals by collecting and recycling cans and bottles from family, friends, and neighbors.
Four years later, at age 7, he had over 50 customers and established a non-profit business called Ryan's Recycling Company. In 2020, the young entrepreneur launched another non-profit called Project 3R™ — dedicated to recycling and environmental awareness/education around the world. Ryan, now 12, has recycled over 1.5 million cans and bottles to date!
Ryan's Recycling Company Provides Door-to-Door Service
Ryan Hickman started out simply collecting cans and bottles from his neighbors while riding his bike. Then, by word of mouth, he began getting requests from neighborhoods throughout San Juan Capistrano, California. Now, through Ryan's Recycling Company, Ryan has customers all over Orange County, CA.
Customers simply contact Ryan to schedule a pick up. He and his dad collect plastic and glass beverage bottles as well as aluminum cans. They take them by the truckload regularly to the local redemption center where they are unloaded, sorted, and weighted. Ryan's Recycling Company recently partnered with Recycle From Home™ to pick up and pay Irvine, CA residents for their aluminum cans, plastic, and glass bottles. Ryan hopes to expand this service to other communities soon.
Ryan Hickman's Beach Clean Ups "Shorely" Make a Difference
When not sorting through bottles and cans, Ryan spends his time beachcombing by the Ocean. However, Ryan is not searching for sea glass and driftwood. He is collecting trash to help save sea life. Growing up in a beach community, Ryan has been helping his dad with beach clean ups ever since he could walk. Today, Ryan leads and organizes weekly beach clean up events — which sometimes draw in as many as 200 volunteers!
On any given day, Ryan finds plastic straws, juice box wrappers, and lots of styrofoam — especially after it rains. He also discovers some unexpected treasures such as shotgun shells, car keys, iPhones, and even a flip phone. (Though Ryan admits he didn't even know what that was. His dad had to tell him.) He also finds beach toys which he gives to his friend who cleans them up and donates them to schools.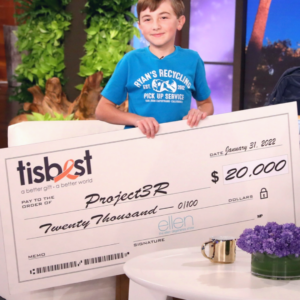 YouTube Videos Inspire a Sea Change in Marine Life Protection
After watching a YouTube video of a turtle with a straw stuck in its nose, Ryan felt compelled to do even more. So he created a series of his own YouTube videos about how recycling helps save marine life. Ryan's Recycling Company also sells branded apparel to raise money for Pacific Marine Mammal Center in Laguna Beach, CA — a place he has visited often throughout his childhood. Proceeds help with sea lion and seal rescue, rehabilitation, and release efforts.
Ryan Hickman Becomes National Ambassador for Change
In 2017, Ryan Hickman's recycling story went viral. Since then, more than 200+ million people have watched his videos on social media. He has traveled around the country educating others about the importance of recycling. Ryan has been a featured guest on many programs including The Ellen DeGeneres Show, Little Big Shots, The Today Show, and Good Morning America.
Ryan also has been featured in Time for Kids, National Geographic and has received numerous, prestigious awards. Some of his most notable recognitions include being named a CNN Young Wonder; Top 100 Most Influential People of Orange County, CA; and one of the top ten kids changing the world by MSN. Ryan is a youth ambassador for Recycle Across America. He has volunteered his time to be featured in publication ads and videos for their organization to raise awareness about recycling. While the national publicity has given Ryan a platform to educate and inspire others, he feels there is still much more work to be done.
Project 3R™ Advocates for Recycling Programs Worldwide
According to Ryan Hickman, only 11 of the 50 states have a bottle bill program where people can exchange their cans and bottles for cash. Ryan's goal is to inspire every state to adopt this program. However, through his newfound fame, Ryan realized that access to recycling centers isn't just a problem in the U.S. He started receiving emails and social messages from people asking how to recycle in Africa and India. Those messages inspired Ryan to create another non-profit organization.
Established in 2020, Project3R™ is dedicated to recycling and environmental awareness/education around the world. Through this organization, Ryan travels internationally speaking about the importance of recycling and saving our land and our oceans from plastic pollution. Project3R™ has also launched school recycling programs worldwide.
The Ellen DeGeneres Show Helps Ryan "Seas" the Day!
By now, Ryan Hickman is used to all the national media attention. So it was no surprise when he was invited back to The Ellen DeGeneres Show. (Ryan first made an appearance on the show back in season 14 when he was just 7 years old.) But during his most recent interview, something happened that Ryan did not expect. To support Ryan's environmental efforts, The Ellen DeGeneres Show partnered with TisBest Philanthropy to give Ryan a check for $20K! Next, their friends at OceanX gave him a trip to ride their new OceanXplorer and submarine!
What's Next for Ryan Hickman?
As the CEO of two successful non-profit organizations at age 12, you may be wondering what Ryan will do next. When he's not in school or traveling, Ryan loves doing regular kid stuff like riding his bike and hanging out with friends. Though he has big plans for the future. He is saving all of his recycling redemption money to help pay for college – and to one day trade in his 2 wheels for a brand new garbage truck!

To learn more about Ryan Hickman follow him on Instagram, Twitter, and Facebook. To support Ryan on his mission to help protect marine life, donate to Project3R or text GIVE to 949-952-1550.
Create More Warm Fuzzies!
Join us in the movement to #RedefineGifting by replacing gifts of stuff with gifts of good. If you feel inspired by this heartwarming story, spread a little more love in our world. Send a TisBest Charity Gift Card to those close to your heart so they can pay it forward to a charity that is close to theirs. Or give a card to a stranger as a random act of kindness. Together, you'll do a world of good.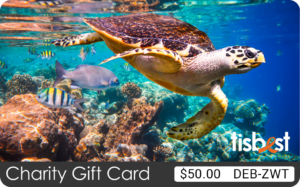 Share your giving stories with us on social by tagging your post with #RedefineGifting.