College Students Bobby White and Josh Trujillo Rescue Dog in Avalanche
TisBest is on a mission to #RedefineGifting by replacing gifts of stuff with gifts of good. In that spirit, we like to feature heartwarming stories of special people, like Bobby White and Josh Trujillo, who are also doing good in this world. We hope it inspires you to spread some kindness and love in your communities.
Bobby White and Josh Trujillo, students at The Colorado School of Mines, learned quite an unexpected geology lesson. The two friends went backcountry skiing at the popular Berthoud Pass in central Colorado where they witnessed an avalanche. Concerned that there may be people trapped under the snow, the skiers rushed over to help. That's when they saw Scott Shepherd. Thankfully, Scott and his fellow outdoor adventurers were all accounted for and safe. However, Scott's dog Apollo had disappeared in the mass of snow.
Powder Hounds Offer a Beacon of Light for Missing Dog
According to ABC News, Scott Shepherd's group had accidentally veered off-course. They stopped just above a steep terrain when Scott's dog, Apollo, a 2-year-old Chesapeake Bay retriever, ran away from him. Apollo triggered the avalanche and was swept over the cliff. He tumbled through several trees before disappearing into the sea of snow. Scott skied to the edge of the ridge, but couldn't see where Apollo went. Then, he climbed down the chute and into the path of the slide to begin the search.
That's when backcountry skiers Bobby White and Josh Trujillo offered Scott a ray of hope. Josh arrived first on the scene and immediately took out his beacon searching for people. When Josh learned that Scott's group was safe but his dog was trapped, he pulled out an 8' long probe. When Bobby caught up with him, he, too, started probing through the snow. A couple of more experienced skiers advised the boys to leave the area. Apparently, they were directly underneath some of the most dangerous avalanche terrain on Berthoud Pass. However, as Bobby and Josh went to retrieve their skis, they noticed the dog's nose sticking out from under the snow.
Bobby White and Josh Trujillo Give New Meaning to an Apollo Rescue Mission
Despite fearing the worst, Bobby and Josh began digging vigorously. To their surprise, after a few minutes, Apollo wriggled his way out of the snow. Remarkably, the dog showed no signs of injury or trauma. Bobby White, who happened to be testing out his new GoPro that day, caught the whole rescue mission on camera.
Later, in an interview with ABC News, Apollo's owner Scott Shepherd said, "There's no way I would have found him in time to get him out there because I was still way up the slope, making my way around. I think they saved his life, and I can never be grateful enough for that."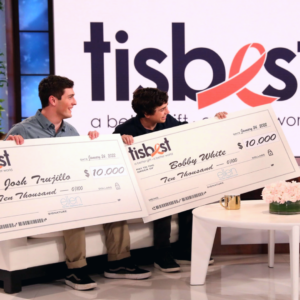 Bobby White and Josh Trujillo Trade in Some Fresh Pow for Some Cold Hard Cash
After learning of Apollo's rescue, The Ellen DeGeneres Show invited Bobby White and Josh Trujillo as guests on the show. During the interview, Bobby shared that he had stayed at college that weekend to "score some fresh pow." So The Ellen DeGeneres Show partnered with TisBest Philanthropy to pull off quite the surprise for the boys.
In recognition for their heroic acts on the slopes, Bobby and Josh each received a $10,000 TisBest check for their education. Now instead of probing through the snow, they will dig themselves out of student loan debt. As for Apollo, he is now home safe and sound and happily reunited with his owner, Scott.
Create More Warm Fuzzies!
Join us in the movement to #RedefineGifting by replacing gifts of stuff with gifts of good. If you feel inspired by this heartwarming story, spread a little more love in our world. Send a TisBest Charity Gift Card to those close to your heart so they can pay it forward to a charity that is close to theirs. Or give a card to a stranger as a random act of kindness. Together, you'll do a world of good.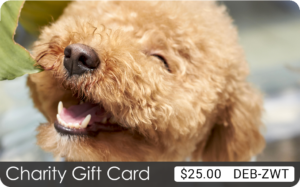 Share your giving stories with us on social by tagging your post with #RedefineGifting.