Rita Williams Gives IHOP Waitress Jazmine Castillo the Tip of a Lifetime
TisBest is on a mission to #RedefineGifting by replacing gifts of stuff with gifts of good. In that spirit, we like to feature heartwarming stories of special people, like Rita Williams, who are also doing good in this world. We hope it inspires you to spread some kindness and love in your communities.
Rita Williams treated her mom to breakfast at an IHOP in Metro Atlanta. However, what started out as an ordinary day, turned into a life-changing experience for Rita's waitress Jazmine Castillo. The IHOP server was waiting on multiple tables, including a party of 15 with a crying baby. Rita was so impressed by Jazmine's patient and kind customer service that she decided to give her a $20 tip — even though her bill was only $30. Jazmine was so shocked and thankful for the generous tip that Rita decided to give her another $20. Then, when she learned that the waitress was experiencing financial hardship, Rita asked for her Cash App. That evening she sent Jazmine $500. Next, Rita posted her story on Facebook which inspired her followers to donate $10,000 to Jazmine!
Rita Williams' Tip Covers IHOP Waitress' Child Care Expense
For Jazmine Castillo, it typically takes waiting on seven or eight tables to earn $40 in tips. Jazmine shared with Rita that, on a good day, she makes $100 waiting tables. However, it costs her $40 per day for child care, plus $20 for an Uber there and back. When Rita learned that her initial $40 tip covered Jazmine's child care expenses for one day, she just felt compelled to do more.

"She told me that she [was] ready to quit cause [she] can't afford to Uber to work and pay for daycare for her daughter," Rita Williams wrote in her Facebook post. "She wasn't planning on coming to work cause she didn't see the light and just couldn't afford to but she came." When Rita invited her friends and family to donate to Jazmine's Cash App, the response was overwhelming.
Pancake Waitress Flips Over the Kindness of Strangers
In an interview with People.com, Jazmine recalled, "I was bathing my baby, and I started hearing my phone go off. I don't usually get Cash App, so I didn't recognize the ring tone, and it just got crazier and crazier and it didn't stop from there. It didn't stop and it hasn't stopped." By the time Jazmine put her baby to sleep that night, her Cash App received more than $4,000. By the weekend, she received a total of $10,000!

The donations have been life changing for Jazmine. She was able to help pay for her mother's medical care, cover a couple of months' rent, catch up on some overdue bills, and provide for her baby girl. Jazmine was so humbled and touched by the kindness of strangers, that she, too, wanted to give back. So, she donated some of the money to help others in need.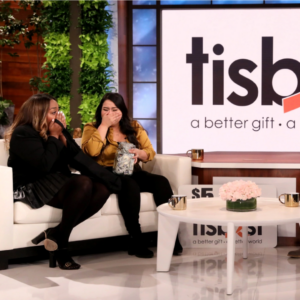 The Ellen DeGeneres Show Serves Up a Sweet Surprise
When The Ellen DeGeneres Show learned about Rita Williams' and Jazmine Castillo's story, they invited both ladies to be guests on the show. They shared how their experience has manifested into a wonderful chain reaction of kind acts. Now, at the IHOP where Jazmine works, people are paying for each other's meals. To keep the momentum going, Rita and her friends have dubbed her kind gesture as the #RitaRoseChallenge. They're now calling on others to do similar acts of kindness for those in need.
To kick off that momentum, The Ellen DeGeneres Show partnered with TisBest Philanthropy to give Jazmine a giant tip jar filled with $10,000 cash! She then received a $5,000 TisBest Charity Gift Card to support her favorite charities. Then, Rita was handed an Ellen Degeneres Show tote bag filled with $10,000 for her selfless act of kindness. Now, Jazmine will be serving more than just syrupy pancakes. She and her new friend Rita Williams will be sprinkling their kindness to many others — making the world a little bit sweeter.
Create More Warm Fuzzies!
Join us in the movement to #RedefineGifting by replacing gifts of stuff with gifts of good. If you feel inspired by this heartwarming story, spread a little more love in our world. Send a TisBest Charity Gift Card to those close to your heart so they can pay it forward to a charity that is close to theirs. Or give a card to a stranger as a random act of kindness. Together, you'll do a world of good.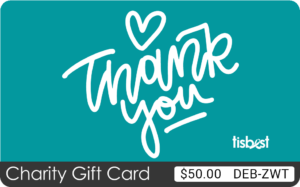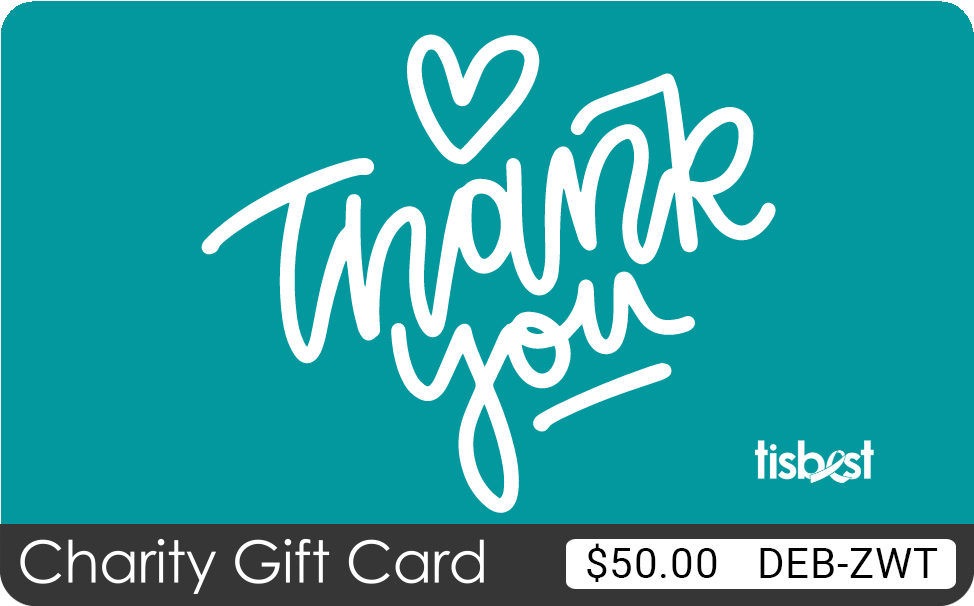 Share your giving stories with us on social by tagging your post with #RedefineGifting.