Dancing Middle School Teacher Austin LeMay Goes Viral on TikTok
TisBest is on a mission to #RedefineGifting by replacing gifts of stuff with gifts of good. In that spirit, we like to feature heartwarming stories of special people, like Austin LeMay, who are also doing good in this world. We hope it inspires you to spread some kindness and love in your communities.
Students at Tenaya Middle School in Fresno, California were dancing with joy after their teacher's impromptu hip hop moves went viral. Austin LeMay was teaching the students how to "Jerk" – a street dance made popular in the early 2000s. A colleague captured the dance on video and posted it to TikTok. The next morning, the video had hundreds of thousands of views. Days later, it reached over 10 million views and was even re-posted by Snoop Dog!
Austin LeMay Refers to Himself as the "Czar of Fun"
Austin LeMay is a leadership teacher and campus activities director for the school. However, he prefers the title "Czar of Fun." Since returning to in-person classes after a Covid shutdown, the school holds dances in the quad every Friday. The purpose is to get the kids excited about school and reconnect with peers and faculty after being so isolated. Austin is the resident DJ for the dances and can always be found busting a move. So when the kids started dancing to the 2009 hit "You're a Jerk" by New Boyz, Austin couldn't help but show them how it's done. Hours later, his dance lesson would teach him a little something, too.
Teacher Gets Schooled on TikTok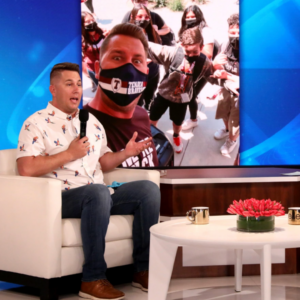 In an interview with Fox26 News, Austin LeMay said he used to tell students he didn't understand TikTok, thinking it was something for "the kids." "I'm saying to the kids, 'This doesn't make sense. I don't get it. I don't understand all these dances and everything,'" He then went on to say "Sometimes as a teacher, our role is to be proven wrong, and I'm glad that my students proved me wrong on this one." While the praise for his dance moves has been fun, Austin says the best part is the positive attention it's brought to the school and his students.
The Ellen DeGeneres Gives Austin LeMay Another Reason to Do a Happy Dance
When The Ellen DeGeneres Show saw Austin's TikTok video, they invited him to be a member of the studio audience. Next, guest host Adam Devine surprised Austin and brought him right on stage. Following video clips of his now famous dance moves, Austin was then surprised with a $10,000 check from TisBest Philanthropy. The funds will be used to support the Tenaya Middle School. Austin says none of this would have been possible without his students. Check out Austin's viral video here. Next time you're feeling stressed, heed the advice of Austin LeMay – and just dance!
Create More Warm Fuzzies!
Join us in the movement to #RedefineGifting by replacing gifts of stuff with gifts of good. If you feel inspired by this heartwarming story, spread a little more love in our world. Send a TisBest Charity Gift Card to those close to your heart so they can pay it forward to a charity that is close to theirs. Or give a card to a stranger as a random act of kindness. Together, you'll do a world of good.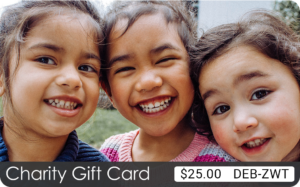 Share your giving stories with us on social by tagging your post with #RedefineGifting.