News Anchor Michelle Li Spins Negative Viewer Voicemail into a Feel Good Story 
TisBest is on a mission to #RedefineGifting by replacing gifts of stuff with gifts of good. In that spirit, we like to feature heartwarming stories of special people, like Michelle Li, who are also doing good in this world. We hope it inspires you to spread some kindness and love in your communities.
Michelle Li, news anchor on KSDK-TV in St. Louis, made headlines when she posted about a racist voicemail she received from a viewer. On January 1, Li covered a brief segment on traditional foods Americans eat to ring in the new year. During the story, she said "I ate dumpling soup. That's what a lot of Korean people do." After the broadcast, Michelle received a voicemail message from a viewer who said she was offended by her comment. The caller then went on to say that Michelle was being "very Asian" and should "keep her Korean to herself."
Just hours later, what started as an offensive comment turned into a viral movement. After Michelle posted the voicemail on Instagram, thousands of people thanked her for sharing her Asian-American tradition on TV followed by #VeryAsian. Soon after, the hashtag started trending globally, inspiring a very different message.
An Ugly Comment Blossoms into a Beautiful Gift
Michelle Li was initially shocked and then saddened by the voicemail message. However, after receiving an outpouring of support on social media, she quickly saw the experience as a gift. It was an opportunity to share with the world a new message. She then addressed the situation in a follow-up story on KSDK-TV. Michelle shared that in her 42 years, she has experienced 42 years of racism, discrimination, and at times actual violence. Although she is of Korean descent, Michelle was adopted by white parents. Her husband is also white. She grew up in Missouri and did not meet her Korean family until 1998.
Michelle said that her Asian-American heritage has always made her feel small. But now, she proudly stands up tall. She wants to be an advocate for change so things can be different for her mixed-race son. She invited the woman who left the voice mail to join her in a discussion about kindness and humanity. Michelle Li proudly told viewers that she is an American who is also Asian. And her friends, who eat dumplings in the new year for prosperity, are also American. Michelle closed the piece by stating that "It's time to change old ways of thinking and celebrate who we really are." Today, that is exactly what she is doing.
Michelle Li Makes it Fashionable to be #VeryAsian
Michelle received hundreds of comments from people who shared their own families' cultural traditions. Many posted their feelings about being quieted and "white-washed" by others. What's more, all of the posts had something else in common – they all included #VeryAsian. To Michelle's surprise, the hashtag soon went viral. In response, Michelle partnered with KARE 11 Minneapolis news anchor Gia Vang to create #VeryAsian merchandise including shirts, sweatshirts, and hats. Proceeds from the new fashion trend benefit the Asian American Journalists Association, which advocates for Asian Americans and Pacific Islanders in newsrooms.
A Viral Hashtag Turns into a Global Movement
A one-time hashtag post has now evolved into a social movement. Michelle has received accolades from celebrities, chefs, politicians, and influencers around the world. She was so inspired by the outpouring of support that she started a nonprofit called The Very Asian Foundation. The purpose of the Foundation is to amplify diverse AAPI voices. The Foundation sells merchandise and raises funds for other pro-Asian organizations, including the Asian American Journalists Association (AAJA), and Stop AAPI Hate.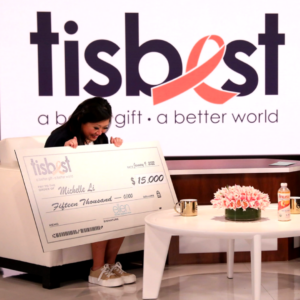 Michelle Li Receives a Surprise Gift from TisBest
When The Ellen DeGeneres Show learned of this amazing story, Michelle Li was invited as a guest on the show. Not only did Michelle get to share her story on a national platform, she also received a very unexpected gift. The Ellen DeGeneres Show presented Michelle with a $15,000 TisBest check to help kickstart The Very Asian Foundation. Now, Michelle will be sharing many feel good #VeryAsian stories for years to come!
Create More Warm Fuzzies!
Join us in the movement to #RedefineGifting by replacing gifts of stuff with gifts of good. If you feel inspired by this heartwarming story, spread a little more love in our world. Send a TisBest Charity Gift Card to those close to your heart so they can pay it forward to a charity that is close to theirs. Or give a card to a stranger as a random act of kindness. Together, you'll do a world of good.
Share your giving stories with us on social by tagging your post with #RedefineGifting.