Aidan Reilly Connects Farmers with Food Banks
TisBest is on a mission to #RedefineGifting by replacing gifts of stuff with gifts of good. In that spirit, we like to feature heartwarming stories of special people, like Aidan Reilly, who are also doing good in this world. We hope it inspires you to spread some kindness and love in your communities.
Here's a sobering fact. According to the Environmental Protection Agency, wasted food takes up more space in U.S. landfills than any other material. Digest that for a minute. In addition to consumer and grocery store food waste, approximately 20 billion pounds of U.S. farm-harvested food ends up in the landfill each year. Meanwhile, nearly 40 million Americans are food insecure.

It doesn't take a math wizard to see the problem. It does, however, take a scrappy, young, social entrepreneur to find a solution. Aidan Reilly is changing the stats on food insecurity by connecting farmers to food banks through The Farmlink Project. Through this grass-roots organization, Aidan delivers the surplus of fresh, nutritious produce from farms to communities in need across the country.
Aidan Reilly Gives Some Food for Thought
In 2021, Aidan Reilly earned his degree in political science and government from Brown University. However, he found his true calling junior year when the University was forced to shut down due to the pandemic. Aidan moved back home to Los Angeles to finish the semester remotely. During his quarantine, he read numerous articles about Covid's impact on food insecurity and felt
compelled to help.
As COVID-19 cases were on the rise, the restaurant industry plummeted. Farmers were suddenly faced with a surplus of food and nowhere to sell it. They ended up throwing out produce and eggs and dumping out countless gallons of milk. Meanwhile, millions of Americans lost their jobs. Since they couldn't afford the rising prices at grocery stores, they relied on food banks. To add fuel to the fire, food banks were experiencing supply shortages and couldn't keep up with the demand. In fact, the Westside Food Bank in Santa Monica, California went from servicing 300 families a week to 1,300 families a week. That's when Aidan Reilly decided to turn his unusual school year into a unique opportunity to help feed his community.
Ivy League Student Becomes Grassroots Entrepreneur
Aidan partnered with his childhood friend and Stanford University student, James Kanoff, and fellow Brown student, Will Collier, to help him on his mission. They cold-called over 300 farms to see if they would be interested in having their excess produce delivered to local food banks.

Since the Ivy League students had no experience in farming, agriculture, or freight, most of the farms thought it was a scam. However, one California farm was intrigued by the idea. The farmer said he had 13,000 eggs, but no way to transport them to the food bank. So, Aidan Reilly took matters in his own hands. First, he rented a U-Haul. Then, he and his two college buddies picked up the eggs from the farm and drove them to the Westside Food Bank – where Aidan used to volunteer as a child.
The Farmlink Project Repurposes Unused Farm Produce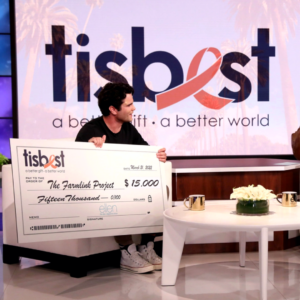 After the first successful delivery, Aidan rallied up more volunteers. Then he turned his grass-roots initiative into an aptly named nonprofit called The Farmlink Project. In less than one year, the organization gained over 200 college student volunteers nationwide.
Aidan relies solely on fundraising to employ professional truck drivers to transport the produce. He and James run the business operations from an LA warehouse. To date, The Farmlink Project operates in 48 states and three countries. It has rescued and delivered more than 60 million pounds of farm produce to food banks across the country — resulting in 45 million healthy meals to families in need! What's more, it saved the environment from an estimated 80 million pounds of carbon emissions had that food been thrown away.
Here They Grow Again!
In addition to working with farmers, The Farmlink Project has partnered with Chipotle and Kroger. The retail food stores donate unsold produce from their farming partners to help the cause. The nonprofit also partnered with Uber Freight, an app that connects shippers with available truck drivers, to facilitate deliveries from farms to food banks.

In recognition of their fight against food insecurity, Aidan Reilly and James Kanoff received Brown University's Congressional Medal of Honor Service Award. Then the entrepreneurs were featured in Forbes 30 Under 30 for Social Impact list. Next, Aidan Reilly was invited as a guest on The Ellen DeGeneres Show to share his story.
Aidan Reilly Brings Taboo Food Waste Issue to the Table
The Farmlink Project has made a huge impact during the pandemic, but according to Aidan Reilly there is still so much work to be done. During his interview with The Ellen DeGeneres Show, Aidan said there is a long-standing issue with food waste that isn't talked about. He explained that the United States adheres to "perfect produce" standards. Our culture is focused on the best-looking food rather than harvesting food that is simply good to eat.

In fact, Aidan visited a local warehouse, the size of a stadium, which was full of tomatoes. The produce was being thrown away because it wasn't red enough. Through The Farmlink Project, Aidan aims to save edible produce from our landfills to help end the food insecurity crisis in the U.S. Then, his hope is to go global and save a billion pounds of food worldwide!
National Talk Show Host Supports Aidan Reilly's Global Mission
To help Aidan pursue his goal, The Ellen DeGeneres Show partnered with TisBest Philanthropy to donate $15,000 to The Farmlink Project! Now, Aidan and his team can deliver fresh farm produce to even more communities. To support Aidan Reilly's global mission, consider making a donation at www.farmlinkproject.org. Just one dollar equals 20 meals!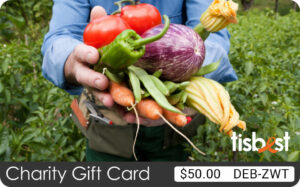 Create More Warm Fuzzies!
Join us in the movement to #RedefineGifting by replacing gifts of stuff with gifts of good. If you feel inspired by this heartwarming story, spread a little more love in our world. Send a TisBest Charity Gift Card to those close to your heart so they can pay it forward to a charity that is close to theirs. Or give a card to a stranger as a random act of kindness. Together, you'll do a world of good.
Share your giving stories with us on social by tagging your post with #RedefineGifting.