Math Teacher George Caesar Serves Up Smoothies 4 Students
TisBest is on a mission to #RedefineGifting by replacing gifts of stuff with gifts of good. In that spirit, we like to feature heartwarming stories of special people, like George Caesar, who are also doing good in this world. We hope it inspires you to spread some kindness and love in your communities.
George Caesar is a financial algebra teacher at Miami Northwestern Senior High School in Liberty City, Miami. He noticed that his students were sluggish in the morning and wanted to find the root of the problem. When he learned it was due to hunger, this math teacher came up with a formula to help students kick start their day. He created Smoothies 4 Students, a mobile food truck that provides healthy breakfast options for students living in a food desert.
Liberty City Students Are Hungry For Healthy Food Options
When students were low energy and making obvious mistakes on their work, George became frustrated and complained to a co-worker. His colleague suggested that perhaps the students were not focused because they were hungry. The next morning, George asked his class of 30 how many of them ate breakfast that day. Only four kids raised their hands. When he asked why they didn't eat the breakfast offered at school, they said it's because "it's nasty." For the few that did eat breakfast before school, they had either chips, donuts, or McDonalds.
The next day George left his lunch behind and visited the school's cafeteria. He grabbed some apple slices. Shortly after eating them he felt sick. The following morning George brought in a smoothie for his own breakfast. One of his students took a sip and said, "Mr. Caesar this is fire," which means he liked it. That was the moment the algebra teacher found a solution for his problem. Hungry kids minus access to healthy food equals Smoothies 4 Students.
Smoothies 4 Students Provides the Perfect Blend of Nutrition and Culture
In order for George to serve smoothies at school, he had to get a food license for his new nonprofit. Next, he and his colleagues converted an old school bus into a food truck. He even went on YouTube to learn how to do the plumbing and wiring. Next, Smoothies 4 Students became a registered 501 (c)(3) organization. It's now a mobile food truck providing healthy breakfast options for students in communities throughout Miami-Dade.
Smoothies 4 Students started out serving students at Miami Northwestern Senior High School. After the school was forced to shut down during the pandemic, George and his team of volunteers delivered smoothies to kids all over Miami. Unlike most sugary breakfast treats, George's smoothies are jam-packed with fruits, vegetables, and plant-based protein. What's more, he selects ingredients that appeal specifically to the students' palate to reflect their culture in a healthy, all-natural way. In addition to providing kids with a healthy breakfast alternative, Smoothies 4 Students also educates kids about the importance of nutrition.
Frozen Smoothies Provide Refreshing Alternative in a Food Desert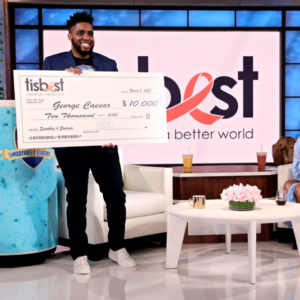 If given the chance, most of George's students said they would eat healthier if they had access to better food. Sadly, Liberty City is one of the many food deserts in Southern Florida. The nearest supermarket is miles away and many residents rely on public transportation to get there. The only accessible food is at the fast food chains or the processed and sugary snacks at the local convenience stores. As a result, members of the community develop diet-related health issues that impact their quality of life. George Caesar wants to change the trajectory for his students. His mission is to provide an oasis in the Miami food desert one smoothie at a time.
Today, Smoothies 4 Students has made over 5,000 frosty concoctions and distributed them to over 3,000 students throughout Miami. In order to help as many kids as possible, George Caesar relies on a limited number of donations and mostly pays out-of-pocket for the smoothie supplies. Despite the number of Costco receipts stacking up on his desk, George has big plans for his small nonprofit.
Smoothies + Job Opportunity = Recipe for Success
While mixing smoothies from his mobile food truck, George is also whipping up another recipe for success. George plans to expand his nonprofit by implementing the Nutrition Change Agent program. The goal is to distribute blenders and smoothie kits to students and their families so they can make them at home. He also hopes to switch from an all-volunteer based program to a paid job opportunity for students and recent graduates.
In an interview with The Black Enterprise, George Caesar shared his vision. "My dream is to have students essentially working most aspects of this organization, from food production to management to delivery. They're this talented base of amazingly creative and hardworking young people who just haven't been given an opportunity. Imagine the power of having graduating seniors providing their little brothers and sisters and their friends with healthy breakfasts and just what that means—the power of a community that takes care of itself. That's what we're trying to do."
The Ellen DeGeneres Show Solves Challenging Problem for Algebra Teacher
During a visit to The Ellen DeGeneres Show, George explained to guest host Mickey Guyton how he maintains the nonprofit on a teacher's salary. He credited his savvy budgeting skills with a nod to his career as a financial algebra educator. Although, he does not focus on the money. He just keeps churning the blender to serve as many students as possible. His mission is to be the generation that ends food insecurity for our youth.
To support George's efforts, Mickey brought out a life-sized cooler adorned with the Smoothies 4 Students logo. Next, George peeked inside and found a really cool treat. The Ellen DeGeneres Show partnered with TisBest Philanthropy to fill the cooler with a giant $10,000 check! George Caesar was given an assignment to take Smoothes 4 Students to the next level. Now .. problem solved!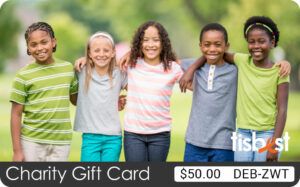 Create More Warm Fuzzies!
Join us in the movement to #RedefineGifting by replacing gifts of stuff with gifts of good. If you feel inspired by this heartwarming story, spread a little more love in our world. Send a TisBest Charity Gift Card to those close to your heart so they can pay it forward to a charity that is close to theirs. Or give a card to a stranger as a random act of kindness. Together, you'll do a world of good.
Share your giving stories with us on social by tagging your post with #RedefineGifting.