The Dovetail Project Helps Young Men of Color Thrive as Fathers
TisBest is on a mission to #RedefineGifting by replacing gifts of stuff with gifts of good. In that spirit, we like to feature heartwarming stories of special people, like Sheldon Smith of The Dovetail Project, who are also doing good in this world. We hope it inspires you to spread some kindness and love in your communities.
Sheldon Smith grew up with two teenage parents on the South Side of Chicago. They had Sheldon when they were just 18 years old. His mom was a single parent working 16 hours a day. His dad was incarcerated when Sheldon was seven years old. Sheldon's own teen years were troublesome as well, including a stint behind bars. Then, when Sheldon found out that he was going to become a young father, he changed the trajectory of his life. Sheldon vowed to become a positive role model for his child. Now, he helps other young African-American and Hispanic dads become better fathers through The Dovetail Project.
From Troubled Teen to Role Model Father Figure
Sheldon's mom did everything she could to keep him out of trouble. She signed him up for football and mentoring programs, but he kept hanging out with the wrong crowd. At age 16, Sheldon committed armed robbery. He was tried the next day, which happened to be his birthday. So, at age 17, Sheldon was charged as an adult and sentenced to prison. That was his first wake-up call.

After serving seven months in jail, Sheldon Smith finished high school and went on to community college. Then he started his own construction business. Finally on the straight and narrow path, Sheldon's life took another sharp curve. At age 21, he learned that he was going to become a father. Sheldon made a promise to his unborn child. He would be a committed, supportive, and loving dad. He broke the cycle of absentee fathers in his family and helped many of his fellow, young, Black and Brown fathers in Chicago do the same.
The Dovetail Project Breaks the Cycle for Absentee Fathers
According to the U.S. Census, nearly half of all African-American children in the United States grow up without a father. Raised by a young, absentee, incarcerated father (who also didn't have a father in his life), Sheldon wanted to rewrite the narrative for his child. After the birth of his daughter, Jada, Sheldon started The Dovetail Project. The nonprofit's mission is to give young African-American and Latinx dads, ages 17 to 24, the skills and support they need to be role models for their children.
The 12-week program educates young dads about the roles, rights, and responsibilities of being a father. It also teaches felony street law to help these young men avoid incarceration and stay present in their children's lives. The course takes a deep dive into family law, financial literacy and job interview preparation, as well as parenting skills. The Dovetail Project encourages young dads without a diploma to enroll in school or obtain a GED. It also provides the skills they need to secure and maintain employment. To get them started, the dads receive a $500 stipend upon completion of the program. Over the past 12 years, The Dovetail Project has transformed the lives of over 540 young men.
Fatherhood Relief Fund Provides Ray of Light in Dark Times
In Chicago, there are many families who do not have access to or can't afford household necessities. Those families were hit even harder during the pandemic. Through the Dovetail Project, Sheldon Smith became a beacon of light for these families during such a dark time. He started an initiative called the Fatherhood Relief Fund to provide essential items for parents and their children. Through donations and special events, the Fatherhood Relief Fund distributes diapers, wipes, formula, food, clothes, household essentials, and personal care items to families in need.
What began as a COVID relief effort has evolved into an ongoing initiative. In the past 2 years, the Fatherhood Relief Fund has helped over 8,000 families across the city of Chicago. What's more, many alumni of The Dovetail Project help support these relief efforts as a way to give back.
Sheldon Smith Receives an Early Father's Day Gift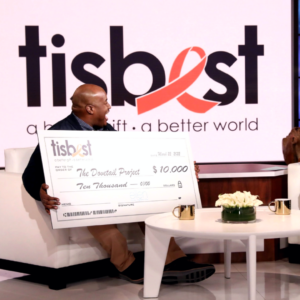 At The Dovetail Project, every day is Father's Day. Sheldon takes great pride in watching these young dads transform their lives. Now, he has even more to celebrate. Sheldon was overcome with emotion when he was invited to be a guest on The Ellen DeGeneres Show. Then what happened next left him smiling from ear to ear.
The Ellen DeGeneres Show partnered with TisBest Philanthropy to give Sheldon a $10,000 check for The Dovetail Project! TisBest is thrilled to help support Sheldon Smith as he rewrites the narrative for African-American and Hispanic fathers.
Be the Change You Want to See in the World
The Dovetail Project is currently recruiting young African-American and Latinx dads between the ages of 17 and 24 who live in Chicago. To enroll in the program or donate to the Fatherhood Relief Fund, visit www.thedovetailproject.org.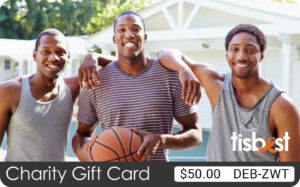 Create More Warm Fuzzies!
Join us in the movement to #RedefineGifting by replacing gifts of stuff with gifts of good. If you feel inspired by this heartwarming story, spread a little more love in our world. Send a TisBest Charity Gift Card to those close to your heart so they can pay it forward to a charity that is close to theirs. Or give a card to a stranger as a random act of kindness. Together, you'll do a world of good.
Share your giving stories with us on social by tagging your post with #RedefineGifting.