Amazing Emeka Nnaka Recycles Trauma into Triumph
TisBest is on a mission to #RedefineGifting by replacing gifts of stuff with gifts of good. In that spirit we like to feature heartwarming stories of special people, like Emeka Nnaka, who are also doing good in this world. We hope it inspires you to spread some kindness and love in your communities.
Former semi-pro football player Emeka Nnaka has suffered devastating trauma. At age 21 he was paralyzed from the chest down after tackling an opponent on the football field. Nine years later his accessible van that he drove to work, school, and volunteer events was totaled. Then, his father, his primary caregiver, broke his ankle and could no longer assist Emeka. Two weeks later, Emeka's apartment caught on fire and he lost his home. Despite all of this, Emeka's faith remained strong. Now he helps teens who have experienced trauma find strength through their adversity.
Emeka Nnaka Finds Light in the Darkness
In 2009, Emeka Nnaka was a defensive tackle for the Oklahoma Thunder semi-professional football team. While tackling an opponent during a game he heard a crack. The 21-year-old athlete broke his neck and endured a 9 hour surgery and months of rehab. He was declared paralyzed from the chest down. First, Emeka was in denial. Then he felt anger, fear, and uncertainty and spiraled into a deep depression. At his darkest moment Emeka realized he had two choices. He could either stay in that dark place or use his experience to be a light for others. Fortunately, Emeka chose the latter.
Paralyzing Injury Leads to Inspiring Career
First, Emeka started volunteering at a youth group. He immediately saw the positive impact he had on the kids when he shared his story. That's when he realized his injury was leading him to a higher calling. Emeka became a motivational speaker and an active volunteer in his community. Then, he went back to school and earned a bachelor's degree in Rehabilitation Services. Next, he earned a master's degree in Human Relations and Clinical Mental Health Counseling. Now, Emeka uses his life experiences to help teens navigate through difficult times.
Emeka Nnaka is an Advocate of Hope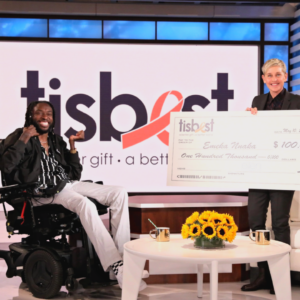 Emeka Nnaka is a mental health counselor at A New Way Center in Tulsa, OK. The group offers a unique approach to individual, family, and community-based counseling. As part of the center's Therapeutic Classroom Model, Emeka works at Traice Academy to provide in-school counseling services for students and the teachers and staff who support them. Emeka also volunteers at the Youth Services of Tulsa serving homeless and at-risk youth and their families. It's the only Tulsa non-profit organization serving adolescents and young adults.
Through his work and volunteer efforts, Emeka teaches teens how to cultivate the power of hope during personal struggle. Hope was Emeka's saving grace as he learned to live with his disability. Then he relied on it once again when his life took another unexpected turn.
Bad Things Happen in Threes
Nine years after his life-changing injury on the football field, Emeka was in another accident. This time it was a minor car crash. Fortunately, Emeka was unharmed. However, his handicap-accessible van was totaled. Two weeks later, Emeka's father, who is his primary caregiver, broke his ankle and was unable to assist him. Two weeks after that, Emeka's apartment complex caught on fire. Emeka lost his home and most of his belongings, but he did not lose his positive spirit or infectious smile. He continued to work and volunteer in the community to improve others' lives – even while his own life was turned upside down.
Tulsa Community Reaches Out to The Ellen DeGeneres Show
The Tulsa community was so inspired by Emeka's positivity, they wanted to share his story of selflessness and generosity. Over 50 community members wrote to The Ellen DeGeneres Show to share all the good Emeka was doing in Tulsa. Many of them affectionately referred to him as Amazing Emeka, a Tulsa Treasure.
In 2018, The Ellen DeGeneres Show invited "Amazing Emeka" as a guest on the show. The host was so touched by Emeka's ability to smile and give back to others while he was experiencing such hardship. To help him rebuild his life, The Ellen DeGeneres Show partnered with Cheerios to give Emeka a check for $100,000.
Emeka Rebuilds Through the Kindness of Strangers
A few months later, the host invited Emeka back to the show to check in on how he was doing. He said a few months earlier he felt as if the sky was falling, but now felt like he was flying. With his $100,000 gift he was able to purchase a new wheelchair-accessible van, which he affectionately calls "Ellen." Then he shared how the Tulsa Habitat for Humanity reached out to him after his first appearance on the show. To his surprise, the organization, and a group of community volunteers, built him an adaptable home with features including a no step entry, roll in showers, and an extra wide garage for easier vehicle access.
After hearing the good news, The Ellen DeGeneres Show partnered with Cheerios once again to give Emeka another reason to celebrate. The host presented him with a $20,000 check for Tulsa Youth Services. Emeka used the funds to purchase TVs, games, and other supplies for the teen shelter.
Emeka Nnaka Gets a Heartwarming Housewarming Gift
The Ellen DeGeneres Show invited Emeka back to the studio for the show's final season. During his on-air reunion with the host, Emeka reflected on his life's setbacks and successes and how those experiences inspire youth who struggle with physical disabilities and/or emotional trauma. The life lesson he teaches at the Traice Academy and Tulsa Youth Services is that "Life is not about the 'me'. It's about the 'we'." He encourages teens to recycle their trauma into something good for others.
In the spirit of giving back, the host had one final surprise for Amazing Emeka. After learning that Emeka still owes more than $75,000 on his house, The Ellen DeGeneres Show partnered with TisBest Philanthropy to free him of his debt. Emeka was presented with a $100,000 check to pay off his mortgage!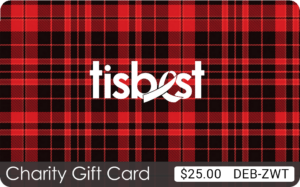 Create More Warm Fuzzies!
Join us in the movement to #RedefineGifting by replacing gifts of stuff with gifts of good. If you feel inspired by this heartwarming story, spread a little more love in our world. Send a TisBest Charity Gift Card to those close to your heart so they can pay it forward to a charity that is close to theirs. Or give a card to a stranger as a random act of kindness. Together, you'll do a world of good.

Share your giving stories with us on social by tagging your post with #RedefineGifting.