Southside Blooms Gives At-Risk Teens a Fresh Start
TisBest is on a mission to #RedefineGifting by replacing gifts of stuff with gifts of good. In that spirit we like to feature heartwarming stories of special people, like Quilen Blackwell of Southside Blooms, who are also doing good in this world. We hope it inspires you to spread some kindness and love in your communities.
Quilen Blackwell is the founder of Chicago Eco House — a nonprofit organization that transforms vacant lots in Chicago into sustainable flower farms. Stemming off that initiative is Southside Blooms, a brick-and-mortar shop that sells the farm-grown arrangements. The mission of both organizations is to alleviate inner city poverty and restore the environment through sustainable farming.
Wisconsin Native Finds True Calling in Chicago
Quilen Blackwell was raised in a dual-income family in Madison, Wisconsin. Blessed with opportunity he graduated from the University of Wisconsin-Madison and went on to serve in the Peace Corps in Thailand. After moving back to the States, he wanted to find his purpose. He volunteered as a tutor at a high school on the South Side of Chicago. That was when he saw, first hand, the extreme poverty in the community. His students were surrounded by gang violence, crime, and drugs. Quilen felt compelled to help these black teens find a path to a brighter future.
Southside Blooms Plant Seeds of Opportunity
According to Chicago Eco House, the overall unemployment rate in Englewood, Chicago is 22 percent and the unemployment rate among black youths (ages 16-24) is 50 percent. The poverty rate is 44 percent. Quilen's mission is to change these statistics.
As Quilen grew accustomed to city life he noticed that there are hundreds of vacant lots throughout Chicago. In 2014, he became inspired to turn these abandoned lots into a land of opportunity. Through his non-profit organization Chicago Eco House, Quilen started transforming lots into sustainable flower farms that provide jobs for at-risk teens and formerly incarcerated people in the community. First, Quilen created a flower farm in the Englewood neighborhood. Then he transformed several other vacant lots spanning from the South Side to the West Side and even one in Gary, Indiana. Next, in 2019, he launched a brick-and-mortar flower shop in Englewood called Southside Blooms.
Flowers That Empower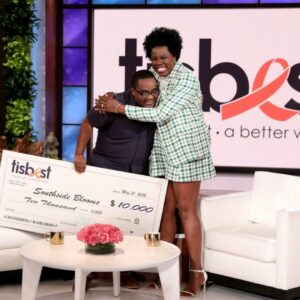 Southside Blooms is a farm-to-vase shop that employs 50 youth annually and 300 in after-school programs. The teens plant and harvest flowers, care for the pollinating honey bees, design bouquets, and make corsages and centerpieces to sell at the shop. The youth also package honey from the farms' hives, make seed paper greeting cards, and pour beeswax candles.
Southside Blooms empowers at-risk teens to work their way out of poverty. In an interview with Forbes Magazine, Quilen shared, "These young people want an opportunity to prove themselves. They want to learn skills, make some money, and provide value to their families and communities. We're helping them do this with flowers. The name Southside Blooms represents not only the flowers, but also the neighborhoods and the people who live in them, blossoming."
Inner City Farm Thrives Off the Grid
In addition to keeping kids off the streets, Southside Blooms is taking care of Mother Earth. The commercial floral industry is notoriously known for using herbicides, pesticides, and synthetic fertilizers. Southside Blooms relies solely on natural resources and regenerative farming practices to protect and restore the environment.
Each flower farm is 100% sustainable and solar-powered and pollinated by their own honeybees. The farms divert and capture rainwater from the roofs of adjacent buildings. It is stored in recycled containers and then released into the flower beds. This natural solar and irrigation system eliminates the two major operating expenses in farming – water and power. That allows Southside Blooms to use 100% of its proceeds to pay its workers and create more flower farms throughout the city. The flower farms also compost all the organic material generated on site, and use biodegradable, recyclable, or reusable packaging options wherever possible.
Flower Farm Business is Blooming
Southside Blooms receives about 40% of its revenue from sales. The rest comes from donations and grants from foundations, corporations, and individuals. Every purchase and donation helps create jobs for at-risk youth.
When The Ellen DeGeneres Show learned of Quilen's story, they wanted to start another chapter. Guest host Leslie Jones presented Quilen with a $10,000 check from TisBest Philanthropy. Now Quilen's flower farms are in full bloom with plans to convert more abandoned lots and create more jobs!
Create More Warm Fuzzies!
Join us in the movement to #RedefineGifting by replacing gifts of stuff with gifts of good. If you feel inspired by this heartwarming story, spread a little more love in our world. Send a TisBest Charity Gift Card to those close to your heart so they can pay it forward to a charity that is close to theirs. Or give a card to a stranger as a random act of kindness. Together, you'll do a world of good.

Share your giving stories with us on social by tagging your post with #RedefineGifting.