Best Tax-Deductible Employee Gifts That Do Good
Are you on the hunt for unique employee gift ideas for holidays, special occasions, or recognition for outstanding performance? Read on to find out what makes TisBest Charity Gift Cards the best tax-deductible employee gifts and why you and your employees will love them!
TisBest: Gift Cards, But Better
TisBest Charity Gift Cards are on a mission to redefine gifting and in doing so meaningfully connect individuals to important causes.
Unlike traditional gift cards, TisBest Charity Gift Cards replace the gift of more stuff with the gift of doing good, making the act of giving more meaningful, memorable, impactful, and sustainable. Instead of spending the value of their gift card on more material things, your gift recipient gets to spend their TisBest Charity Gift Card on the charity (or charities) of their choice.
Similar (in a way) to the kind of gift cards you're probably already familiar with, TisBest Charity Gift Cards are super easy to give—whether in person, via mail, or by email. They also allow you to choose how much you want to give while granting your gift recipient the ability to choose where to spend their gift card, but that's where the similarities to traditional gift cards end.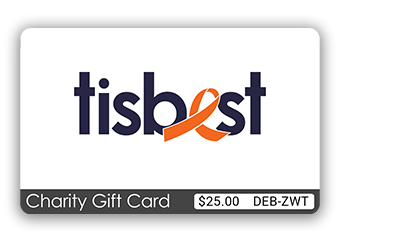 How They Work for You, The Giver
Visit the TisBest website to buy gift cards. 
Choose from our preset gift card personalization options or upload an image with your company's logo and branding. 
Choose the dollar amount of the gift card — any amount from $10.
Choose from TisBest's digital, printable, or compostable eco-plastic gift card options.
Select delivery options, delivery dates, and card quantities.
Personalize your gift card message for the recipient.
How They Work for Your Gift Card Recipient
Once your employee receives their TisBest Charity Gift Card, all they have to do is visit the TisBest website, where they can browse our catalog of accredited charities and choose which one(s) will receive their donation(s). 100% of their gift card's value goes directly to the charities they choose.
Watch this video to learn more about how TisBest Charity Gift Cards work:
TisBest – How They Work from TisBest Philanthropy on Vimeo.
Why TisBest Charity Gift Cards The Best Tax-Deductible Employee Gifts
Versatile, unique & appropriate
TisBest Gift Cards are suitable for anyone and any giving occasion, from recognizing special holidays to expressing employee appreciation. Unlike holiday-specific gifts of foods and material goods, you don't have to worry about your recipient's potential dietary restrictions, cultural parameters, or food and fashion preferences. You don't even have to worry about which kinds of causes your employees care about — TisBest lets them choose from our carefully selected list of top charities, or search from among more than 1.8 million accredited U.S-based charities. 
One of the biggest mistakes employers make when it comes to employee gifts is going the generic gift route. Sure, company swag can be great for informal occasions. But when recognizing a star employee's contributions or commemorating milestones, your gift should be something that helps them to feel good about, well, themselves!
Serious feel-good factor
The act of charitable giving makes people feel good. In the words of Maya Angelou:
"People will forget what you said. People will forget what you did. But people will never forget how you made them feel."
Meaningful and personal
TisBest Gift Cards can be personalized to reflect your company's brand, acknowledge a special day, or reflect your employee's star qualities. You choose the gift card image and written message. Best of all, your employee gets to choose which charity or charities will receive the donation (and 100% of the gift card's value goes directly to their chosen charity!).
Sustainable gifts from responsible brands
The gifts you give are a reflection of you and your brand. Gifts that are generic or inadvertently tone-deaf can come across as being thoughtless, impersonal, or insensitive. Gifts that do good demonstrate corporate responsibility and a heart for things that matter to your people. The power of charitable giving is that instead of creating more stuff, you and your recipient are generating goodwill and making a difference.
TisBest Charity Gift Cards are tax-deductible
TisBest Charity Gift cards are also the best tax-deductible employee gifts because not only are they typically 100% tax-deductible for you, the buyer, but they also don't affect your gift recipient's income taxes — unlike most other types of employee gifts, which can be taxable for you, and, depending on their value, can incur income tax implications for the employee. 
When you buy TisBest charity gift cards, you're making a charitable donation, so you'll receive a receipt for the amount you paid as a charitable donation to TisBest Philanthropy (an IRS approved 501(c)(3) charity under EIN 20-8630809) to submit with your corporate tax return.
So, to Summarize:
TisBest Charity Gift Cards are the best tax-deductible employee gifts because they:
Are easy to give in person, by email, or via standard mail.
Deliver a "feel-good factor" for you, the giver, as well as for your employee, who can use them to support their favorite causes.
Are a versatile and unique gift option for any person and any occasion.
Help you and your company align with your values, reinforcing your reputation for sustainability and doing good.
Deliver 100% of each gift card's value directly to the charity (or charities) your TisBest Charity Gift Card recipient chooses to support.
Make charitable giving easy and enjoyable.
Are sustainable, replacing the waste that results from material gifts with charitable giving that helps the people, animals and organizations that need it most.
Are completely tax-deductible for you and don't impact your gift recipient's income taxes.
Shop Now for Tax-Deductible Employee Gifts That Do Good!
Thank you for choosing to make employee gift-giving an act of doing good in the world! You and your gift recipients will enjoy the feeling that comes from the act of charitable giving.
If you're seeking to purchase individual gift cards, start here.
If you're interested in purchasing branded gift cards in bulk and learning more about our other business gifting solutions, including branded gift card redemption options, business gifts and trade show options, start here.