Bethenny Frankel Raises $100 Million for Ukraine Through BStrong
TisBest is on a mission to #RedefineGifting by replacing gifts of stuff with gifts of good. In that spirit we like to feature heartwarming stories of special people, like Bethenny Frankel, who are also doing good in this world. We hope it inspires you to spread some kindness and love in your communities.
Ten years ago Bethenny Frankel was named one of Forbes top 100 most powerful celebrities. She was recognized for her multi-hyphenate career as a TV personality, producer, natural food chef, philanthropist, influencer, and New York Times bestselling author. Today, the entrepreneur is making headlines by raising over $100 million for Ukraine crisis relief.
Real Housewife Makes Big Impact in the Real World
Bethenny Frankel appeared on the small screen in Bravo's reality TV series The Real Housewives of New York City. Then, she started making a big impact in the actual real world. First, she created Bethenny Brands – a successful empire of 25 different businesses using her moniker. Second, she founded the lifestyle brand for women, Skinnygirl. Finally, Bethenny shared her investment prowess and entrepreneurial business savvy as a guest on the ABC series Shark Tank. Now, she's using her life experience, good fortune, and business acumen for a more fulfilling purpose.
Bethenny Frankel Empowers People in Crisis to BStrong
Bethenny used her wealth to create BStrong, a nonprofit that provides real-time emergency assistance to women in crisis. Then, in 2017 she partnered with the Global Empowerment Mission to establish BStrong: Disaster Relief. The initiative provides emergency aid, food, and shelter to individuals and families in crisis worldwide. To date, BStrong has raised millions of dollars for victims of natural disasters. 100% of the funds raised go directly to the affected communities. The organization delivers disaster relief supplies, sends rescue teams, and provides gift cards to help those in crisis get back on their feet. When Russia declared war on Ukraine, BStrong hit the ground running raising $100 million (and counting) for relief efforts.
BStrong Provides a Safe Haven for Refugees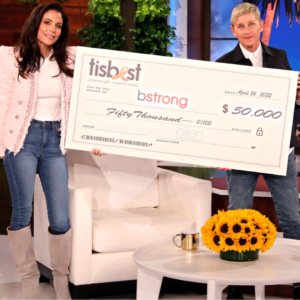 BStrong's disaster relief efforts in Ukraine focus on evacuating women and children, relocating refugees, and providing dignity and safety to those affected by the war. They've established a welcome center on the Poland/Ukraine border for refugees who have found temporary housing with Polish families. For those who are unable to find shelter, BStrong rents additional housing facilities and pays 100% of the housing, food, and transportation costs for refugees. Through its partnership with The Global Empowerment Mission, BStrong operates 5 warehouses totaling more than 90,000 square feet for supply storage and distribution. The organization attributes its success to the generous donations from corporations, celebrities, and the generous hearts of the American people.
Bethenny Frankel Takes Her Business Personally
During her time as a TV personality, business mogul, and philanthropist, Bethenny Frankel has been a guest on The Ellen DeGeneres Show 26 times in the show's 19 seasons. During her last interview for the show's final season, Bethenny opened up about why she left her high-paying reality TV gig. She wanted to use her fortune and her business skills to pursue something more meaningful — a life of philanthropy.
In addition to running BStrong, Bethenny penned a new book called Business is Personal. Bethenny shares the secrets to her success and empowers women to pursue their own dreams while staying true to their authentic selves. In honor of Bethenny's commitment to giving back, The Ellen DeGeneres Show partnered with TisBest Philanthropy to support her relief efforts in Ukraine. The host presented her with a $50,000 TisBest check payable to BStrong.
---
Support Bethenny's Relief Efforts in Ukraine
If you would like to help those affected by the war in Ukraine, consider making a donation to BStrong. 100% of your donation goes directly to relief efforts. Even a small donation can make a world of difference. Click here to see our list of Ukraine relief charities that you can support with your TisBest Charity Gift Card.
Create More Warm Fuzzies!
Join us in the movement to #RedefineGifting by replacing gifts of stuff with gifts of good. If you feel inspired by this heartwarming story, spread a little more love in our world. Send a TisBest Charity Gift Card to those close to your heart so they can pay it forward to a charity that is close to theirs. Or give a card to a stranger as a random act of kindness. Together, you'll do a world of good.
Share your giving stories with us on social by tagging your post with #RedefineGifting.