Calling all Last-Minute Shoppers
(Don't worry, you can save and read this a few days before Christmas 🙂)
The holiday season is a bit shorter in 2019. With Thanksgiving falling on the latest day in November possible, the holiday celebrations are quickly upon us.
Black Friday shopping is over.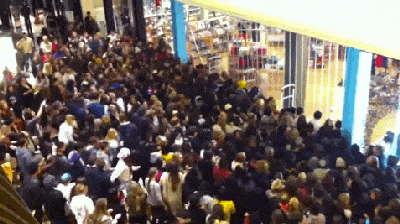 Black Friday shopping was a doozy!
Eek! We hope you made it home safely.
If you didn't get all of your shopping done, we've got a meaningful gift idea for you.
Meaningful, Last-Minute Gift Giving
A poll of 2018 holiday shoppers found that 70% of people still had shopping to do the week before Christmas. So if you're reading this post and still have shopping to do, it's okay, you are not alone and we salute you!
We get it, no matter how much you plan, gift-giving sneaks up on us! At TisBest we're here to share simplified but meaningful gift-giving for last-minute shoppers. There's no need to find a gift set that may work for your sibling's new partner or have a fruitcake available in case your aunt shows up for the first time in years.
For over a decade, TisBest has been a go-to destination for the best gift cards to give and receive. Our biodegradable cards (also available in real-time in email and pdf formats) allow you to make a donation, and your gift recipient to choose which charities receive the money. This is an experience gift like no other!
There are three options for how to give:
A bio-degradable physical gift card

Email gift directly to your recipient

Print the charity gift card
The last two options are simple, stress-free, last-minute shopping solutions – and delivery is instantaneous.
Figuring out last-minute gift ideas can be difficult! When you give a charity gift card, 100% of your money ends up doing good in the world, which gives extra warm feelings during this holiday season. You give some of your gift budget to charity. And your gift recipient chooses which charities get the money – from more than 1.5 million charities worldwide!
So, we salute you, last-minute shopper, and offer a meaningful option for everyone on your gift list.
Reading this before December 20th? You still have time if you'd like to give them our bio-degradable cards. (Or, you can print and email charity gift cards in real-time, right up through December 25 if you are the really, super-duper, late-type of shopper). Here's a helpful shipping guideline for your Charity Gift Cards!