College Student Brandon Harris Helps Free Childhood Friend from Prison
TisBest is on a mission to #RedefineGifting by replacing gifts of stuff with gifts of good. In that spirit, we like to feature heartwarming stories of special people, like Brandon Harris, who are also doing good in this world. We hope it inspires you to spread some kindness and love in your communities.
Brandon Harris and Sura Sohna became friends in the fourth grade, but lost touch by the end of middle school. By high school they lived two very different lives. Brandon earned an academic scholarship to a private high school and continued on to college. Sura, who lived in poverty and was surrounded by violence, fell into a life of crime. When Brandon was a sophomore in college he learned that Sura had been incarcerated. He decided to do an independent research project that analyzed Sura's life and the circumstances that led him to prison. During that time Sura's attorney called for a hearing to reduce his sentence. Then, Brandon testified in court and presented his research. Next, the judge released Sura from prison 12 years before his sentence was set to end.
The Road Less Traveled
Brandon and Sura lived only 2 miles apart in Annapolis, Maryland, but grew up in two different worlds. Brandon was raised in a middle-class neighborhood and attended a prestigious, private high school. He was a varsity athlete and involved in mentorship programs and student government. All of his classmates were on the road to college so Brandon followed that path as well.

Sura lived in an affordable housing community where he witnessed acts of violence and crime. He dropped out of high school and started breaking into houses. He sold the items he stole to help support his family. Sura was first arrested at age 17 for 25 counts including first-degree burglary, theft, destruction of property, and multiple gun-related offenses. After he was released he continued to commit crimes. Then, while on probation, he was arrested again for first-degree burglary. He was sentenced to 14 years in prison.
Brandon Harris Reconnects with Incarcerated Friend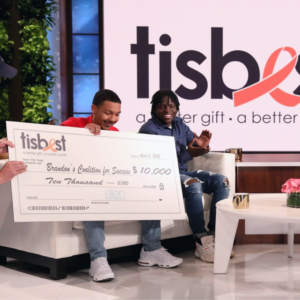 When Brandon Harris was a sophomore at Davidson College in North Carolina, he learned that Sura had been incarcerated. That same year, Brandon finished his semester remotely from his home in Annapolis due to the pandemic. At that time, he saw on the news how prisoners in Maryland did not have adequate access to cleaning supplies and masks. The inmates were unable to properly social distance. That prompted Brandon to reach out to his childhood friend. Brandon and Sura reconnected through letters, phone calls, and Skype. When Brandon learned of all the events that led Sura to a life of crime, he wanted his story to be heard.
College Research Project Questions Nature Versus Nurture
During his remote schooling, Brandon embarked on an independent research project entitled "Telling the Stories of the Ignored and Forgotten." In order to understand Sura's story objectively, Brandon interviewed Sura, his family members, victims, and prosecutor, as well as the police. He also went through all of the public records from the court. He learned that Sura's father was not involved in his life and that his family experienced homelessness. He also listened to Sura recall childhood memories of witnessing unimaginable violence – including watching a man get beaten to death.
In an interview with the Washington Post, Brandon said he knew his friend was a good person at his core and believed he had committed those crimes as a response to poverty and desperation. "The thought that went through my head was that if our life circumstances were flipped, I might also be behind bars." Throughout his research, Brandon assured Sura that he had someone in his corner and that it was possible for him to turn his life around. He also shared inspirational messages and stories about his college experience. That inspired Sura to visualize a better life for himself outside of prison.
Research Findings Influence Judge's Verdict
In April of 2021, Brandon Harris presented his final project via Zoom. There were over 450 viewers around the world including Brandon's mentoring professor and childhood friends as well as Sura's attorney, Keith Showstack. Brandon spoke about how Sura's unstable home environment, financial struggles, and crime-infested community led to a series of bad decisions. He stated that Sura's actions did not define him as a person. They were the result of his life circumstances. He then went on to share how Sura had great potential, was ready for change, and just needed people to believe in him.
Before Brandon's research project Sura's attorney had already filed a motion to have Sura's sentence reconsidered. Then, after seeing the overwhelming support during Brandon's presentation, he officially requested a hearing. On February 8, 2022, Keith Showstack represented his client and Brandon Harris testified for Sura in court. Sura Sohna showed remorse for his crimes and demonstrated that he was ready to give back to society. Brandon shared how he witnessed Sura's transformation in prison. Sura was seeing a therapist and pursuing his GED. He also had the support of several mentors in the Annapolis community. Hours later, the judge pardoned Sura from his sentence. Sura was released from prison 12 years earlier than his original sentence.
As One Door Closes, A New One Opens
In an interview with Good Morning America, Sura Sohna shared, "Growing up, I didn't really have anything. I would be picked on for not having things and I felt like instead of being a victim of things, I should become a victimizer and start to do negative things. I feel like I was dealt a bad hand, but I knew right from wrong, and I made bad decisions." Since his release from prison, Sura has been working toward his GED, has taken up photography, and plans to enroll in a film production program by the end of the year.
Brandon Harris started college as a Pre-Med major. Now, his life circumstances are leading him down a different path. Brandon is a senior at Davidson College and will be attending law school in the fall. He plans to focus on criminal justice reform and educational policy. He also hopes to continue work through his nonprofit, Brandon's Coalition for Success. Established in 2016, the coalition works with youth in Annapolis to deter them from the school to prison pipeline and lead them on the path to success.
The Ellen DeGeneres Show and TisBest Support Childhood Friends on the Road to Success
Brandon Harris and Sura Sohna remain good friends and recently appeared together on The Ellen DeGeneres Show. To commend Brandon for his efforts, the talk show host partnered with TisBest Philanthropy to present him with a $10,000 check for his nonprofit. Next, to support Sura's dream of going to film school, the host surprised him with brand new photography equipment to get him started.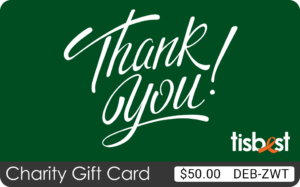 Create More Warm Fuzzies!
Join us in the movement to #RedefineGifting by replacing gifts of stuff with gifts of good. If you feel inspired by this heartwarming story, spread a little more love in our world. Send a TisBest Charity Gift Card to those close to your heart so they can pay it forward to a charity that is close to theirs. Or give a card to a stranger as a random act of kindness. Together, you'll do a world of good.

Share your giving stories with us on social by tagging your post with #RedefineGifting.