Homecoming Queen, Nyla Covington, Gives Crown to Classmate Who Lost Her Mom to Cancer That Morning
TisBest is on a mission to #RedefineGifting by replacing gifts of stuff with gifts of good. In that spirit, we'd like to feature heartwarming stories of special people, who are also doing good in this world. We hope it inspires others to spread some kindness and love in their communities.
Today's spotlight shines upon high school seniors, Nyla Covington and Brittany Walters. Nyla & Brittany were both nominated for homecoming queen at Forrest County Agricultural High School in Brooklyn, Mississippi. The morning of homecoming, Brittany's mom, A.J. Walters, passed away after suffering from appendix cancer. A.J.'s mom was an administrator at the high school and never missed an event — from award assemblies to cheering in the stands at games. Knowing her illness was terminal, A.J. didn't want her daughter to miss her big night.
Before she passed, A.J made Brittany promise she would attend homecoming that night. Brittany's dad, Sean, accompanied his daughter to the event and promised his wife he would be by Brittany's side. That evening, Nyla Covington was crowned homecoming queen. After learning she had won, Nyla placed the crown on Brittany's head and said, "I think your mother would want you to have this."
CNN Interviews Nyla Covington
In an interview with CNN, Nyla shared what she was feeling when she relinquished her crown. "I just felt like it was something that was put on my heart. I was telling her that she was her mom's queen and I was just letting her know that she was loved by many, especially me."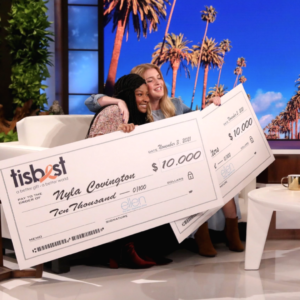 The entire school community was so moved by Nyla's kind gesture and everyone in the stands was in tears. We, too, were touched by Nyla's selfless act. When we learned that both girls plan to attend college next year to pursue a degree in nursing – we wanted to honor them in a special way. During an appearance on The Ellen DeGeneres Show, Nyla and Brittany each were gifted a $10,000 check from TisBest to help them pursue their dream. The girls also received a $5,000 TisBest Charity Gift Card to keep the kindness momentum going — by donating the funds to the charities of their choice.
Create More Warm Fuzzies!
Join us in the movement to #RedefineGifting by replacing gifts of stuff with gifts of good. If you feel inspired by this heartwarming story, spread a little more love in our world. Send a TisBest Charity Gift Card to those close to your heart so they can pay it forward to a charity that is close to theirs. Or give a card to a stranger as a random act of kindness. Together, you'll do a world of good.
Share your giving stories with us on social by tagging your post with #RedefineGifting.