Leg Amputee Christi Hoehn Takes Two Steps Forward and One Step Back
Part 2 in a 3-Part Series of Christi's Remarkable Journey
(If you missed Part 1 click here.)
TisBest is on a mission to #RedefineGifting by replacing gifts of stuff with gifts of good. In that spirit, we like to feature heartwarming stories of special people, like leg amputee Christi Hoehn, who are also doing good in this world. Christi was featured on The Ellen DeGeneres Show's digital network, Daily Smile. The program's new series, Next Chapter, follows stories of people on the verge of major life changes. It showcases the small setbacks and big triumphs involved in undertaking new challenges. We hope Christi's remarkable story inspires you to spread some kindness and love in your communities.
After not walking for 16 years, double leg amputee Christi Hoehn had only six weeks to learn to walk on her prosthetics — a goal some would say is impossible. When The Ellen DeGeneres Show learned of Christi's story, they partnered with TisBest Philanthropy to support her each step of the way.
Christi Hoehn Takes First Steps Toward Her Goal
In the spirit of giving gifts of good, TisBest collaborated with the Daily Smile team to connect Christi with Dr. Jennifer Lucarevic, a physical therapist who specializes in limb loss. During Christi's physical therapy she worked in conjunction with Dr. Jen and Uilliam Lee, an orthotist prosthetist. While she was immersed in rigorous physical therapy, Christi did not have much time and energy to focus on her speech. Although Christi was a solid writer, she was struggling with how to effectively deliver her first motivational speech. What happened next left Christi speechless.
Motivational Speaker Gets Her Own Pep Talk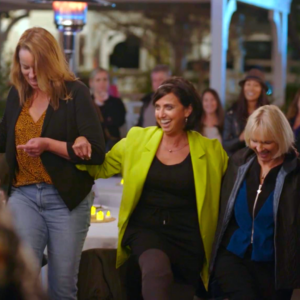 The Ellen DeGeneres Show partnered with TisBest Philanthropy to give Christi another surprise. They scheduled one-on-one sessions with inspirational public speaking professional John Register. John is a two-time Paralympic athlete, a Paralympic Games silver medalist, veteran, and a TEDx motivational speaker. With just three weeks to go until her speaking debut, Christi and John got to work. Christi knew she had an inspiring story to tell, but John challenged her to reveal the plot twist. In one of his coaching sessions, John said, "To really become an inspirational/motivational speaker, people want to know how you're going to transform their life with your story."
As the event drew near, Christi gained confidence in her walking and speech writing. Then she encountered an unexpected problem that stopped her in her tracks just days before the big speech. Click here to see what happened next.
Create More Warm Fuzzies!
Join us in the movement to #RedefineGifting by replacing gifts of stuff with gifts of good. If you feel inspired by this heartwarming story, spread a little more love in our world. Send a TisBest Charity Gift Card to those close to your heart so they can pay it forward to a charity that is close to theirs. Or give a card to a stranger as a random act of kindness. Together, you'll do a world of good.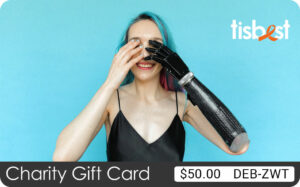 Share your giving stories with us on social by tagging your post with #RedefineGifting.