Nina Love Aims to Diversify Animal Rescue in Philadelphia
TisBest is on a mission to #RedefineGifting by replacing gifts of stuff with gifts of good. In that spirit, we like to feature heartwarming stories of special people, like Nina Love, who are also doing good in this world. We hope it inspires you to spread some kindness and love in your communities.
Nina Love's name reflects what she gives back to her community. She is a single mom with a full-time job who devotes all of her free time rescuing stray and neglected animals. Her love for animals started when she was a young girl. Then, a Nickelodeon cartoon character inspired her to make saving animals her life's mission.
Who Rescued Who?
Growing up in Philadelphia, Nina Love was bullied at school. At the same time her parents were going through a divorce. She took solace in her many stuffed animals — until her mom gave her a live rabbit. Nina felt an instant connection with "Fluffy" and feels that in many ways her new pet rescued her. Now she is spreading the love by rescuing animals in crisis throughout Philly.
According to an interview with ABC affiliate WPVI-TV, Nina said "Dealing with school and kids, that whole bullying thing, I felt like, then, they [the animals] saved me. So I wanted to go out in the community and give them a second chance at life." Nina rescued her first litter of stray kittens at age 14 and has been saving animals ever since.
Nina Love Saves Animals from the Streets of Philly
Animal homelessness is a major problem in Philadelphia, one that was exacerbated by the pandemic. People could no longer afford to care for their pets. As a result, animals were left to fend for themselves on the streets. Nina Love felt compelled to help. She rescued strays and abandoned animals and brought them to local hospitals and animal shelters. Although, her services were not limited to 4-legged household pets. She saved all species, including wildlife, no matter their condition. In fact, she even paid out-of-pocket for surgeries, shots, and neutering. Remarkably, her efforts didn't stop there.
Over the years, Nina noticed a lack of diversity in animal rescue. She wanted to be the voice for people of color to show that if she can do it, anyone can. In addition to her rescue efforts, Nina educates others on how to diversify animal rescue. Through pet adoption and donations to shelters and rescue efforts, people of color can help save these animals from neglect and cruelty.
Nina Love Fulfills Childhood Dream with The Black Thornberry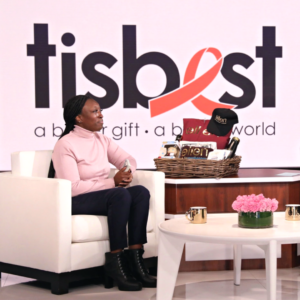 One of Nina's favorite cartoons as a kid was The Wild Thornberrys. The lead character, Eliza, had the ability to speak with animals. Nina's childhood dream was to be able to do that when she grew up. Although Nina and her rescued animals do not exchange words, there is certainly an undeniable connection.
As animal homelessness became a dire problem during the pandemic, Nina Love wanted to be the solution. She and her daughter, Arianna, decided to start a non-profit dedicated to animal rescue. To raise awareness about the lack of diversity in animal rescue, and in honor of her childhood hero, Nina aptly named her black-owned nonprofit The Black Thornberry. The mother/daughter duo and a team of volunteers rehabilitate and rehome neglected animals in Philadelphia who are in crisis situations. The Black Thornberry also assists pet parents in the community with food and supplies. In addition, the nonprofit provides animal control services such as Trap-Neuter-Return. This humane approach improves the lives of cats and stops the breeding cycle.
An Animal Rescue "Tail" with a Happy Ending
Nina shared her story on The Ellen DeGeneres Show and her animal "tail" had an unexpected plot twist with a happy ending. When guest host tWitch learned that single mom Nina Love paid out-of-pocket for rescue vet bills, he showed her some love right back. He informed Nina that The Ellen DeGeneres Show partnered with TisBest Philanthropy to help with her rescue efforts. Next, tWitch presented her with a $10,000 TisBest check for The Black Thornberry!
Show Nina Some Love and Save a Life
The Black Thornberry is a small, volunteer-based animal rescue in Philadelphia. Its mission is to give those without a voice a second chance at life safe from abuse and neglect. Nina relies on donations to help cover the cost of food, supplies, and vet expenses. To show Nina Love some love, sponsor her Patreon and follow her on Instagram!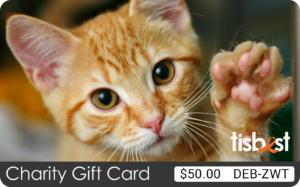 Create More Warm Fuzzies!
Join us in the movement to #RedefineGifting by replacing gifts of stuff with gifts of good. If you feel inspired by this heartwarming story, spread a little more love in our world. Send a TisBest Charity Gift Card to those close to your heart so they can pay it forward to a charity that is close to theirs. Or give a card to a stranger as a random act of kindness. Together, you'll do a world of good.

Share your giving stories with us on social by tagging your post with #RedefineGifting.