Viral Vocal Coach Cheryl Porter Helps Kids Find Their Voice
TisBest is on a mission to #RedefineGifting by replacing gifts of stuff with gifts of good. In that spirit, we like to feature heartwarming stories of special people, like Cheryl Porter, who are also doing good in this world. We hope it inspires you to spread some kindness and love in your communities.
Cheryl Porter is a classically trained vocalist who has performed in 35 countries. She's worked with stars like Mariah Carey and Luciano Pavarotti, and even sang for the Pope. Though her true claim to fame stems from her online singing lessons. Cheryl posted a few of her students' vocal lessons on YouTube simply because they were cute. To her surprise, the videos gained millions of views and became a viral sensation. Now, Cheryl Porter is known as the number one vocal coach in the world!
Cheryl Porter Sings Her Way to Success
Growing up in the South Side of Chicago, Cheryl Porter knew from a young age that she wanted to be a singer. She loved to sing, but she was not a child prodigy who just opened her mouth and hit the high notes. She also did not have the support of her family. In fact, her mother told her it was an unrealistic dream to be a singer. Cheryl was determined and put in the hard work. She learned everything she could about vocal technique and went on to study opera at the Northern Illinois University School of Music. After graduating she continued her studies in Italy and has lived there ever since.
Twenty-three years later Cheryl reflects on amazing career highlights such as singing The Circle of Life in Italian for The Lion King live action movie, performing at the Vatican, and sharing the stage with Andrea Bocelli, Bono from U2, and many more. She also recorded over 20 albums from classical to contemporary music. However, her favorite gig is being called Mama Cheryl by her vocal students worldwide.
The Cheryl Porter Method Gives Vocal Students a Healthy Workout
For two decades Cheryl Porter has taught Italians to sing American music in English. She's also given vocal masterclasses in Russia, Israel, Poland, Italy, France, Indonesia, and Singapore. When Cheryl decided to become a vocal coach twenty years ago, she found traditional vocal exercises to be boring. She wanted to teach her students in an exciting way that would make them want to practice. So, Cheryl created over 300 vocal exercises called The Cheryl Porter Method.
The series of vocal exercises were written to fun beats and give her students a real workout. In fact, they even wear boxing gloves during their lessons. Students learn to strengthen their diaphragm muscle and control their breathing. Throughout the lessons students explore proper technique, breathing, timbre, vibrato, and how to increase their register — all while having fun. Now, Cheryl's unique training style has gained international acclaim.
Millions of Students Sing Mama Cheryl's Praises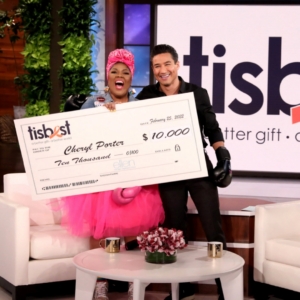 Over the years, Cheryl has witnessed many professional singers damage their vocal cords due to improper use and poor technique. The Cheryl Porter Method teaches students how to safely protect their voice so they can sing their whole life — but they have to do the work. Traditional vocal warm-ups tend to be tedious and boring. As a result, students never end up practicing in between lessons. Mama Cheryl's students are enthusiastic about the practice and the results they see as they progress.
After sharing a couple of her students' lessons on YouTube just for fun, Cheryl was blown away by the number of views. That inspired her to impact even more aspiring vocalists through social media. During the pandemic, Cheryl released a series of online vocal videos — one of them gaining over 240 million views! Now, millions of students of all ages are singing her praises worldwide!
The Ellen DeGeneres Show Surprise is Music to Mama Cheryl's Ears
Growing up poor in Chicago, Cheryl knows first-hand that not everyone has the same opportunities. Some vocal students don't have the money or the emotional support from their families. She believes that everyone deserves a chance. She is on a mission to make lessons accessible to as many people as possible. Since developing The Cheryl Porter Method, Cheryl and her husband pay out-of-pocket to provide scholarships to over 300 students.
When The Ellen DeGeneres Show learned of The Cheryl Porter Method, they too wanted to support Cheryl's mission. First, they had to put the method to the test. Next, Cheryl gave guest host Mario Lopez a vocal lesson. Mario laced up his boxing gloves and learned how to project his voice while supporting his breath. Then, he took Cheryl's breath away when he surprised her with a $10,000 check from TisBest Philanthropy. Now, Cheryl can provide scholarships to many more aspiring singers who deserve a chance to find their voice.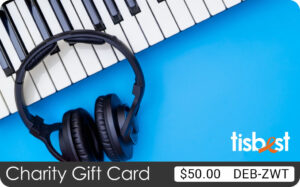 Create More Warm Fuzzies!
Join us in the movement to #RedefineGifting by replacing gifts of stuff with gifts of good. If you feel inspired by this heartwarming story, spread a little more love in our world. Send a TisBest Charity Gift Card to those close to your heart so they can pay it forward to a charity that is close to theirs. Or give a card to a stranger as a random act of kindness. Together, you'll do a world of good.
Share your giving stories with us on social by tagging your post with #RedefineGifting.