Former Inmate Coss Marte Empowers Others Through ConBody Workout
TisBest is on a mission to #RedefineGifting by replacing gifts of stuff with gifts of good. In that spirit, we like to feature heartwarming stories of special people, like Coss Marte, who are also doing good in this world. We hope it inspires you to spread some kindness and love in your communities.
Coss Marte ran one of the largest drug delivery services in New York City at the age of 23. After several stints behind bars, Coss was arrested again in 2009 and sentenced to seven years in prison. Overweight and at risk for cardiovascular disease, Coss started exercising in his cell. With no access to fitness equipment, Coss had to use his own body weight for resistance. Within six months, he lost over 70 pounds. Then, he shared his workout routine with other inmates to help them lose weight, too. After serving four years in prison, Coss was released back to society but unable to secure work due to his record. Inspired by his own weight loss journey, he launched ConBody — a prison-style boot camp that helps people lose weight and provides employment for the formerly incarcerated.
Coss Marte Evades Poverty Through Multi-Million Dollar Drug Ring
Coss Marte grew up in a tenement apartment in NYC's Lower East Side. His mother, an immigrant from the Dominican Republic, worked at a factory and lived below the poverty line. When people asked Coss what he wanted to be when he grew up, he replied "rich." The only path to success he could see in his neighborhood was through the world of drugs. He started smoking weed at age 11. By age 13, he began selling cocaine and crack. By 19, Coss had 20 people working for him and was earning $2 million a year. Although he was convicted on various drug charges over the years, he kept returning to a life of crime. However, it was his last arrest, at age 23, that would change his life for good.
Health Check Puts Inmate on Death Row
All inmates are required to have a physical exam upon arrival. When Coss was examined, he was told that his cholesterol levels were through the roof. If he did not make diet and lifestyle changes, he would die within five years. Faced with a seven-year sentence, Coss did not want to die in prison.
Coss was put on a low-carb diet and began working out. He would run for hours in the prison yard, despite being called "Fat Forrest Gump" by other inmates. In fact, that motivated him even more to continue working out in his cell. His routine included push-ups, jumping jacks, burpees, and dips — basically any body weight exercises that could be done from his 9×6' space. As Coss started dropping pounds, other inmates asked him to help with their weight loss goals. During his incarceration, Coss helped over 20 inmates lose over 1,000 pounds combined.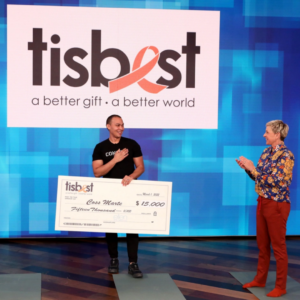 Coss Marte Develops Business Plan Behind Bars
Toward the end of his incarceration, Coss Marte contemplated what he wanted to do when he was released. He was filled with regret from his past, and wanted to impact society in a positive way. Inspired by his own weight loss journey, Coss developed a business plan while in solitary confinement. His goal was to help people live their best lives — by getting fit through a non-stop, body weight, prison-style workout.
After his release, Coss tried to secure minimum wage jobs to help fund his business. However, he was denied hundreds of jobs due to the red flag on his applications — a criminal record. So, Coss took matters into his own hands. He started offering private training sessions with people he knew. Eventually, he rented out studio space for group classes. One year later, he opened ConBody just blocks from where he was arrested on the Lower East Side.
ConBody Motivates Community Members To "Do the Time"
ConBody is the first fitness method created in prison, founded by an inmate, and managed and run by former inmates. It is a platform that allows the community to work out and work toward their best selves. The business' slogan is DO THE TIME. Whether it's losing weight or changing societal beliefs, you cannot get results without doing the time and putting in the work.
Through the ConBody Foundation, Coss aims to de-stigmatize the formerly incarcerated community, ease their integration back into society, and change the systemic inequity of the criminal justice system. To date, ConBody has worked with over 100 formerly incarcerated professionals with a 0% recidivism rate. By doing the time together, they hope to change the world.
Post-Workout Surprise Gets Coss Marte's Heart Pumping
While Coss Marte has offered some private training classes, he's never had one quite like this. During a visit to The Ellen DeGeneres Show, Coss taught the host and her sidekick, tWitch, a few body weight exercises that can be done on a small yoga mat. After a quick workout, Coss received a surprise that raised his heart rate even higher. The Ellen DeGeneres Show partnered with TisBest Philanthropy to present Coss with a $15,000 check for the ConBody Foundation! Now, Coss Marte can empower many others to "Do THE TIME" and be the change they want to see in the world.
Create More Warm Fuzzies!
Join us in the movement to #RedefineGifting by replacing gifts of stuff with gifts of good. If you feel inspired by this heartwarming story, spread a little more love in our world. Send a TisBest Charity Gift Card to those close to your heart so they can pay it forward to a charity that is close to theirs. Or give a card to a stranger as a random act of kindness. Together, you'll do a world of good.
Share your giving stories with us on social by tagging your post with #RedefineGifting.