Robert Thomas Converts Nightclub into First Black-Owned Grocery Store in Texas
TisBest is on a mission to #RedefineGifting by replacing gifts of stuff with gifts of good. In that spirit, we like to feature heartwarming stories of special people, like Robert Thomas, who are also doing good in this world. We hope it inspires you to spread some kindness and love in your communities.
According to the Federal Reserve Bank of New York, black business ownership dropped 41% during the pandemic, the highest of any racial group. Robert Thomas, however, defied the odds. Robert owned the popular District 1960 nightclub in Houston, Texas for five years. As Covid-19 restrictions derailed the restaurant industry, District 1960 was forced to close its doors. Robert was told his business was unessential. So he raised the bar by not only creating something essential, but also something unprecedented. He gutted his club and transformed it into the first black-owned grocery store in the state of Texas.
As One Door Closes, Another One Opens
After last call at District 1960, Robert Thomas lost his source of income. First, Robert had to find a way to provide for his mother and son. Next, and equally important, Robert wanted to stay connected with his community. As pandemic panic settled in, Robert noticed long lines waiting to get into the grocery stores. To help serve the community, local black-owned businesses started opening up pop-up shops and farmers' markets. Robert would go there to shop, but not only to avoid the long lines. The reality was that most black products weren't sold at the big box stores.
That's when it hit him. The black community needed a place to sell their goods and Robert had the perfect location. Robert started renting out shelf space in his nightclub on Cypress Creek Parkway. It started out small with just a few vendors. Then, six months later, District 1960 transformed the 4,000-square-foot space into the District Market Green Grocer.
Green Grocer Creates New Platform for Black Vendors
Robert Thomas not only opened the first black-owned market in Texas, he created a space for black vendors to sell their black products. So Robert thought it would be fitting to open the doors of the District Market Green Grocer on the busiest shopping day of the year … Black Friday.
Today, Robert works with 40 black vendors who sell everything from fruits, vegetables, and vegan meals, to washing powder, spices, herbs, and spices. According to the online publication Black Enterprise, many of these vendors have tried for years, and even decades, to get grocers to do business with them. Robert Thomas not only gives these vendors a platform to sell their products, but an opportunity for these small businesses to thrive. What's more, the organic grocery store offers fresh, healthy food options in a community that is surrounded by fast food chains.
Robert Thomas Provides an Oasis in a Food Desert
Of Texas' 258 counties, 58 counties are considered Food Deserts. These communities lack the availability of fresh produce and have limited or no presence of large grocery stores. Although Robert Thomas had a few years under his belt as a business owner, he had no experience in the grocery industry. However, he saw a need in his community and relied on faith to make it happen.
But Robert Thomas did not do it alone. Black vendors were thrilled to collaborate with Robert. Then, as word got out, community members donated refrigerators, resources, and many other supplies to help jumpstart the business. In addition to selling groceries, Robert repurposed his nightclub bar into a juice bar. Now, instead of serving whiskey and beer, Robert Thomas whips up made-to-order juices with fresh, locally sourced ingredients.
Small Town Grocer Hopes to Play in the Big Leagues
While Robert is thrilled to serve his own community, he hopes to expand his business to provide relief in other food deserts as well. In an interview with Black Enterprise, he said, "Eventually, it will just be products in here and no vendors, just a regular store. I want to be in the running with HEB, Kroger, Whole Foods, Trader Joe's. I want to get to that level, and I'm taking the black vendors with me."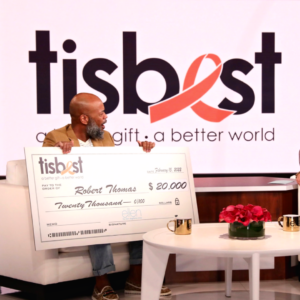 The Ellen DeGeneres Show Has a Surprise in Store for Market Owner
Robert Thomas was invited to share his story on The Ellen DeGeneres Show. Robert said he hopes to be an inspiration to other black business owners who were affected by Covid-19. In 2020, he repurposed his business to survive through the pandemic. Now, his goal is to address another crisis – the nearly 19 million Americans who live in food deserts in the United States.
Robert's dream is to franchise his business in food deserts across the country. To help him on his mission, The Ellen DeGeneres Show surprised Robert with a $20,000 TisBest Philanthropy check! To keep up with the latest news from Robert Thomas, follow District Market Green Grocer on Facebook and Instagram.
Create More Warm Fuzzies!
Join us in the movement to #RedefineGifting by replacing gifts of stuff with gifts of good. If you feel inspired by this heartwarming story, spread a little more love in our world. Send a TisBest Charity Gift Card to those close to your heart so they can pay it forward to a charity that is close to theirs. Or give a card to a stranger as a random act of kindness. Together, you'll do a world of good.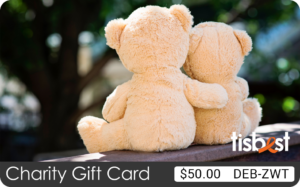 Share your giving stories with us on social by tagging your post with #RedefineGifting.