LA Rams Super Bowl Champ Andrew Whitworth Receives Walter Payton Man of the Year Award
TisBest is on a mission to #RedefineGifting by replacing gifts of stuff with gifts of good. In that spirit, we like to feature heartwarming stories of special people, like Andrew Whitworth, who are also doing good in this world. We hope it inspires you to spread some kindness and love in your communities.
Thousands cheered as Andrew Whitworth helped lead the LA Rams to win Super Bowl 56. Then, his accomplishments off the field received an even bigger round of applause. The recently crowned Super Bowl champ earned another impressive title: the 2021 Walter Payton Man of the Year. The award recognizes Andrew's outstanding performance in the game as well as the positive impact he's made through his charitable work. Through his Big Whit 77 Foundation, Andrew and his wife Melissa, help youth and families in need in the communities that they have called home: Louisiana, Cincinnati, and Los Angeles. Now he is encouraging the NFL community to do even more to give back.
Andrew Whitworth Achieves Highest Honor in NFL
According to cbssports.com, Andrew was one of 32 NFL players nominated for the Walter Payton Man of the Year award. In a statement from NFL Commissioner Roger Goodell, it is clear why Andrew Whitworth rose to the top. "Since the start of his career, Andrew Whitworth has dedicated himself to making a lasting impact in his communities and his teams. During his five seasons in Los Angeles, he has dedicated his time and resources to social justice efforts that are working to tackle food insecurity, homelessness, and education inequities, including a $160,000 donation just this year as part of his 'Big Whit For LA Families' program." Through the BigWhit Foundation, Andrew also gifted the White's Warriors Scholarship Program over $550,000 in scholarships and school supplies.
Offensive Lineman Tackles His Biggest Challenge Off the Field
In appreciation of his charitable work, Andrew was awarded with a $250,000 donation in his name for the charity of his choice. Although Andrew achieved the NFL's most prestigious award, the LA Rams Offensive Tackle says there's still so much more work to be done. He is using this new platform to call for more action from other players in the league.
"Social media has been great for bringing awareness for all our causes. But that's not enough. We need more action," Andrew shared in an interview with nfl.com. "Whether we choose to acknowledge it or not, this is the truth: the people who come to see us play, who watch our game on TV, buy our jerseys, who follow you on social media, they're why our game exists. It's why we have a field to play on. We are financially supported and provided the opportunity to play a kids' game, because of the support we receive from communities across the country and across the world."
LA Rams Player Signs on For Life-Long Community Service
Thanks to Tom Brady's retirement, 40-year-old Andrew Whitworth is now the oldest player in the NFL. At this time, the 16-year veteran is unsure if he'll return for another season. However, in an interview on The Ellen DeGeneres Show, Andrew said he is certain that his charitable work will continue long after he retires his jersey. Although Andrew has a national stage to advocate for charitable giving, it is a core value that Andrew and his wife Melissa model for their own children.
"I believe community service starts in the home. When you have the opportunity to help others it will bring you more happiness and satisfaction than anything else you'll ever do. Showing our kids how to love, how to help people, and how to accept people is the greatest thing we can teach them. That's how we can make our community better by making our kids understand that."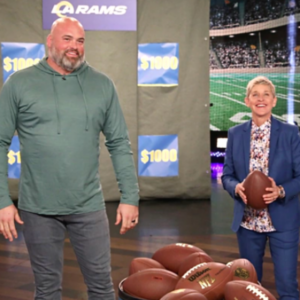 Andrew Whitworth Throws a Hail Mary Pass on The Ellen DeGeneres Show
After all the accolades from the NFL, the Super Bowl champ still had one more game to win. During a visit to The Ellen DeGeneres Show, Andrew was challenged to a football throwdown with the host to win money for charity. Although neither of them are quarterbacks, they both nailed some spiral throws. To celebrate, The Ellen DeGeneres Show partnered with TisBest Philanthropy to present a $10,000 check payable to Andrew's designated charity, the St. Joseph Center. The organization provides resources and tools for working poor families and homeless men, women, and children in LA to become productive, stable, and self-supporting members of the community. From the stadium to the city, Andrew Whitworth has truly given the LA community lots to celebrate!
Create More Warm Fuzzies!
Join us in the movement to #RedefineGifting by replacing gifts of stuff with gifts of good. If you feel inspired by this heartwarming story, spread a little more love in our world. Send a TisBest Charity Gift Card to those close to your heart so they can pay it forward to a charity that is close to theirs. Or give a card to a stranger as a random act of kindness. Together, you'll do a world of good.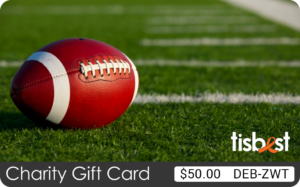 Share your giving stories with us on social by tagging your post with #RedefineGifting.