Hoopers Helping Gives to Community Through Youth Basketball
TisBest is on a mission to #RedefineGifting by replacing gifts of stuff with gifts of good. In that spirit, we like to feature heartwarming stories of special people, like Miguel Ortiz and Kaitlin Leguidleguid, who are also doing good in this world. We hope it inspires you to spread some kindness and love in your communities.
Miguel Ortiz and his girlfriend, Kaitlin Leguidleguid, are making a big difference in kids' lives through Hoops 413 basketball camp. In this 8-week program, kids ages 6-12 learn fundamental basketball skills. In addition, the program weaves in life skills and values that kids can apply at home, in the classroom, and in the game. Now, Hoops 413 is rebounding some love back to their community through the non-profit Hoopers Helping!
Hoops 413 Drills Skills On and Off the Court
Miguel Ortiz grew up in a rough neighborhood. When he was a child, basketball was his outlet. The courts became his safe haven. His coaches were like fathers, brothers, and mentors to him. As an adult, Miguel wanted to be a role model for kids in his community through the sport that changed his life. He worked as a preschool teacher for 15 years while playing and teaching basketball on the side. Through prayers and motivation from friends, his dream became a reality in 2017 when he founded Hoops 413. His slogan: "My Dream, His Glory."
The camp, based in Redondo Beach, California, helps children develop the necessary skills of the game such as footwork, dribbling, passing, shooting, and defense. What's more, the program teaches life skills on and off the court. The campers learn about the importance of sportsmanship, respect, responsibility, leadership, and teamwork. Miguel and his staff strive to provide a fun learning environment founded on five core values: community, effort, faith, positivity, and unity.
Miguel Ortiz Sinks a Three-Pointer with Kaitlin Leguidleguid
In order for Miguel to run the basketball camp, he needed to pick the roster for his own team. Little did he know, one of his recruits would become a life partner. Miguel Ortiz met Kaitlin Leguidleguid while working at the same pre-school. When he saw her on the school's basketball court, it was love at first sight. Next, he took a shot and the two started dating. Their shared passion for children and basketball made them a perfect match. Finally, it was Kaitlin's patience and enthusiasm working with young children that earned her a coaching job at Hoops 413.
Kaitlin is the head coach of the Itty Bitty Ballers (ages 2-3) and the Bitty Ballers (ages 4-5). She also offers private lessons with many hoopers inside and outside of the camp. Together, Miguel and Kaitlin, and the staff at Hoops 413, have coached over 125 kids. Now they are making an even bigger impact in their community.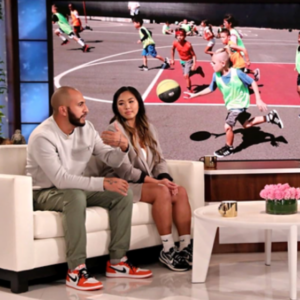 Hoopers Helping is a Slam Dunk for Redondo Beach Community
For Miguel Ortiz and Kaitlin Leguidleguid, Hoops 413 is more than just basketball. The group's mission is to be a staple in the community. Over the 4 years since its inception, Hoops 413 has fed over 4,000 homeless people; surprised community members with $100 gift cards; held toy drives at Christmas; and even helped families find housing or pay rent. During Covid, the group raised money to give $1,000 to people in need. Many times, Miguel would contribute his own money to help those in need.
In October 2021, Miguel and Kaitlin decided to open a nonprofit called Hoopers Helping so they could serve even more people. They launched the business with a free basketball clinic for children with disabilities.
The Ellen DeGeneres Show Reveals Big Surprise for Hoopers Helping
The Ellen DeGeneres Show invited Miguel and Kaitlin as guests on the show. They talked about Hoops 413 and their shared vision for Hoopers Helping. The couple also announced that they are expecting their first child. They plan to have a gender reveal with their campers. Then guest host tWitch revealed an even bigger surprise for the parents-to-be. The Ellen DeGeneres Show partnered with TisBest Philanthropy to give Miguel and Kaitlin a $10,000 check for Hoopers Helping! Kaitlin also received an invitation to attend The Ellen DeGeneres Show's mother's day special. Follow Hoops 413 on Facebook to meet the newest member of their team!
Create More Warm Fuzzies!
Join us in the movement to #RedefineGifting by replacing gifts of stuff with gifts of good. If you feel inspired by this heartwarming story, spread a little more love in our world. Send a TisBest Charity Gift Card to those close to your heart so they can pay it forward to a charity that is close to theirs. Or give a card to a stranger as a random act of kindness. Together, you'll do a world of good.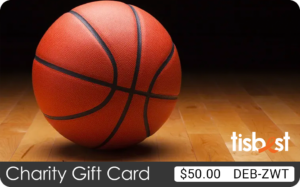 Share your giving stories with us on social by tagging your post with #RedefineGifting.