Special Needs Teacher Jaleel Ritchwood-Jordan Advocates for Student Equality
TisBest is on a mission to #RedefineGifting by replacing gifts of stuff with gifts of good. In that spirit we like to feature heartwarming stories of special people, like Jaleel Ritchwood, who are also doing good in this world. We hope it inspires you to spread some kindness and love in your communities.
According to the National Education Association only 2% of America's teachers are black men. Yet studies show that black students who have at least one black teacher are more likely to graduate high school and attend college. Jaleel Ritchwood-Jordan is not only improving outcomes for black and brown students at his school, but also creating equality for children with special needs. He is an advocate for change in the classroom and in his community.
Jaleel Ritchwood-Jordan Speaks out for Special Needs Students
Jaleel is a special education teacher at Marion P. Thomas Charter High School. The Title 1 public school is located in a low-income community in Newark, NJ. The staff encourages students to reach their greatest potential and be their authentic selves everyday. However, Jaleel noticed that not all children were treated equally.
Jaleel decided to become a special needs educator when he noticed a lack of resources for autistic children. While other students went on field trips the special needs students stayed in the classroom. Jaleel became an advocate for these students to give them the same opportunities as everyone else. He does not allow labels such as IEPs, behavior challenges, or autism define a child's potential. He believes all children have the ability to succeed. They just need someone in their corner to guide them along their own unique path.
Teacher Uses His Salary to Pay for Students' Basic Needs
Jaleel Ritchwood-Jordan's compassion for his students goes beyond the classroom walls. Though he does not have biological children of his own, Jaleel has become a father figure to hundreds of students every year. Many of his students' families cannot afford some of the basic necessities. Jaleel ensures that none of his students go without them. Whether a student needs a haircut, braids, or a new pair of shoes Jaleel pays out-of-pocket. He refers to his students as his babies and sets them on a path to adulthood.
Newark Educator is Founder of Boys To Men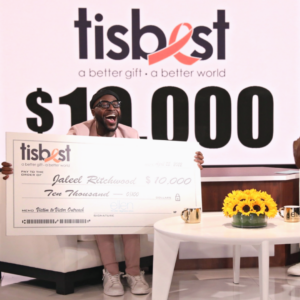 Jaleel is a special needs educator by day and a talented musician by night. Although he is not part of the 80s R&B trio Boyz II Men, that is the name of his youth mentorship program at Marion P. Thomas Charter School. Jaleel Ritchwood-Jordan created the Boys To Men Mentorship Club to provide a positive influence for the black and brown boys at his school. It's a safe space where students can talk about their experiences as people of color. Many of them live in communities riddled with drugs and gangs and do not have a positive male role model in their life. Jaleel wants his students to see that there is a better path. He believes it gives them hope to see a black teacher from their hometown who made it through the same struggles they're experiencing.
Boys To Men sponsors "Dress for Success" days where students wear a suit and tie and attend motivational conferences. The students, on their own accord, also volunteer to make a difference in their communities. They've participated in community clean up sweeps and also collected and distributed over 100 coats for the homeless and residents in need.
Jaleel Ritchwood-Jordan Helps Inner City Kids Move from Victim to Victor
Boys To Men is only one way Jaleel Ritchwood-Jordan gives back to his community. In addition to teaching and mentoring he is also a gospel singer, known as JaRich, who uses his talent for the greater good. Using the income from his day job and performance gigs, Jaleel created a nonprofit called Victim to Victor in 2017. The organization inspires young people in Newark to be the change they want to see in their community. Through Victim to Victor, Jaleel provides scholarships to help students with educational expenses. He also gives presents and food to those in need during the holidays. According to MSN.com Jaleel recently released two new albums. He used the proceeds to help feed the homeless in the city. He also hosted a book bag and prayer drive called "The Genesis Explosion" to foster a sense of community and love.
Hats off to Jaleel Ritchwood-Jordan
The Ellen DeGeneres Show is all about spreading the love. Touched by Jaleel's impact on his community the host invited Jaleel Ritchwood-Jordan to be a guest on the show. Jaleel sat down with guest host tWitch to talk about the importance of black teachers as role models. Since Jaleel has an affinity for wearing many hats (both literally and figuratively) tWitch challenged Jaleel to a fun game. He showed three hats on the screen and asked him to pick one for the chance to win a prize. To Jaleel's surprise it was a gift from The Ellen DeGeneres Show and TisBest Philanthropy. They partnered together to give Jaleel a $10,000 TisBest check to support Victim to Victor!
---
In addition to his mentoring and vocal talents, Jaleel Ritchwood-Jordan is also an actor, poet, and author. In his book, Through My Eyes, Jaleel recounts some of the lessons he's learned growing up in inner-city Newark, NJ. It's a motivational story to help young adults reframe negative thought patterns and manifest a better outcome.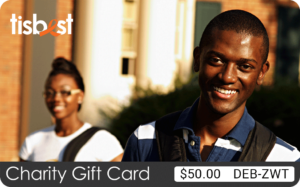 Create More Warm Fuzzies!
Join us in the movement to #RedefineGifting by replacing gifts of stuff with gifts of good. If you feel inspired by this heartwarming story, spread a little more love in our world. Send a TisBest Charity Gift Card to those close to your heart so they can pay it forward to a charity that is close to theirs. Or give a card to a stranger as a random act of kindness. Together, you'll do a world of good.
Share your giving stories with us on social by tagging your post with #RedefineGifting.