Benny the Benevolent Bat: A Sweet-Free Halloween Craft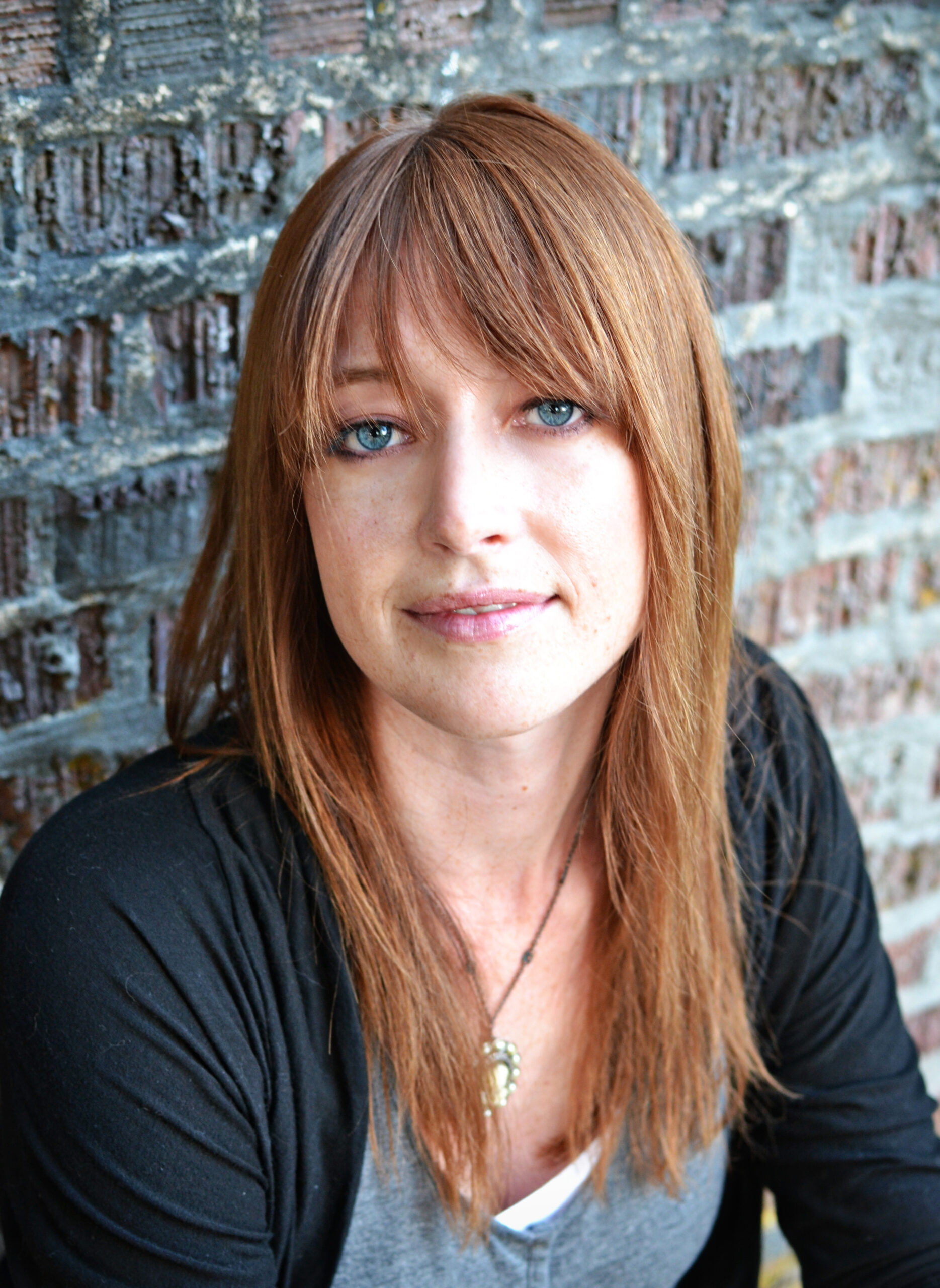 By Karli Larson, TisBest Charities and Communities Manager
Halloween can be a tricky time for parents. Although we want our children to enjoy a carefree night of terrorizing the neighborhood, we're not always thrilled with the buckets of sweets that come home. This is especially difficult for parents who, like me, are not big treat-buyers in general. After an evening of moderated gorging on Halloween night, I whisk away their candy-stuffed bags and slowly ration it out over the next few weeks. This does not please them, but at 8 and 10 years old they're used to me swooping in and ruining the fun (recently overheard in my kitchen: "Mom, can you hand me that big knife so I can carve my pumpkin? What? NO FAIR!").
The thing is though, it's not just the piles of processed sugar and chemicals that bother me on Halloween. I cringe every time a holiday rolls around and well-meaning folks ply my children with armfuls of unnecessary stuff. Although we do give and receive gifts on birthdays and Christmas, I always try to impress on them that it's the time we spend together, and the memories we'll share, that are important. But despite my best efforts, Halloween has never become anything more to my children than the promise of a sticky, chewy, gooey, chocolatey, sugar-coated bonanza.
So this year, I decided to throw a little something different into the mix.
As the Charities and Communities Manager at TisBest, I witness firsthand every day the creative ways people choose to use our charity gift cards. Inspired by the generous and imaginative uses for TisBest cards, I decided to create a fun Halloween craft that might get my kids to think about something other than sweets this year. Here's what I came up with.
Benny the Benevolent Bat, a sweet-free Halloween craft
Follow along with the steps below to create your own Benny the Benevolent Bat!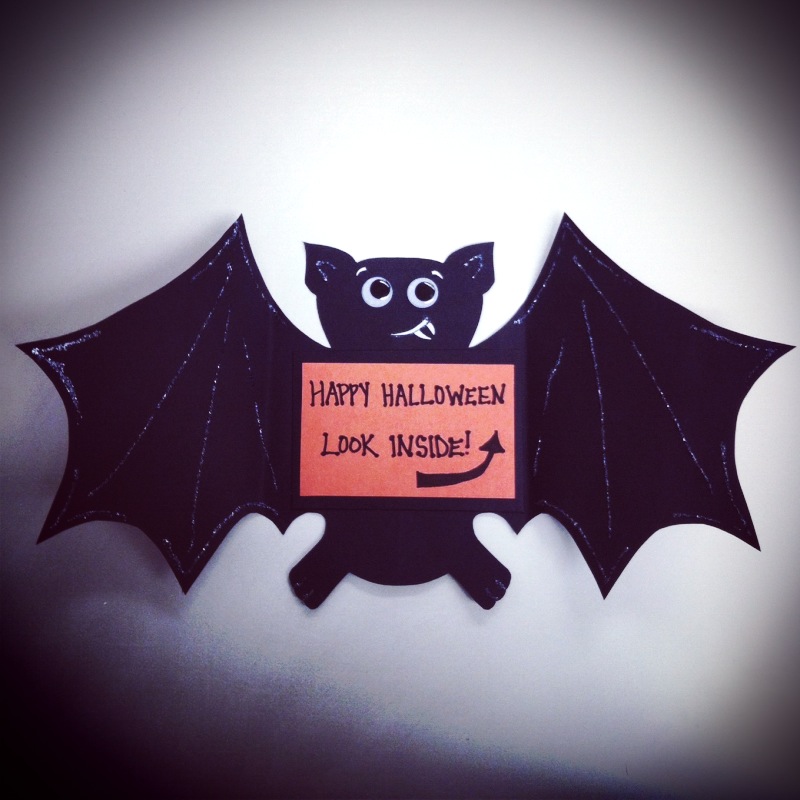 Materials needed:
1 TisBest Charity Gift Card (print at home version)
2 pieces of black construction paper (12X18)
1 bat pattern (click here to print)
Scissors, glue stick and ruler
2 googly eyes
Black or silver glitter glue (and/or other decorating supplies)
Steps 1-5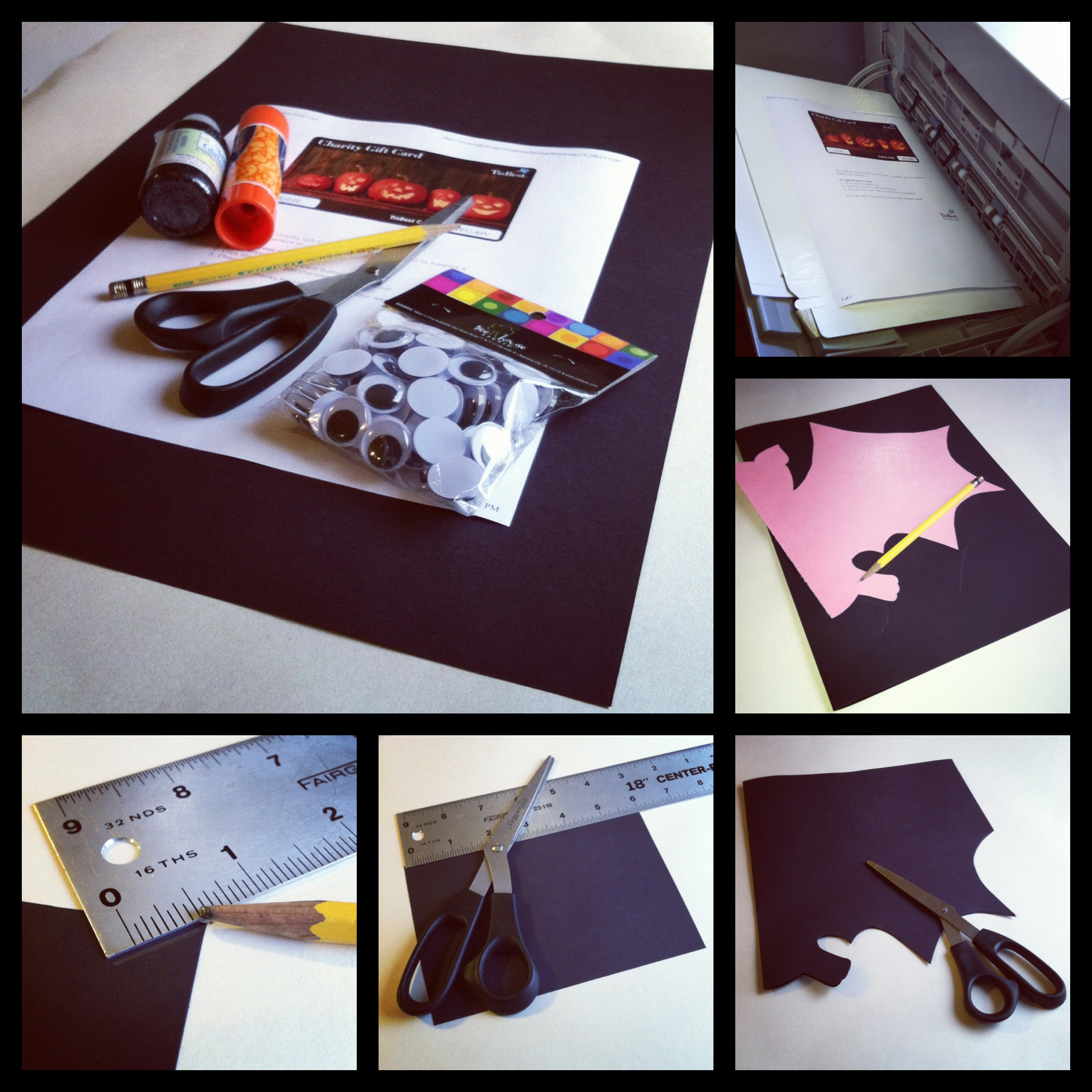 1. First you'll need to create and print your charity gift card from TisBest. For our cards, I uploaded my own Halloween image. I created, purchased, and printed the cards in less than 5 minutes. (Questions about TisBest Charity Gift Cards? Click here.)
2. Once you have your gift card, it's time to create Benny the Bat! Fold one piece of black construction paper in half, and trace the bat pattern with a pencil.
3. Cut out the bat shape, using your traced line as a guide. Unfold.
4. Using your second piece of black paper, measure and cut out a 4 inch by 6 inch rectangle.
5. Measure 1/2 inch in from the bottom two corners on the long side. Draw a diagonal 1/2 inch line with your pencil towards the center of the rectangle. Using your line as a guide, cut a 1/2 inch diagonal slit.
Steps 6-9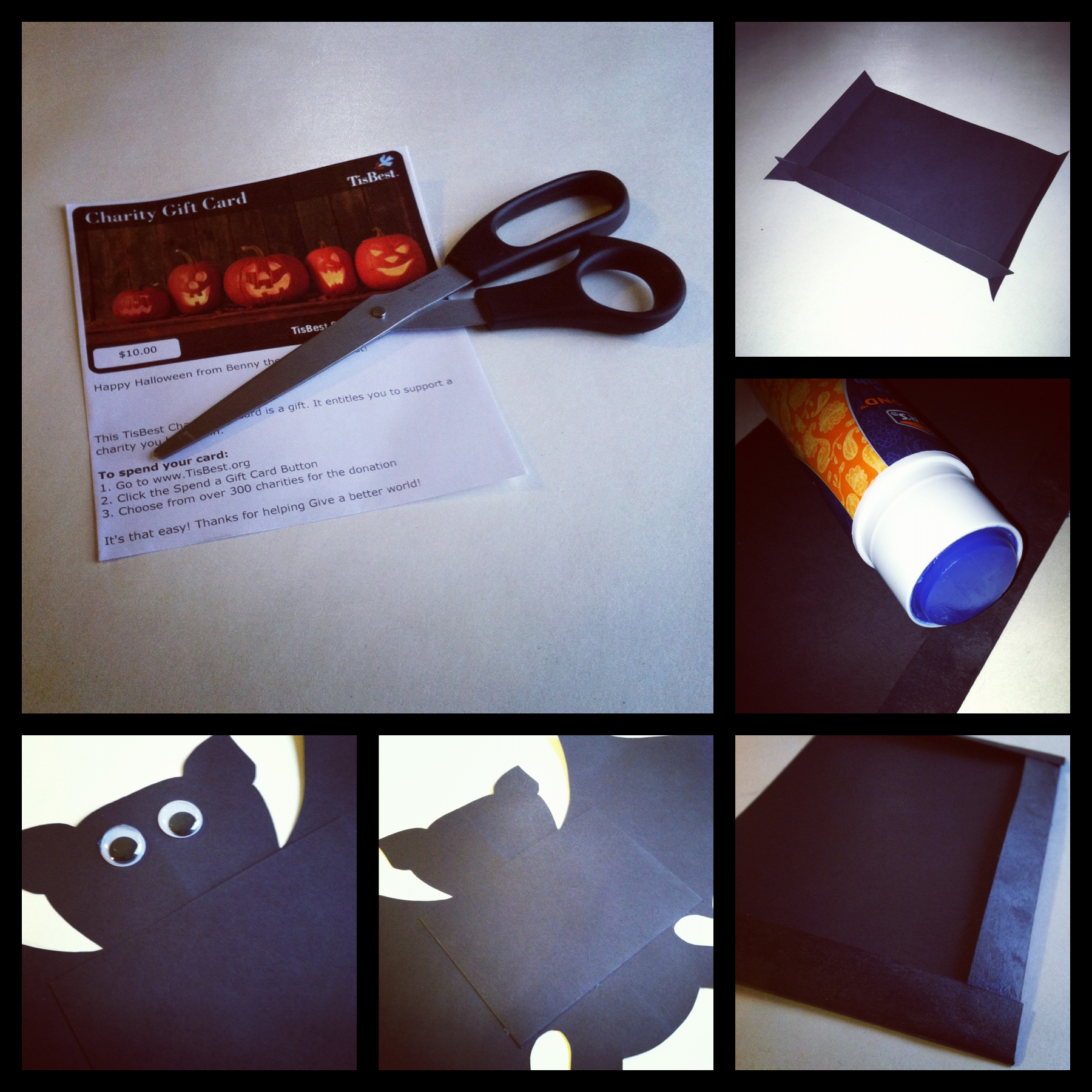 6. Fold three sides of your black rectangle in towards the center to form flaps (you'll be folding the two short sides and one long side). Snip off the pointed corners of the flaps.
7. Coat each flap with your glue stick and place flap side down on the center of the bat. The opening should be on the top, forming a pocket.
8. Glue on eyes, and decorate with glitter glue and/or other materials as desired.
9. While you're waiting for the glue to dry, get your charity gift card ready by trimming off the excess white edges.
Steps 10 and 11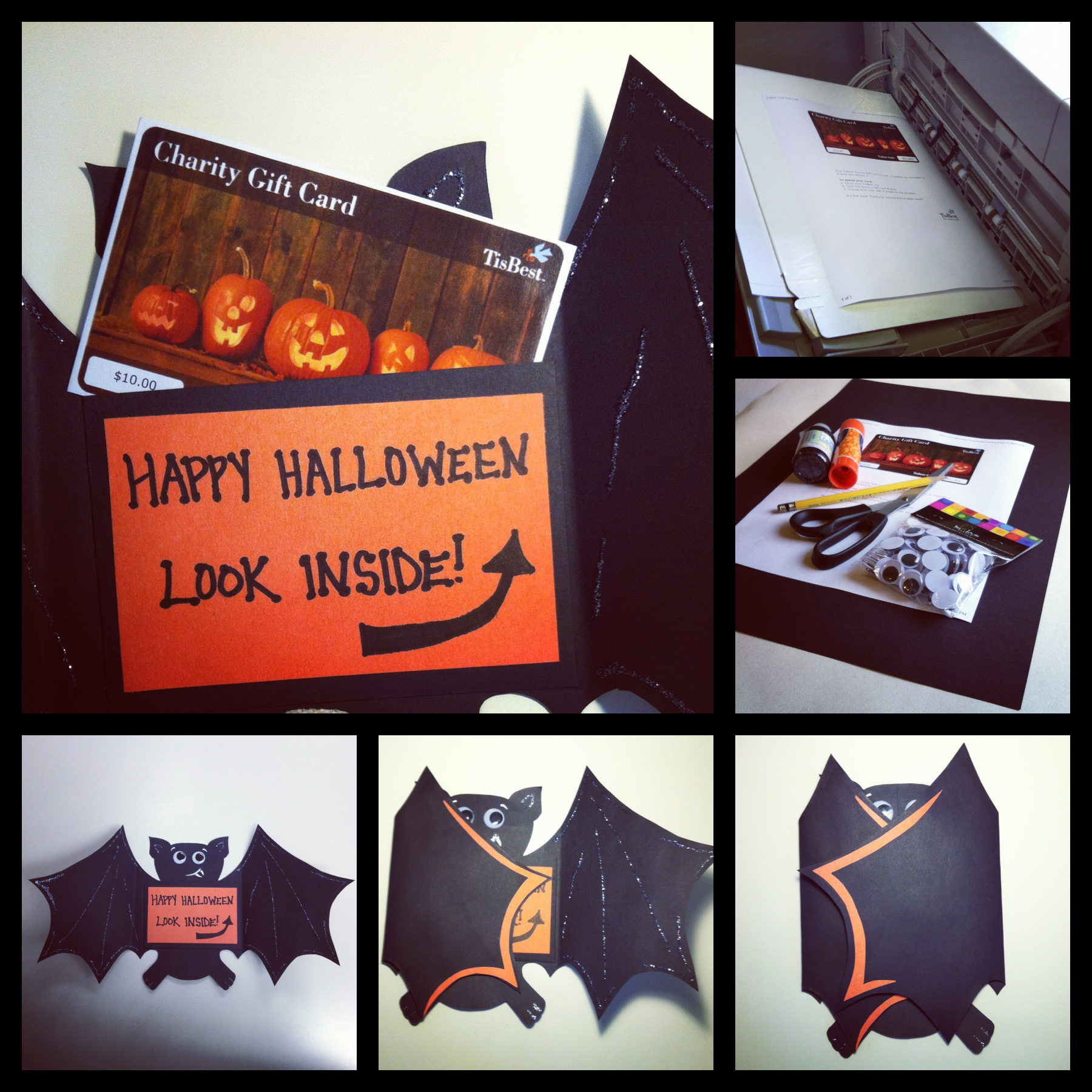 10. Fold your charity gift card so that the image is in front and the instructions for the recipient are folded under. Place in pocket.
11. Fold both wings in to cover Benny's face and charity gift card pocket.
Voila! Your sweet-free Halloween craft is complete. We've chosen to give one to each of the girls' teachers, along with a handwritten note about Halloween and giving. It might also be a great exercise to let your kids spend the charity gift card themselves under your supervision. This may inspire some great discussions about giving and choosing where to give.
For us, the Benny the Benevolent Bat craft turned out exactly as I'd hoped. The girs and I had some great, low-key discussions about charity and benevolence while we worked on the craft, and they were incredibly excited to give it to their teachers as a gift. The discussion will continue once their teachers spend the card- it will be a wonderful experience for the girls to find out which cause(s) their teachers were passionate about and chose to support.
I hope you enjoy making this craft with your kids! Please let me know how it goes, and how your kids reacted to a Halloween experience that has nothing to do with getting more candy.