The Ellen DeGeneres Show Gives Back Through TisBest
TisBest is on a mission to #RedefineGifting by replacing gifts of stuff with gifts of good. In that spirit, we'd like to reflect on the abundance of good celebrated on The Ellen DeGeneres Show. For the show's final season, the host partnered with TisBest to honor special guests who are making the world a better place. The collaboration also sparked new additions to the show's digital platform giving fans more reasons to smile.
On the final episode of The Ellen DeGeneres Show, the host's closing remarks were, "I feel the love and I send it right back to you." That perfectly sums up the show's mission for the past 19 years. It also reflects the host's inspiration for partnering with TisBest Philanthropy for the show's final season.
Daytime Talk Show Focuses on the Positive
News media outlets traditionally focus on political strife, local and national tragedies, and, in recent years, the pandemic. Daytime soaps and many talk show programs feature scripted drama. However, The Ellen DeGeneres Show was an anomaly to daytime TV. It always gave viewers a reason to smile: from the comedic opening monologue and dance party with guest host tWitch to celebrity guests, silly games, and audience giveaways. Most importantly, the show gave viewers hope by sharing heartwarming stories that often don't make the national news. It reminded us that there is a lot of good in the world and we all have the power to create positive change. The Ellen DeGeneres Show used its platform to help others do just that.
Celebrity Partners with NonProfit to Maximize Charitable Impact
Over the years, inspiring guests on The Ellen DeGeneres Show have shared how they overcame adversity or exhibited selfless acts of kindness. In turn, the host surprised them with life-changing gifts or monetary donations that have impacted communities across the globe. For the show's final season, The Ellen DeGeneres Show partnered with TisBest Philanthropy to honor everyday people who are making a positive impact in their communities.
First, the host gave each featured guest a TisBest check to support their respective causes. The 58 guests received over $245,000 to make an even bigger impact through their acts of kindness. Next, the host gave $175,000 in TisBest Charity Gift Cards for selected guests to pay forward to their favorite charities. Then the host encouraged viewers to experience the power of giving with TisBest Charity Gift Cards. Finally, the host ended every episode with these simple yet powerful words: be kind to one another. A mantra that now lives on through the show's digital network, ellentube.
The Ellen DeGeneres Show Gives Fans a Daily Dose of Happiness
From September 8, 2003 through May 26, 2022, The Ellen DeGeneres Show aired over 3,200 episodes. Many of those featured ordinary people doing extraordinary things. When The Ellen DeGeneres Show joined forces with TisBest Philanthropy for its final season, the partnership sparked another way to inspire fans long after the final episode. First, they launched a new platform on ellentube called "Smile." The program highlights heartwarming stories of everyday heroes doing good for others. Although the live show has come to an end, fans can continue to be inspired by these stories. Now, fans have three more reasons to be happy.
The Ellen DeGeneres Show Gives Fans More Reasons to Smile
In the host's final monologue she shared, "If this show has made you smile, if it has lifted you up, [during] a period of some type of pain, some type of sadness, then I have done my job." In that spirit, The Ellen DeGeneres Show partnered once again with TisBest Philanthropy to create three spin-off series on the Smile network. The goal is to continue the show's legacy by giving people a reason to smile every single day. Here's a peek at the content:
All Good Things – Highlights inspiring everyday people and stories for a weekly look at the bright spots of humanity.

Pep Talk – Celebrities give their best 60 seconds or less pep talk to start the day off with a smile. Stars include Leslie Jordan, Sunni Lee, Jane Lynch, JoJo Siwa, The Miz, Jay Shetty, Chandra Wilson, and more!

Good Morning with Jeannie and Andy – Fan favorite hosts Jeannie and Andy break down the best and brightest news of the week.
If You Can Be Anything in This World, Be Kind
To read more about the everyday heroes featured on The Ellen DeGeneres Show, check out our "As Seen on Ellen" blog series. Kindness is contagious and we all have the power to spread it among our communities. In the words of the former talk show host, "Be kind to one another."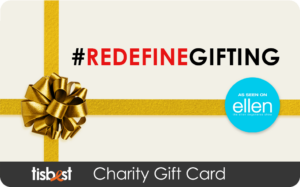 Create More Warm Fuzzies!
Join us in the movement to #RedefineGifting by replacing gifts of stuff with gifts of good. If you feel inspired by this heartwarming story, spread a little more love in our world. Send a TisBest Charity Gift Card to those close to your heart so they can pay it forward to a charity that is close to theirs. Or give a card to a stranger as a random act of kindness. Together, you'll do a world of good.

Share your giving stories with us on social by tagging your post with #RedefineGifting.