Best Digital Gift Cards for Meaningful Last-Minute Gifts
Finding just the right gift can be challenging even when you have plenty of time to shop around. When you're short on time it only gets harder! But being short on time doesn't have to mean settling for a generic or impersonal gift. TisBest digital gift cards make it easy to send meaningful gifts, even in a pinch. Here's how.
The Problem With Last-Minute Material Gifts
People are particular — especially when it comes to what they wear, how they furnish their homes, and the personal care products they use. So unless you really know your recipient's likes and dislikes, it's easy to miss the mark. Worse still, shipping material goods adds more time and expense to the gifting process — unlike TisBest digital and printable gift cards, which make last-minute gifting quick, easy and personal.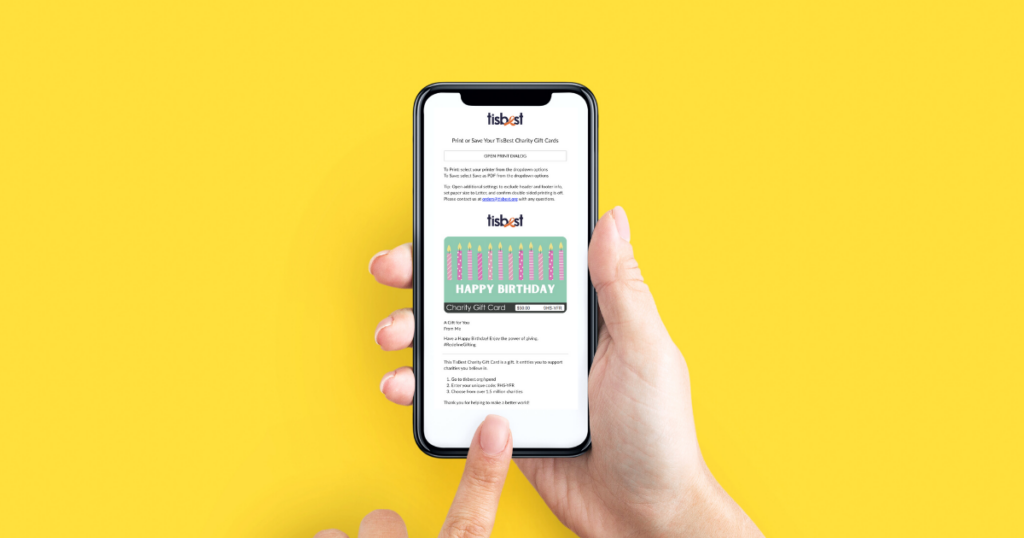 A Meaningful Alternative
What was your favorite gift ever? Chances are you remember it more than everything else you've received because of how it made you feel. The most memorable gifts are the ones that evoke a memory or emotion.
This is part of why TisBest is on a mission to redefine gifting by replacing gifts of stuff with gifts of good. Instead of gifting someone with material things that they may or may not use or like, TisBest Charity Gift Cards help make your gift recipient feel good while they support their favorite causes.
If you dig deep enough, you'll find that most people have a cause that's close to their heart. Maybe it's:
Advancing child welfare
Promoting education and literacy
Supporting people with disabilities
Honoring veterans
Helping the homeless
Advocating for the fair treatment of animals
Protecting wildlife
Supporting the arts
Helping elders
Championing women's rights
Protecting nature
Whatever their cause, TisBest makes it easy for your gift recipient to support the one(s) that matters most to them. Check out the video below to see how it works!

Watch this video to learn more about how TisBest Charity Gift Cards work:
What Makes TisBest Digital Gift Cards the Ideal Solution for Last-Minute Gifts?
They're fast and easy to give
Skip the wrapping, packaging, and postage! TisBest's digital gift cards enable you to personalize your gift and send it directly to your recipient via email in a few clicks.
You select the option that works best for you
You also have the option of printing your gift card yourself, which makes it perfect for enclosing in a card. Our eco-conscious, biodegradable plastic gift cards can also be sent directly to your recipient from the TisBest website.
You choose how much you want to spend
Unlike material gifts, when purchasing a TisBest Charity Gift Card you choose how much you wish to spend. Gift card values start at $10.
100% goes to your recipient's charity of choice
The amount you choose to spend on your TisBest Charity Gift Card is the exact amount that will be donated to your recipient's chosen charity. You'll also receive a charitable donation receipt that you can file with your income tax return.
Personal touches
TisBest provides options that allow you to customize your gift card's image and written message. In addition, your gift card recipient gets to choose which charity they want their gift card amount to go to.
Zero waste
Whether you opt for TisBest's digital, printable, or biodegradable gift cards, nothing goes to waste or ends up in the landfill.
The Pay-It-Forward Factor
Did you know that people who receive TisBest Charity Gift Cards often return to the TisBest website to buy gift cards for their loved ones?. Charitable giving is contagious because it feels good! The TisBest experience is pay-it-forward gifting that's fun for everyone involved.
How To Gift Someone a TisBest Charity Gift Card:
Choose from our preset gift card personalization options or upload an image from your smartphone or computer.
Enter the dollar amount of the gift card — amounts start at just $10.
Choose from TisBest's digital, printable, or compostable eco-plastic gift card options.
Select delivery options, delivery dates, and card quantities.
Personalize your gift card message for the recipient.
How To Spend a TisBest Charity Gift Card
Once your recipient receives their TisBest Charity Gift Card, all they have to do is visit the TisBest website, where they can check out our catalog of accredited charities and choose which one(s) will receive their donation(s). 100% of their gift card's value will go directly to the charities they choose!
Shop Now for Last-Minute Digital Gift Cards That Do Good
Thank you for choosing to make gift giving an act of doing good in the world! You and your gift recipient will enjoy the feeling that comes from the act of charitable giving. Sending someone a TisBest digital gift card is quick, easy, and feels great. Come on over and send a gift card now!
Related Content
How to Choose the Best Wedding Gifts that Keep Giving
The Perfect Gift: Tax-Deductible Charitable Gift Cards that Never Expire