BLK & Bold Coffee Has Big Perks for At-Risk Communities
TisBest is on a mission to #RedefineGifting by replacing gifts of stuff with gifts of good. In that spirit we like to feature heartwarming stories of special people, like BLK & Bold Co-Founders Pernell Cezar and Rod Johnson, who are also doing good in this world. We hope it inspires you to spread some kindness and love in your communities.
Pernell Cezar and Rod Johnson are the co-founders of BLK & Bold Specialty Beverages, the first nationally distributed black-owned coffee brand. The two childhood friends left their jobs in the corporate world because of an idea that started brewing over a shared cup of coffee.
New Business Idea Percolates Over a Cup of Joe
High school classmates Pernell Cezar and Rod Johnson lived on the same street in Gary, Indiana. They spent their days shooting hoops in Pernell's backyard court. Both of them were first-generation college graduates and pursued careers in the corporate world. Pernell worked in retail merchandising and Rod was a professional fundraiser for national academic and health care institutions.

The two remained friends and often met up for coffee. They felt unfulfilled in their careers and started discussing ideas for start-up businesses, but none of them stuck. Then they realized that every time they had these brainstorming meetings it was always over a cup of coffee or tea. That's when Pernell and Rod knew something was brewing.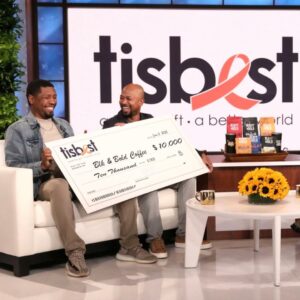 The Daily Grind
Although the two friends had corporate experience and a mutual love of coffee, they knew nothing about the coffee industry. They set up shop in Pernell's garage and started researching and experimenting. Using technology to their advantage they watched YouTube videos to figure out how to use the roaster. There was a lot of trial and error. In fact, one of their neighbors was concerned that the garage was on fire due to the burning smell. Fortunately, there wasn't a fire – just a flaming hot cup of coffee in the making.
Brewing a Brand That Gives Back
Once Pernell and Rod perfected their roast they started discussing how and where to sell it. They wanted a brand that reflected not only their love of coffee but one that fulfilled their other mutual passion – giving back to their community. The two friends had been drinking coffee their entire adult lives. However, they felt that the black community was underrepresented in the coffee business. What's more, the industry as a whole was not very community focused.
In an interview with Fortune, Rod Johnson shared, "Coffee is the second-highest-consumed beverage in the U.S. (after water), and millions of people partake in daily consumption, all that fall short of making a positive impact back to their communities. We want to ensure that our communities and consumers are being supported and respected via the coffee businesses and retailers that market to us and are located on corners of our communities across the U.S."
BLK & Bold Serves Up a Cup of Kindness
BLK & Bold Specialty Beverages reflects the products they sell – black coffee and black tea. It also represents the black-owned business and the communities in which it serves. They intentionally do not operate as an independent coffee shop. BLK & Bold, headquartered in Des Moines, IA, is a coffee and tea manufacturer and supplier with a business model based on social impact.
Growing up in Gary, Indiana, Pernell Cezar and Rod Johnson lived in an at-risk community. They know what it's like to walk in those shoes. They were fortunate enough to overcome obstacles and become successful. Pernell and Rod wanted to find a way to help children in marginalized communities live their best lives. Through their brand, Pernell and Rod give back to their childhood community as well as other at-risk areas across the country. BLK & Bold donates 5% of profits to 15 U.S. organizations that support at-risk youth. Now the co-founders have come full circle from shooting hoops in the backyard to building a business and philanthropic partnership with the NBA!
NBA Matches BLK & Bold Charitable Donations
BLK & Bold features a special collection of NBA-themed coffee. The collection, wittily called The Warm Up, includes teams such as the Los Angeles Lakers, the Chicago Bulls, and the New York Knicks. Each custom-coffee roast is packaged with the BLK & Bold brand and respective team's colors. To make the partnership even sweeter the NBA matches BLK & Bold's donation to at-risk communities with every sale of their NBA-licensed coffee products.
Dwyane Wade Tells Pernell and Rod What's Happening
With each milestone of their success Pernell Cezar and Rod Johnson have had what they call "what's happening" moments. From their first successful brew to their partnership with the NBA, they just look at each other in awe and say, "What's happening?" They had the same reaction when former Miami Heat star Dwyane Wade and his wife, actress Gabrielle Union, showed BLK & Bold some love on their social platforms.
When Pernell and Rod were invited as guests on The Ellen DeGeneres Show they had another "what's happening" moment. First, they fulfilled their childhood basketball dreams when they met guest host Dwyane Wade. Next, Dwyane announced that The Ellen DeGeneres Show partnered with TisBest Philanthropy to help BLK & Bold with their social impact mission. Dwayne presented Pernell and Rod with a TisBest check for $10,000 for BLK & Bold to give back to at-risk communities! That's "what's happening!"
Sip, Relax, and Give Back
BLK & Gold started with a single roaster in Pernell's garage. Now the company operates from a 20,000 SF commercial facility in Des Moines. In just three years, BLK & Bold has profited nearly $1 million – and continually expands its impact on at-risk communities. If you'd like to support a black-owned business that is giving back, BLK & Bold's products can be found online, on their website and Amazon, as well as in retail stores such as Target and Whole Foods.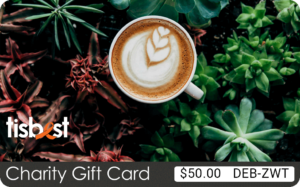 Create More Warm Fuzzies!
Join us in the movement to #RedefineGifting by replacing gifts of stuff with gifts of good. If you feel inspired by this heartwarming story, spread a little more love in our world. Send a TisBest Charity Gift Card to those close to your heart so they can pay it forward to a charity that is close to theirs. Or give a card to a stranger as a random act of kindness. Together, you'll do a world of good.
Share your giving stories with us on social by tagging your post with #RedefineGifting.