Roslyn and Ray Singleton Face Cancer with Positive Mindset
TisBest is on a mission to #RedefineGifting by replacing gifts of stuff with gifts of good. In that spirit we like to feature heartwarming stories of special people, like Roslyn and Ray Singleton, who are also doing good in this world. We hope it inspires you to spread some kindness and love in your communities.
Husband and wife Roslyn and Ray Singleton truly exemplify the vow in sickness and in health. Just a couple of weeks before their first wedding anniversary Roslyn was diagnosed with brain cancer. She and Ray have remained optimistic throughout her treatment. In turn, their positivity has inspired so many others after a video of Ray serenading Roslyn before surgery went viral. Now the Charlotte, North Carolina couple has people all over the country praying for Roslyn's recovery.
Brain Tumor Returns After Six-Year Remission
Roslyn Singleton is a navy veteran who was diagnosed with stage three brain cancer in 2013 – several years before she met Ray. She had been experiencing symptoms including migraines and blurred vision, which prompted her to go to the doctor. An MRI revealed a tumor the size of an orange on her brain. The tumor was successfully surgically removed and Roslyn was symptom-free and cancer free.
Roslyn went back for annual scans and got a healthy report for six consecutive years. Then, on October 10, 2019 the cancer returned. During Roslyn's routine check-up the doctor discovered a new tumor, about the size of a half dollar, in the same spot on her brain. For the next three months, Roslyn went to the doctors three to four times a week for scans, MRIs, and blood work and had to sleep with a device to monitor for seizures or any irregular brain activity. Although Roslyn had faced this diagnosis before, this time she didn't have to do it alone. She always had her guardian angel by her side. Roslyn and Ray Singleton faced each challenge together, with positivity and love.
Husband Serenades Wife Before Surgery and Inspires Millions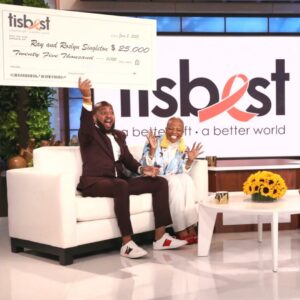 In January 2020 as Roslyn was in the hospital awaiting her second brain surgery in six years, Ray felt helpless and wanted to do anything to make his wife smile. He decided to serenade Roslyn in her hospital bed with a rendition of Daniel Caesar's "Get You." He recorded the song on his phone. Then he turned it into a video with pictures of Roslyn's medical journey to share with his family and friends on social media. To their surprise the video went viral and inspired millions. Roslyn and Ray Singleton received an outpouring of love and prayers from strangers across the country.
Next, one month after Roslyn's surgery, the couple appeared on The Ellen DeGeneres Show to talk about their unexpected fame. Then the host surprised Roslyn and Ray with a special video greeting from NBA legend Dwyane Wade. Since their appearance on The Ellen DeGeneres Show, Roslyn and Ray have been overwhelmed by the support of fans. In fact, they had to open a P.O. Box to receive the abundance of inspirational letters, postcards, and gift cards.
Roslyn and Ray Singleton Meet NBA Legend Dwyane Wade
In honor of The Ellen DeGeneres Show's final season, the host invited Roslyn and Ray Singleton back to check in on Roslyn's progress. The couple was welcomed by guest host tWitch, who had secretly hidden his surprise co-host backstage. When tWitch recalled Dwyane Wade's video message back in 2020, he said that Dwyane had another message for the couple. However, this time, he wanted to deliver it in person. Then the stage doors opened up to reveal guest co-host Dwyane Wade.
When Dwyane asked Roslyn about her health, she shared that she is still in treatment. She does three different types of treatment, including IV chemo every two weeks, a pill every six weeks, and for 20 hours every day she wears a headpiece that uses radio waves to help kill the tumor. Roslyn and Ray Singleton remain hopeful. When her treatment ends in December, the couple plan to start a family.
The Ellen DeGeneres Show Helps with Medical Expenses
Due to the ongoing treatments and side effects, Roslyn had to stop working. Ray juggles multiple jobs to help keep up with expenses. Inspired by the couple's unwavering positive outlook, The Ellen DeGeneres Show partnered with TisBest Philanthropy to offer the couple some financial support. Co-hosts tWitch and Dwyane Wade surprised Roslyn and Ray Singleton with a check for $25,000 to help with medical expenses. All of Roslyn's and Ray's positivity and love that they send out in the world is coming right back to them.
Create More Warm Fuzzies!
Join us in the movement to #RedefineGifting by replacing gifts of stuff with gifts of good. If you feel inspired by this heartwarming story, spread a little more love in our world. Send a TisBest Charity Gift Card to those close to your heart so they can pay it forward to a charity that is close to theirs. Or give a card to a stranger as a random act of kindness. Together, you'll do a world of good.

Share your giving stories with us on social by tagging your post with #RedefineGifting.