Give the Gift of Good This GivingTuesday
'Tis the season for spending. From the mad dash to snag Black Friday deals to last-minute sales, Americans, on average, expect to spend $998 each, on holiday items this year. From Thanksgiving to Christmas to Hanukkah and Kwanzaa, consumers spend an exorbitant amount of money in just 30 days. What if, for one day, we all took a day off from retail shopping to give the gift of good? GivingTuesday is the perfect opportunity to do just that!
On Tuesday, November 30, we celebrate GivingTuesday, the global day of giving held each year on the Tuesday following Thanksgiving. A record-breaking $2.47 billion was donated to U.S. nonprofits by 34.8 million people on GivingTuesday in 2020 — that's 13% of the U.S. population! What's more, that amount also reflected a 29% increase in donations compared to 2019. This year, TisBest would like to help break that record! Share the joy of charitable giving with your friends, family, and coworkers and invite them to do the same.
Gift Cards That Give Back on GivingTuesday
TisBest Charity Gift Cards work like any other gift card with one meaningful exception. Rather than buying more stuff, recipients "spend" 100% of the card's value on charities of their choice. It's the perfect way to celebrate GivingTuesday with others and to spread some holiday cheer to those who need it most. Unlike branded store gift cards, TisBest Charity Gift cards can be custom designed for a personal touch. Also, you can choose to send a bio-plastic card by mail, print a card at home, or send an e-card to the gift recipient. With more than 1.5 million U.S.-registered charities to choose from, recipients can support the causes that are most meaningful to them. TisBest Charity Gift Cards can be purchased for as little as $10 or as much as your budget allows. It's the perfect gift for everyone on your list.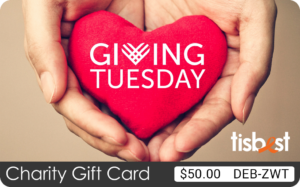 Spread Some Love to Your Loved One's Favorite Charities
Aside from awareness days for individual causes, or national crises, there are limited opportunities for nonprofits to garner national attention. GivingTuesday is the perfect chance for nonprofits to share their missions, solicit donations, and gain new supporters. Since this first annual day of giving was established in 2012, U.S. nonprofits have raised more than $1.9 billion. This still pales in comparison to the $15.2 billion spent on unwanted holiday gifts. Imagine the impact we could make if we all #RedefineGifting by replacing gifts of stuff with gifts of good? Send your loved ones a TisBest Charity Gift Card in honor of GivingTuesday. Together, you'll do a world of good.