Ratatouille, Patronus, Basil & Ziggy (shoutout to Midwest Old English Sheepdog Rescue), Sadie, and Honey (from Tri-Cities Animal Shelter).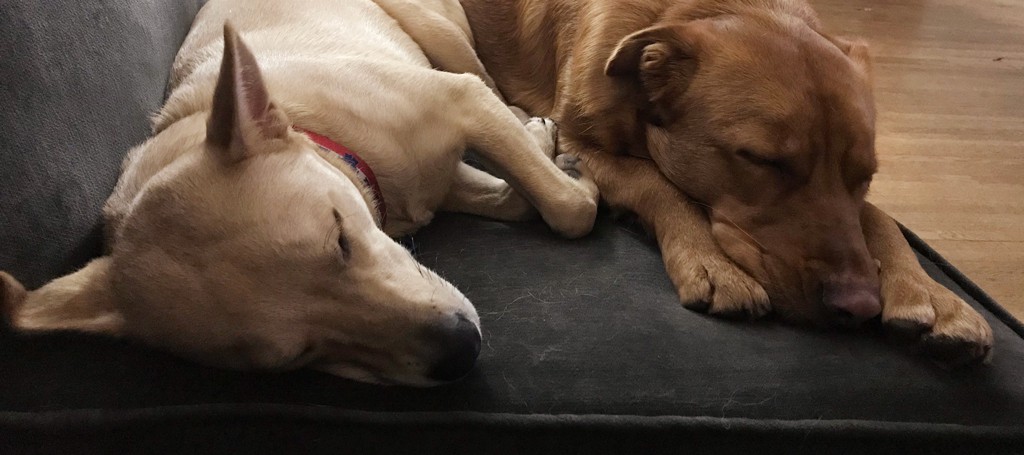 There are lots of different shelters across the U.S. that help pups (and plenty of other lovely creatures as well). No matter where you are, your local shelters always need your support through donation, giving your time, spreading the word about the great work they do, and of course by getting their help when you'd like to find a new pup (of any age) to bring home!
Many shelters, such as the Animal Wellness Foundation, also focus on providing free or low-cost services to help humans and their companions regardless of financial hardship. Some help address the lower rates of adoption for older dogs by charging lower fees to bring them home. Old Dog Haven focuses exclusively on older dogs that need a home who are unlikely to find one through conventional adoption. They find homes and keep them comfortable and cared for, covering all veterinary services. 
Other groups specialize in rescuing animals from shelters with high rates of euthanasia and transporting them to those with a strict no-kill policy. Georgia Peaches is a great example, transporting pups and often their mothers as well, helping them find a family and home. There are other animals that have pups, too: wolves, foxes, bats, mice, sharks, and of course seals! The Marine Mammal Center has some great info about different types of seals, sea lions and otters here, with a list of all their current patients.

Nacho (from Bravepup) and Patronus (from Emerald City Pet Rescue) after playing all day.
Regardless of what pups you'd like to celebrate today, if you're a pet owner I highly recommend adding a few numbers to your phone, ideally under "favorites", speed-dial or such: your primary vet, emergency vet, a backup emergency vet option, and ASPCA Poison Control (888) 426-4435. I had a scare last week when my pup, Patronus, ate some meds meant for my cat. It was after-hours for my vet so, trying not to freak out, I immediately called my emergency vet for guidance. They directed me to call the ASPCA's #, telling me that it's the resource they'd use anyway if I needed to bring him in. A heads up: there is a $65 fee for this service. That was much less traumatic and expensive than rushing him to the emergency vet though, and I appreciated having an immediate option for guidance. I agreed to the charge, answered some questions about my pup and the meds, received advice and then settled payment. Thankfully he was ok, and I was advised to just monitor him for tummy upset. It certainly helps to have those numbers at the ready though in case of an emergency.
We wish you all a happy & healthy Puppy Day! Please feel free to look through our featured animal charities (though you can always search directly from over a million charities via "Search All U.S. Charities" here).

Happy Puppy Day from TisBest team-members Isabel, Ratatouille, Amy, Kyle & Rick!