Giving Tuesday: 5 Questions to Ask Before Donating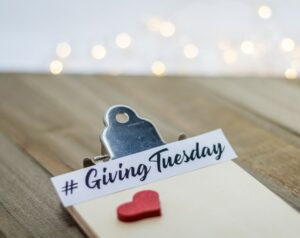 With Giving Tuesday occurring this week, did you know that there are 1.6 million tax-exempt organizations in the United States?
That number represents a lot of people striving to create a better world. From Civil Rights charities, organizations that help the homeless population, faith-based nonprofits, environmental initiatives, and more, there is no shortage of 501(c)(3) nonprofits to which Americans can donate their money and time. 
In fact, Americans wrote off $449.64 billion in charitable donations in 2019. Wow! 
Where Are You Donating This Giving Tuesday?
With Giving Tuesday and the end of the year approaching quickly, you're likely considering a charitable donation toward an organization you care about. Or, perhaps you're new to charitable giving and hoping to discover which nonprofits best reflect your individual moral compass.
With so many options in the United States, it's wise to ask several important questions before donating money to a charitable organization.
If you need help deciding where to donate, TisBest is here to help with some decision criteria.
1. How Far Will My Giving Tuesday Dollar Go?
Healthy charities demonstrate transparency. You should be able to find information on an organization's website regarding all costs and financials from each fiscal year. If you can't find it online, ask for it.
Keep in mind that all nonprofit organizations have overhead costs. This may include salaries for employees, rent and insurance on office space, and more. That being said, the charity you donate to hopefully strives to keep their overhead costs low in order to spend more funds on their cause.
Before donating, find out how far your dollar will go by researching or asking what percent of each dollar goes toward overhead costs. Organizations that have more financial efficiency and sustainability are more likely to achieve their mission in the long run. 
2. Can My Giving Tuesday Donation be a Tax Deduction, and Does That Matter to Me?
There are lots of tax exempt charities out there, as we mentioned above. But let's unpack the deductible type versus organizations to which donations do not qualify for tax deductions. How the organization is registered with the IRS and whether a donation can possibly result in a tax write-off are separate questions from whether your individual taxes will benefit from the donation. Here is a great breakdown on what deduction level it takes to itemize. Bottom line: even if the charity qualifies as deductible, everyone doesn't benefit from writing off their charitable donations.
"Giving Tuesday" does not have to mean "Tax-deductible Tuesday"
When it comes to charitable donations qualifying for deductions, often this tax deductible designation is used as a litmus test for whether a charity is legitimate. And most of the charity listings on the internet will rely on the IRS 501c3 designation to source their list. There are a handful of reasons why some legitimate nonprofits are not included. 
For example, there are younger or smaller charities out there with lower overhead — think "startup scrappy" — which may be very impactful but simply do not have 501c3 status yet. In fact, when the IRS was restructured in 2017 it caused long delays for even those nonprofits that had filed for their federal status. 
In other cases, entirely legitimate, tax exempt charity organizations could have different IRS designation types like a 501c4, which indicates the donation is not deductible. There are over 150,000 501c4 nonprofits that often strive to bring systemic impact on a major issue you care about through political channels like lobbying. 
Helpful Resources for Charitable Tax Deductions
However, if you are considering this donation part of your annual income tax strategy, you should confirm before donating whether or not donations to an organization are tax deductible. If you aren't sure, check the charity's website for its Employer Identification Number (EIN) number and look it up on Charity Navigator to confirm the status.
And oftentimes, major nonprofit organizations will have separate arms or funds that are not 501c3. That's also something to be aware of as you make your donation. Charity Navigator has compiled an additional list of considerations regarding the tax benefits of giving here.
3. What is the Underlying Issue and Does the Charity's Mission Address it?
Most, if not all, charities are well-intentioned. 
However, as explained in the book When Helping Hurts: How to Alleviate Poverty Without Hurting the Poor and Yourself by Steve Corbett and Brian Fikkert, many charities do more harm than good by failing to consider the complexities of the larger issue in their efforts. 
A tangible example of good intentions actually hurting a local economy is told in the story of a Rwandan egg farmer who relied on his daily egg sales for income. When a well-meaning American church began sending free eggs to the community, the farmer was no longer able to make a living. The demand for his supply had disappeared overnight. 
Likewise, the Netflix film Poverty, Inc. examines problems within the multibillion-dollar poverty industry and urges viewers to ask how they may be part of the problem. It talks about having a mind for the poor versus just having a heart for the poor. Check out the trailer for this documentary.
With regards to complex foreign issues in particular, novelist Teju Cole eloquently personifies this controversial sentiment in a 2012 Atlantic article: 
"His good heart does not always allow him to think constellationally. He does not connect the dots or see the patterns of power behind the isolated "disasters." All he sees are hungry mouths, and he, in his own advocacy-by-journalism way, is putting food in those mouths as fast as he can. All he sees is need, and he sees no need to reason out the need for the need."
Diligence is the Key
But many charities truly do strive to improve systemic issues, empower people, and help them recognize their inherent dignity. This is why donors must critically examine the effect of a nonprofit's work in a community. Supporting an organization certainly feels good — but the impact always extends far beyond that feeling. Dig in and do the research. Make sure the organization's mission is one you believe in. As Cole puts it, "If we are going to interfere in the lives of others, a little due diligence is a minimum requirement."
4. What Are This Charity's Accomplishments and Long-term Goals?
Before making a contribution, find out what milestones the nonprofit in question has already reached in its mission and what long-lasting impact it plans to make in the world. Questions to ask may include:
What results have you already seen through your efforts?

What are the organization's goals for the next year, five years, and ten years? 

Do you have a plan in place to accomplish those goals?

What kind of results will my donation help with?

How do you report progress to supporters and donors?
This will give you insight as to whether or not this charity is a good fit for your donation. If they can't communicate a defined, actionable plan, it may not be worth partnering with financially. 
5. What Is This Organization's Charity Navigator Score?
Charity Navigator is a helpful tool that uses a Rating Methodology on all nonprofits in the United States.
The goal of Charity Navigator's system is to help generous people like yourself donate with confidence to effective and transparent organizations. 
You can search for any charity on the website to see its score, discover new organizations by topic, view Top Ten lists, and more.
Curious about which charities have perfect scores? Here are just a few of them:
All Hands and Hearts Smart Response
Mission: All Hands and Hearts effectively and efficiently addresses the immediate and long-term needs of communities impacted by natural disasters. We communicate directly with local leaders and community members and then deploy our unique model of engaging volunteers to enable direct impact, helping to build safer, more resilient schools, homes, and infrastructure.
Through community and volunteer engagement, we focus on helping families recover faster after natural disasters using our Smart Response strategy. In doing so, we strengthen both our volunteers and the communities in which we serve.
Visit the website | See Charity Navigator Score
Equal Justice Initiative
Mission: EJI is committed to ending mass incarceration and excessive punishment in the United States, to challenging racial and economic injustice, and to protecting basic human rights for the most vulnerable people in American society.
Visit the website | See Charity Navigator Score
WildAid
Mission: WildAid's mission is to end the illegal wildlife trade in our lifetimes. WildAid works to reduce the demand for illegal wildlife products and to promote energy conservation, via global public awareness campaigns. WildAid also strives to create model field conservation programs and to strengthen marine protected areas around the world.
Visit the website | See Charity Navigator Score
ProPublica
Mission: Founded in 2007, ProPublica is an independent, nonprofit newsroom that produces investigative journalism in the public interest. Our work focuses exclusively on truly important stories, stories with "moral force." We do this by producing journalism that shines a light on exploitation of the weak by the strong and on the failures of those with power to vindicate the trust placed in them. In the best traditions of American journalism in the public service, we seek to stimulate positive change. We uncover unsavory practices in order to stimulate reform. We do this in an entirely non-partisan and non-ideological manner, adhering to the strictest standards of journalistic impartiality.
Visit the website | See Charity Navigator Score
Ready to Create a Better World?
Of the millions of organizations, which ones resonate with you? 
By asking the right questions and finding an organization that is the right fit for your values, you'll feel the true impact of partnering with a world-changing charity. 
Finally, to truly help create a better world, we encourage you to consider a lifetime of giving — not just a once-a-year donation.
See the Charities TisBest Partners With