Mila Kunis and Ashton Kutcher Raise Over $35 Million for Ukraine Aid
TisBest is on a mission to #RedefineGifting by replacing gifts of stuff with gifts of good. In that spirit we like to feature heartwarming stories of special people, like Mila Kunis and Ashton Kutcher, who are also doing good in this world. We hope it inspires you to spread some kindness and love in your communities.
One week after Russia's attack on Ukraine, Hollywood couple Mila Kunis and Ashton Kutcher created a Stand with Ukraine GoFundMe page to help with relief efforts. Their mission was to raise $30 million. In just two weeks the couple surpassed their goal as the fundraising platform received over $35 million in donations. The funds are being used to help provide emergency supplies and temporary housing for refugees.
Actress Pays Homage to Ukrainian Roots
Many celebrities, like Mila Kunis and Ashton Kutcher, have used their platform to raise funds for Ukraine. However, this crowdfunding campaign is quite personal. Mila was born in the Ukrainian city of Chernivtsi in 1983. When Mila was seven years old she and her family immigrated to the U.S. Her parents arrived with $250 in their pockets and the hope that their children would one day live the American dream. Although Mila has found fame and fortune in the U.S. she is proud of her Ukrainian heritage. Now she and her husband are sharing their wealth to give back to Mila's native country and asking others to do the same.
Mila Kunis and Ashton Kutcher Stand with Ukraine
On March 3, 2022, Mila Kunis and Ashton Kutcher started a GoFundMe page to help with humanitarian efforts for refugees. In a video announcement on their social accounts the couple agreed to match the first $3 million in donations. Within two weeks the page tallied over $35 million from over 75,000 donors.
According to CNBC.com wealthy donors gave the page the initial boost. Among them were billionaire Larry Ellison, the chairman of Oracle, who donated $5 million. Silicon Valley private equity firm DST Global contributed $3 million, and the family foundation of DST partner Yuri Milner gave $2.5 million. Then an overwhelming number of the couple's friends and fans sent in contributions ranging anywhere from $5 to a few hundred dollars – proving that every dollar makes a difference.
Donations Provide Emergency Supplies and Housing for Refugees
Through the GoFundMe.org platform funds raised by Mila Kunis and Ashton Kutcher are distributed directly to two organizations supporting Ukrainian refugees. Flexport.org organizes and ships relief supplies into Ukraine and to refugee sites in Poland, Romania, Hungary, Slovakia, and Moldova. Donations help ship critical aid, including hospital beds and medical equipment, to Ukrainian refugees and other people in need. One semi-truck delivers 9,750 meals. One air cargo container ships 1,000 sanitation kits to prevent diseases. One shipping container transports 5,000 tarps for emergency shelter.
Funds from the couple's Stand with Ukraine GoFundMe page also support Airbnb.org which is providing free, temporary housing for refugees. More than 1,200 people have received temporary accommodations through Airbnb.org in Europe. Over 28,600 people have signed up to offer their homes to refugees through Airbnb.org, including more than 17,800 across Europe and more than 5,800 in the US.
Celebrity Couple Uses Social Media for Social Impact
After Mila Kunis and Ashton Kutcher unexpectedly surpassed their fundraising goal, the couple posted a thank you video on Instagram. Ashton said, "While this is far from a solution for the problem, our collective effort will provide a softer landing for so many people as they forge ahead into their future of uncertainty. Our work is not done. We will do everything we can to ensure that the outpouring of love that came as a part of this campaign finds maximum impact with those in need." Then Mila encouraged everyone to keep donating – either through their Stand with Ukraine GoFundMe page or other Ukraine relief foundations. She reminded followers that "This is the beginning of a very long journey."

President Zelensky Shows His Appreciation
Shortly after exceeding their fundraising goal Mila Kunis and Ashton Kutcher received another surprise. They were invited to join a video call with President Volodymyr Zelensky. The Ukraine leader expressed his gratitude for the couple's support stating that Mila and Ashton were among the first to help with relief efforts. Then President Zelensky shared a screenshot of their call on Twitter saying "Grateful for their support. Impressed by their determination. They inspire the world. #StandWithUkraine."
The Ellen DeGeneres Show Sends $30K in Ukraine Aid Through TisBest
Mila Kunis and Ashton Kutcher truly have inspired the world — including another celebrity who also uses her platform to give back. The Ellen DeGeneres Show has welcomed both Mila and Ashton to the studio many times. For the show's final season, Mila Kunis was invited back to talk about her personal connection to Ukraine. After congratulating Mila on her fundraising campaign's success, the host gave the GoFundMe page another boost. The Ellen DeGeneres Show partnered with TisBest Philanthropy to contribute $30,000 to the Stand with Ukraine relief efforts.
---
Here's How You Can Help
There are more than 10 million refugees in need of emergency aid and shelter. Even a small donation can make a big impact. Consider making a donation to the Stand With Ukraine GoFundMe page or click here to see our list of Ukraine relief charities that you can support with your TisBest Charity Gift Card.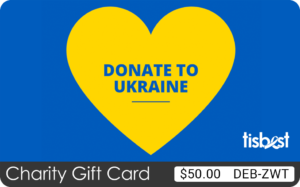 Create More Warm Fuzzies!
Join us in the movement to #RedefineGifting by replacing gifts of stuff with gifts of good. If you feel inspired by this heartwarming story, spread a little more love in our world. Send a TisBest Charity Gift Card to those close to your heart so they can pay it forward to a charity that is close to theirs. Or give a card to a stranger as a random act of kindness. Together, you'll do a world of good.
Share your giving stories with us on social by tagging your post with #RedefineGifting.